By Lauren White, RCS Reporter.
A family and their pets are rescued from the Hurricane Dorian aftermath.
Hurricane Dorian devastated the Bahamas. 7News reported that on Thursday a plane, "...filled with essential supplies and a generous family," took off from Fort Lauderdale Executive Airport in Florida heading for Freeport, Bahamas.
Three key people, with the aid of local nonprofit partners, made this supply drop-off possible. Rob Foote of Roofing Risk Advisors and his wife Dora, Rob Kornahrens, CEO of Advanced Roofing Inc. in Fort Lauderdale, FL, and nonprofits Hope 4 Hope Town, Mission Resolve, and Samaritan's Purse were pivotal in the organization of the trip and the supplies. "The supplies on board the aircraft are for the Grand Bahama Children's Home, a center for neglected boys and girls," 7News disclosed.
The plane used is owned by the Foote family, Kornahrens, and others. They often vacation in the Bahamas. In an interview with 7News, Rob Kornahren shared, "They're all coming together and all trying to do the best we can."
Typically the plane has nine seats and a couple tables inside. These were cleared out in order to transport the supplies. When they landed at the Grand Bahama International Airport, "...the crew was told to leave by sunset. The airport looked like a ghost town except for a couple of planes that had landed to drop off supplies," according to 7News.
The wrath of Hurricane Dorian was apparent even at the airport. The winds were so powerful that an airplane hangar and shipping container were ripped up and concrete from the hangar was laying on the ground crumbled up. Additionally, 7News revealed, "At least three planes— or pieces of planes— were seen damaged at the airport."
Upon the return, Rob and Dora Foote gained some passengers. The Pyfrom family, Catherine, Tara, and their 6-year-old daughter Hazel, in addition to their four dogs: Nutmeg, Ginger, Pearl, and Sky had hoped to get on an earlier flight, but weren't able to. On a whim, Rob and Dora offered to transport the Pyfrom family to Florida.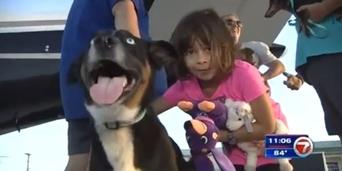 The Pyfrom family lost their home in the hurricane. They rode out the storm in their attic, facing 19 feet of water in addition to intense winds. According to 7News reporting, "Hazel, the family's 6-year-old daughter, slept in a plastic packing container with her stuffed animal, Elie." They were rescued a day after they posted photos to Facebook with a simple caption of, "Help."
Catherine Pyfrom shares in her interview with 7News, "Got into the attic and stayed there for 24 hours...We didn't think we were going to make it, honestly. I made a final video for my family on the floating camera in case they found it."
Now the Pyfrom family and their pets, minus one that was lost in the hurricane, are safely in Florida. Thanks to the generosity of the Foote family and Kornahrens, the Pyfrom's have settled into their home in Plantation and are excited to shower and to enjoy a hot meal.
Advanced Roofing thanks everyone for their support and donations for the Bahamas. The company is also involved in supporting multiple initiatives which include Samaritan's Purse, Hope 4 Hope Town, and missionresolve.org. The photo below shows goods that are going over by boat from the Kornahrens. They felt compelled to help saying, "Florida was very lucky that the storm turned north but unfortunately, the Bahamas did not and needs our support."
Do you know of someone in the industry who is 'doing good deeds' in their community? Help us catch them at it. Send news and information to info@rooferscoffeeshop.com.
Join the crew at Advanced Roofing. Visit their website for employment opportunities.
Pictures Courtesy of 7 News Miami