By Mason Knowles.
Spray polyurethane foam (SPF) roofing systems have been marketed for years primarily on their documented energy saving characteristics.
As a result, much of the SPF roofing market has focused on property owners or institutions that pay their own energy bills. But what about property that is leased or rented, where the energy costs are transferred to the renter and not the owner of the building? Can SPF roofing systems be a cost-effective alternative to membrane roofing systems over time without taking energy costs into consideration?
Life Cycle Cost Analysis
In order to answer these questions, in 2000 the Spray Polyurethane Foam Alliance hired Michelson Technology LLC to conduct a life cycle assessment of SPF roofing systems and compare them to conventional membrane insulated roofing systems. The study was conducted by Dr. Theodore (Ted) Michelsen, former Executive Director of the Roofing Industry Educational Institute (RIEI), in which capacity he taught classes on Roof Asset Management and Life Cycle Costs.
The study was conducted in accordance with ASTM Standard ASTM E 917 - 02 "Standard Practice for Measuring Life-Cycle Costs of Buildings and Building Systems." It compared SPF roofing systems to membrane roofing systems in six different climate areas of the United States including upstate New York, central Florida, Fort Worth, Texas, southern California, Phoenix, Arizona, and Louisville, Kentucky.
The results show spray polyurethane foam having a 30-year life cycle cost advantage over membrane roofs from a low of 12 percent using a six-year re-coat schedule to over 59 percent for a SPF system that is recoated on a 15-year schedule.
Michelsen included an energy saving cost benefit for reflective coatings in his final conclusions.
In 2009, the author updated Ted Michelson's life cycle cost analysis with the current costs of membrane systems vs SPF systems. The results showed an even greater cost savings over a 30-year time frame. The 2009 update deducted any perceived energy cost savings benefit.
For the purpose of this article, the cost saving benefit has also been deducted (calculated at 12 -15 percent over the 30-year life cycle) to more accurately reflect the life cycle cost comparisons between membrane roofing and SPF roofing. The tables have been modified to reflect only installation, re-coats, tear-offs, and replacement costs.
What About Today's Costs?
Dr. Michelson's life cycle assessment was conducted over 19 years ago. Building material costs have increased significantly in the interim due to raw material shortages and increased international demand from Asia and Europe. How have costs changed in the interim? In order to determine if Dr. Michelson's conclusions can be supported in today's market; the author compared prices reported in the 2019 edition of the Building Construction Cost with RS Means data. The author validated the prices reported in the "Estimator" by a survey of roofing contractors across the country.
The results of the 30-year cost calculations are eye popping. The SPF roofing systems ranged from a low of $103,800 to a high of $139,800 over a 30-year life span. The cheapest membrane system without any insulation ($168,800, assuming an expected 15-year life) was 21 percent higher than the most expensive SPF roofing system ($139,800).
Tear-off at the 10-year interval was particularly expensive for the membrane systems, ranging between $235,000 to $291,000 for an uninsulated system.
When insulation was included, the membrane systems ranged from a low of $220,400 to a high of $340,200. Even the lowest cost membrane system was 58 percent higher than the SPF system which had a re-coat every 10 years.
This data indicates that SPF roofing systems have become more affordable compared to insulated membrane roofing systems between 2000 and 2019. Therefore, its life cycle cost would provide even greater benefit to the building owner.
Other Research on Life Cycle of SPF Roofing Systems
As can be observed from the chart even with the energy benefit deducted the SPF roofing system recoated every 15 years is still less costly to install and maintain than a very low cost membrane roofing system. But, is this a fair comparison? How often do SPF roofing systems require a re-coating? How long do they really last?
1997 and again in 2003, Dr. Rene Dupuis of Structural Research Inc. was commissioned by the National Roofing Foundation to conduct research on SPF roofing systems in six different climate zones in the United States. Based on inspections and sampling of over 300 SPF roofing systems, Dr. Dupuis concluded that SPF roofs have an effective service life of more than 30 years. The research also shows that the physical properties of the foam change very little with age. This indicates that the life expectancy of a SPF roof system depends primarily on the original application and long-term maintenance. In the first study, Dupuis reported the average service life of the SPF roofing systems before re-coat was 11 years. In the subsequent study in 2003, the average re-coat cycle had increased to 15 years. Based on the results of the 1997 study, Dr Dupuis reported "SPF Roofing Systems are one of the most sustainable systems to date."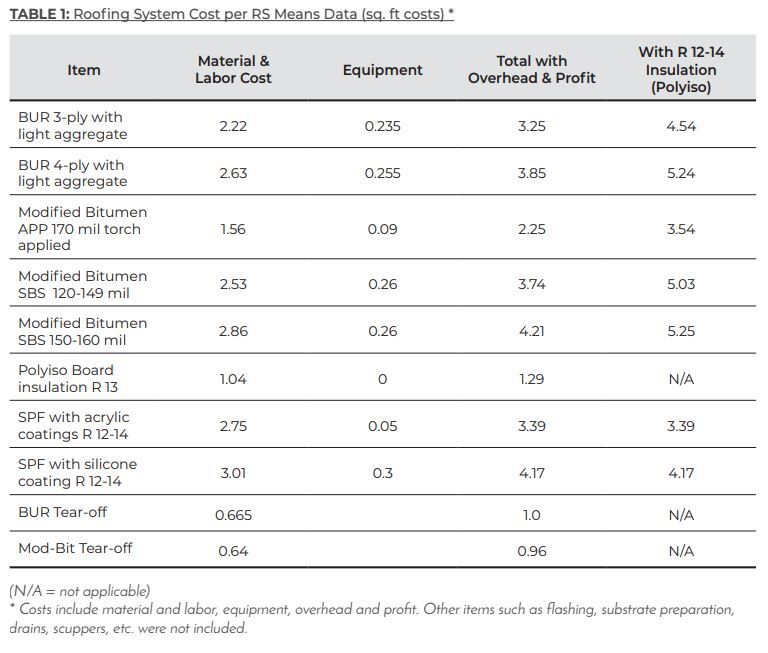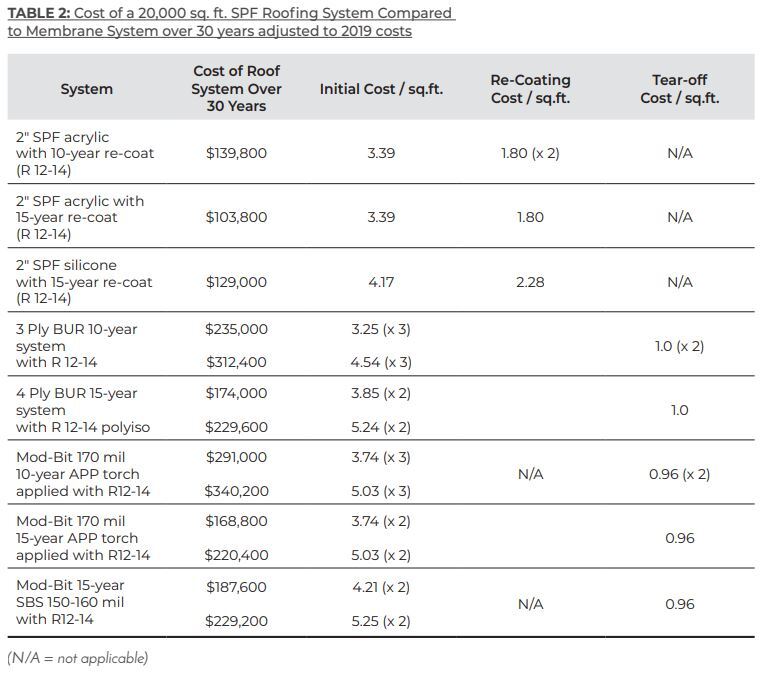 This article was originally published by Sprayfoam.com. Learn more about SPF roofing systems and visit General Coating Manufacturing Corp.
Source: Sprayfoam.com