By Karen L. Edwards, RCS Editor.
The roofing system not only stands up to the climate but delivers superior fire resistance, is a lighter weight than other materials and it has saved structures from falling tree branches.
Here at the Coffee Shop, we love everything to do with roofing. We love learning more whenever we can, and we love sharing that knowledge with you! So, when I had the chance to talk to Kevin Nelson, DECRA Western Zone Manager, about why DECRA is so well-suited for roofs in Canada, I was eager to learn more.
Kevin explained that DECRA has been a global company since 1957 and that they have manufacturing plants in Hungary, New Zealand and the U.S. They've been in Canada for over forty years and their product is available throughout the entire country.
DECRA is a stone-coated steel roofing system that is available in multiple profiles including Mediterranean tile, barrel tile, two shake profiles, and two shingles. "The product really performs well in cold, harsh climates," stated Kevin. "It's a nonporous product so it won't absorb moisture like clay or concrete tiles. Homeowners don't have to worry about cracking or chipping with DECRA."
One thing that DECRA does well is hold the snow on the roof, eliminating the need for snow guards. "Because our panels are coated with ceramic coated granules, the snow resists from sliding off as it does on painted metal panel roofs," Kevin explained.
Another benefit in a harsh, snowy climate is the light weight of the system. "When the snow really begins to pile up, there is less stress on the roof and the structure as the system only weighs 150 pounds per square," Kevin said. "Compare that to other products that are above 250 pounds and concrete tile systems that can weigh from 800 – 1,000 pounds per square, and that becomes a huge benefit to the integrity of the building."
It's important to note that another issue in some parts of Canada are the heavily wooded areas being unable to support snow loads. Under the weight, branches weaken and snap, many times crashing down on the roof of the home or building. Kevin noted that in one instance when this happened, the strength of the DECRA system prevented the structure of the home from being damaged. "The owner only had to replace a few panels that were dented when the limb fell. Any other system might not have been able to handle that, and the structure of the home would have been compromised," Kevin stated. He said there was a similar situation in Texas where the strength of the roof saved the home when limbs fell on it in a storm.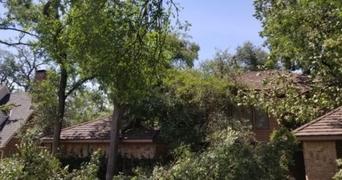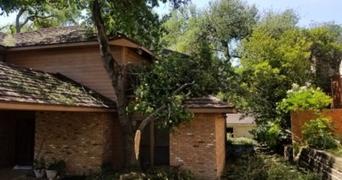 The fire resistance of DECRA was quite impressive as well. We've shared before the story of how DECRA's Class A fire-rated product was credited with saving a home in a recent fire. The metal doesn't contain any petroleum products and is noncombustible. "If embers land on the roof, they would smother and not combust," explained Kevin.
Whereas many manufacturers' products are restricted to zones, all the DECRA profiles are available anywhere in Canada or the U.S. "The way we manufacture our product is the reason why it's not limited to certain zones. The same product you can buy in Miami, FL you can buy in Saskatchewan," said Kevin.
Canadian contractors interested in offering DECRA to their customers should visit www.DECRA.com to learn about the opportunities available to them. The Jump Start Program allows first-time contractors to earn up to $5,000 in rebates when they sell DECRA roofing systems (will be paid in the Canadian dollar equivalent). This program is also available to contractors in the U.S.
Not familiar with the system? No worries! DECRA offers product knowledge training and hands-on training and they support you with a complete inside sales team.