New upgrade to Renoworks visualizer on TAMKO.com is powered by EagleView® and offers reduced rates and no subscription needed for measurements and modeling to close deals without a home visit
Today, TAMKO Building Products LLC launches new measurement and 3D modeling technology on its website to offer contractors and dealers solutions for continuing business in a world increasingly concerned about social distancing.
The new functionality of TAMKO's Shingle Styles Visualizer enables customers to order realistic roof visualizations, 3D models, and accurate roof measurement reports powered by the industry-trusted EagleView® technology, now available to TAMKO customers at a discount and no need for a monthly subscription. Information available on TAMKO's Shingle Styles Visualizer includes roof dimensions, areas, slopes, roof squares, and other vital information, enabling a contact-free process for design, estimation and bidding.
"Virtual technology like this is more important than ever," said Stephen McNally, TAMKO's Vice President of Sales & Marketing. "We are developing new resources for our contractors and dealers to help them operate and grow their businesses during this difficult time."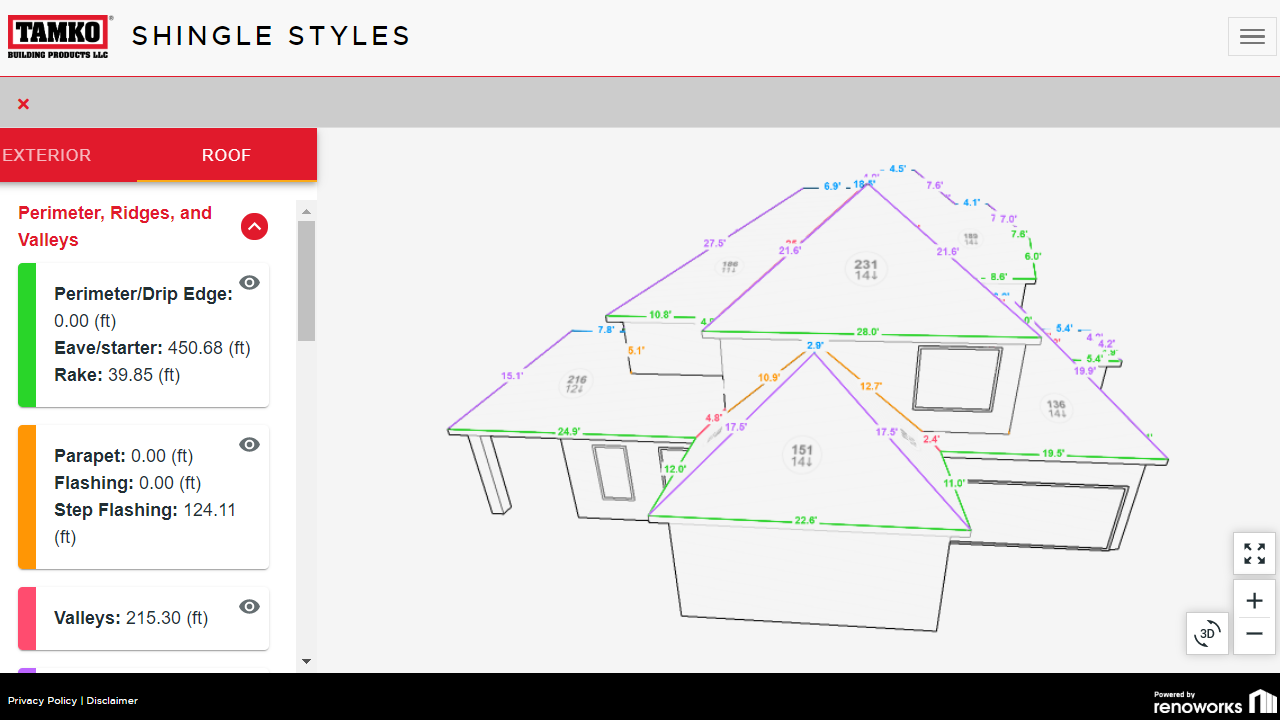 This upgraded platform unifies photorealistic design visualizations, 3D interactive models, and precise roofing measurements powered by EagleView in a single project-planning interface that can be digitally shared between a contractor, dealer and the homeowner -- eliminating the need for in-person sales visits. TAMKO's Shingle Styles Visualizer is quicker,
safer, and more accurate for contractors and homeowners, and provides more confidence in roof design for homeowners, and fewer change requests for contractors.
"Renoworks provides a critical technology that TAMKO can put in the hands of roofers and dealers to help homeowners plan their roofing projects," said Doug Vickerson, CEO of Renoworks. "In the current global environment where social distancing has become a necessity, this timely solution also provides a virtual sales tool that facilitates a 'touchless' roof replacement bidding process."
The new all-in-one TAMKO solution built on Renoworks FastTrack can be found at https://tamko.renoworks.com where TAMKO customers can order roof reports and design their roofing projects in both photo-realistic and 3D visualizations.
Learn more about TAMKO in their RCS Directory.
About TAMKO
TAMKO Building Products LLC is a leading independent manufacturer of building products, crafted with American pride for more than 75 years. At TAMKO, quality building products are backed by a brand name recognized for its rich history, core values of honesty and integrity, culture of continuous improvement, authority with building professionals and support for its community. With a cornerstone of residential roofing, TAMKO's business includes the well-known brands of Heritage® Series laminated asphalt shingles, Elite Glass-Seal® asphalt shingles, MetalWorks® steel shingles, Awaplan® roll roofing, CoolRidge® ventilation, Synthetic GuardTM and Moisture Guard® underlayments and the TW line of waterproofing products. For more information about TAMKO, visit our website at www.TAMKO.com.
About Renoworks
Renoworks Software Inc. develops and sells unique digital visualization software and integration solutions for the remodeling and new home construction industry. Renoworks delivers its technology to manufacturers, contractors, builders, and retailers offering solutions to one of the home improvement industry's greatest challenges: enabling homeowners to review their product selections in a hyper-realistic, virtual environment before committing to purchases and construction. Renoworks markets its technologies as an innovative engagement, sales, and marketing platform and generates revenues from five main business lines: Renoworks Enterprise, Renoworks PRO, Renoworks Design Services, Renoworks FastTrack, and Renoworks API (Application Programming Interface). For more information, visit www.renoworks.com and www.renoworkspro.com.