By Karen L. Edwards, RCS Editor.
The event at the International Roofing Expo® featured a performance by Journey and appearance by President George W. Bush.
One of the most fun things about attending the International Roofing Expo are the customer appreciation events. SRS put a different spin on the fun this year by turning their event into a fundraiser for their Raise the Roof Foundation.
The 3,000 people in attendance at Gilley's Dallas were excited to hear from President Bush, who was there to share how important it is to support military veterans and first responders. He welcomed attendees to Texas, or "the promised land" as he called it and then thanked the industry for helping the economy continue to grow and he acknowledged the kindness of our industry for giving back to others.
President Bush was joined on stage by U.S. Marine Jacob Schick, a veteran who was injured while serving in Iraq and is now the CEO of 22Kill, a nonprofit organization focused on helping veterans. According to their website, their mission is "to create a community that raises awareness and combats suicide by empowering veterans, first responders, and their families through traditional and non-traditional therapies."
The president shared that while he doesn't miss being president, he misses "looking into the eyes of the men and women who showed courage in the face of danger." He then gave a nod to those in the room who continue to hire and support veterans, helping them transition back into civilian life, a focus for SRS Distribution. Dan Tinker, CEO and president of SRS Distribution shared that the company has a goal to hire 500 veterans and is halfway there.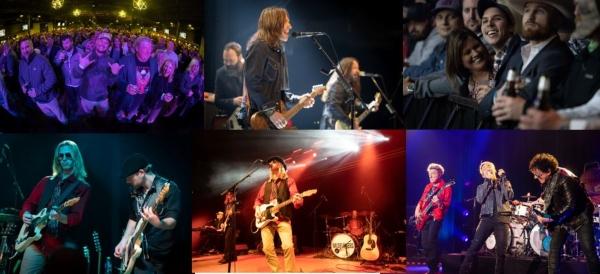 The event featured a live auction with memorabilia from the headlining performer, Journey, and also a signed copy of President Bush's artwork book, which was reported to have sold for $33,000.
Raise the Roof Foundation posted a special thank you message on their website, saying, "Thanks to our customers, vendors, friends, team members and supporters for a fabulous night in Big D at our IRE benefit concert! Your incredible generosity, a great performance by Journey and an outstanding keynote by our very special guest, former President George W. Bush, really did help Raise the Roof on February 5th to Raise Money, Have Fun and Give Back! Over $500,000 was donated to support our mission!"
Learn more about the SRS Raise the Roof Foundation.