Customers can now buy their favorite products online.
SOPREMA, Inc.® — a leader in the roofing, waterproofing, wall protection and civil engineering industries — unveiled its online storefront at SOPREMA.us today. SOPREMA e-commerce in the United States features some of the company's most popular maintenance, restoration and operations (MRO) products.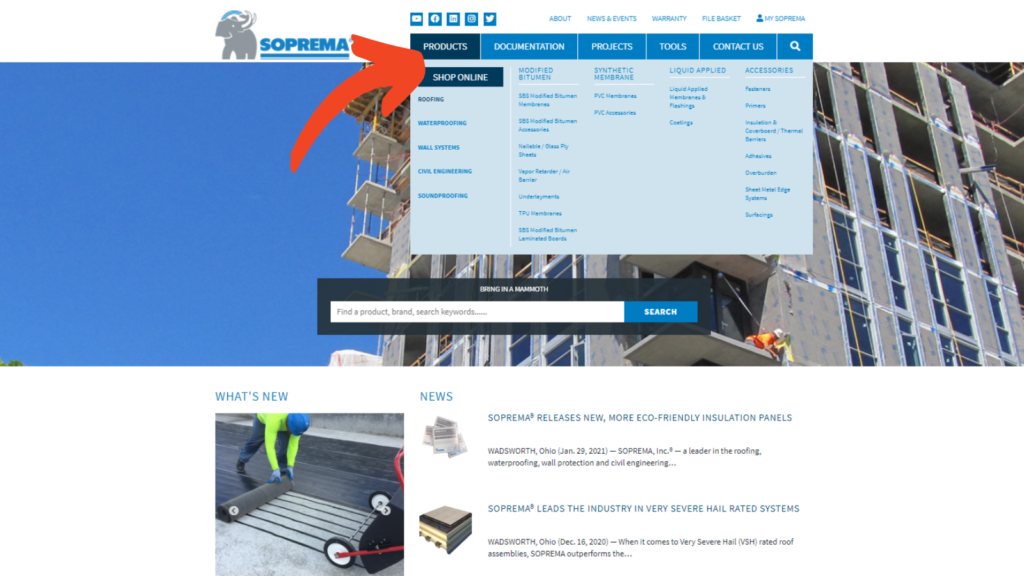 "SOPREMA is excited to offer our customers our industry-leading products on the go," said Matt Davis, Marketing Content and Brand Manager and lead on the project. "On the jobsite, at the end of the day, or over lunch, customers can purchase SOPREMA products wherever they are, any time of the day and have them delivered directly to their place of business."
SOPREMA e-commerce offers a variety of product categories from accessories to tools.
"Just grab a computer, tablet, or phone and rest assured that the SOPREMA products you need are on their way to you," Davis said.
To experience SOPREMA e-commerce, visit www.soprema.us/shop.
About SOPREMA, Inc.
SOPREMA offers a comprehensive line of roofing, waterproofing, wall protection and civil engineering solutions, combining superior products and systems with decades of proven performance. Our solutions include industry leading SBS-modified bitumen membranes, polymeric PMMA/PMA liquid-applied membranes and synthetic single-ply PVC membranes. For applications as diverse as roofing, below-grade waterproofing, plaza deck and balcony waterproofing, air and vapor barriers, and bridge and parking structures, SOPREMA has the solution. SOPREMA's relentless pursuit of technological advancement, sustainability and product quality has been known and respected worldwide for over 100 years. Visit www.soprema.us for a complete product offering, environmentally intelligent systems, technical information and the latest innovations delivering sustainable solutions.