By Lauren White.
All-American Roofing repairs dangerous roof for free.
88-year-old Charles Hogue was conned out of thousands of dollars for a sub-par roof repair. And he's not the only one. The Collins family out of Osceola were going "...door-to-door across Missouri preying on the elderly," and taking advantage of them, according to FOX4KCs reporting. In a different article FOX4KC disclosed, "They were also using the name All American Roofing even though it wasn't registered with any state or local government."
Hogue, retired from the Air Force, had confidence in the Collins'. He shared with FOX4KC, "I trusted the people. They called me Charlie. They said 'Charlie, you are a good person. You're a friend.' I fell for it." And he paid them over $10,000 for their shoddy work.
FOX4 requested that Tony Pourememar, owner of the legitimate All-American Roofing company out of Olathe, Kansas, inspect Hogue's roof. He was disgusted at the work that had been done. What he discovered is that, "Instead of tearing off the old shingles, they slapped new shingles on three already existing layers," FOX4KC reported. Having that many layers of roofing is dangerous. Tony stated to FOX4KC, "...the roof might collapse under ice or snow unless the extra layers are removed."
In addition to the dangerous roof, multiple other projects both inside and out, weren't completed or were done improperly. The gutters weren't connected to the downspouts outside. "The paneling was buckled and didn't even reach the ceiling. The floor was uneven. One of the windows was covered with a sheet of wood after a worker broke the glass when Hogue wasn't there to let him inside the house," reported FOX4KC. And one of the doors doesn't even open after it was newly installed, among other things.
Determined to help, Tony offered to reroof the house for free. He told Hogue, "I am more than happy to help you out any way we can." He also wanted to, "reclaim the name of his company after being in business for 38 years," FOX4KC wrote. Just removing the four layers of roofing took all day. But, Tony's crews installed a brand new, safe, roof on the Hogue home.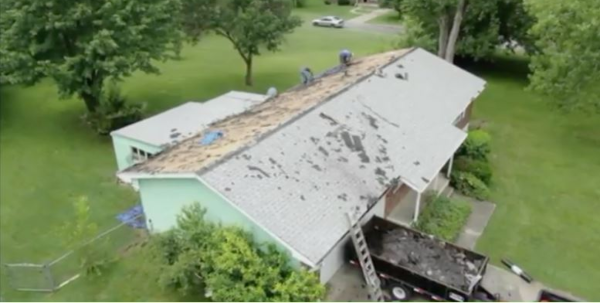 Grateful for the generosity of Tony and his crews, Hogue told FOX4KC, "I seen it on TV, but I never thought it would happen to me." Now he doesn't have to worry about the roof collapsing on him. And Tony restored All-American Roofing's good name.
Do you know of someone in the industry who is 'doing good deeds' in their community? Help us catch them at it. Send news and information to info@rooferscoffeeshop.com.