By ASC Building Products.
Cool coating colors fight the misconception that metal roofs create hot homes.
Finding a cool color for a roof is more important than keeping up with the neighbors or using the newest choices available. The technology of metal coating paint utilizes cool colors to decrease energy use and improve sustainability. These colors have been manufactured to reflect infrared wavelengths to prevent the absorption of heat from the sun. Not only will homeowners lower their energy bills each month, but this paint also retains its performance to last longer than conventional roofing systems. By picking cool colors that are made of these chemically altered pigments, homeowners can rest assured their home will both retain its beauty and contribute positively to the environment.
There is a misconception around metal roofs causing a home to be extremely hot in the summer versus other roofing materials; however, the reality is not so simple. Metal roofing using cool colors impact a home's internal temperature, but in a good way. The use of cool colors helps decrease internal temperatures in comparison to traditional roofing materials. A lower temperature inside a home is accomplished through the cool colors' ability to reflect sunlight and heat away from a building which is often referred to as the Heat Island Effect. This effect occurs when there is a rise in outdoor urban air temperature caused by the concentration of roads, buildings and other structures that absorb heat. See the diagram below from the Cool Roof Rating Council.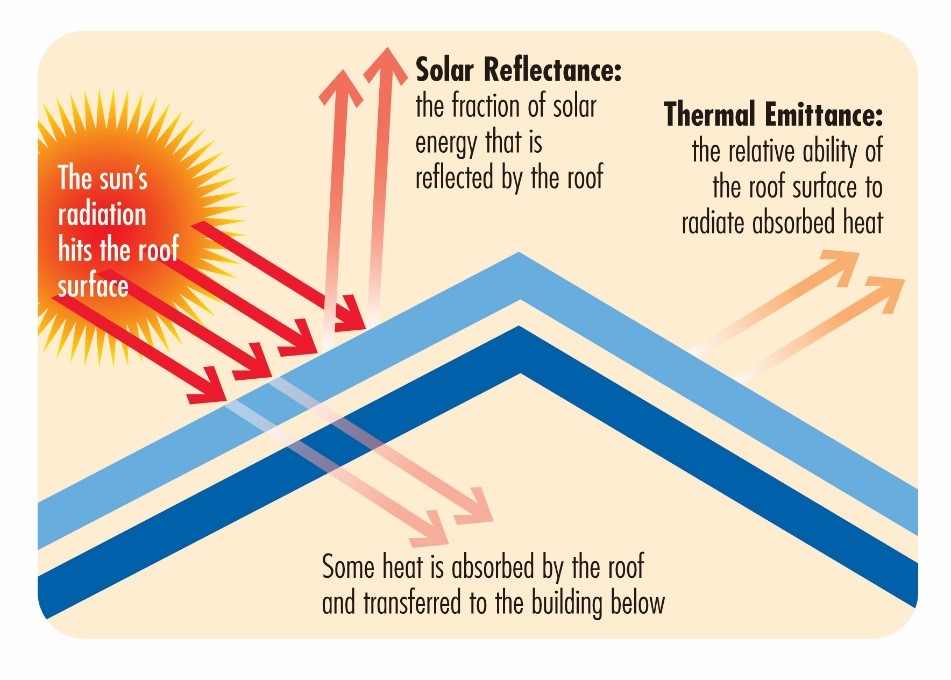 As shown above, solar reflectance and thermal emittance are the two primary factors in determining how cool a metal roof is. Solar reflectivity refers to the ability to reflect sunlight (and heat) away from a roof/ building. Thermal emittance refers to the ability to release absorbed heat. A simple way to quickly gauge a material's coolness is to look at its Solar Reflectance Index (SRI) data. SRI is measured on a scale of 0-100 with 100 being the coolest possible. This measurement is very important in determining how well metal roofing and its color will work on a roof.
Metal roofing utilizing cool colors are known to have energy savings ranging from 7%-15% of overall cooling costs. Since more heat is reflected, energy bills are lowered. Cool painted metal roofs retain 95% of their initial reflectance and emittance over time equaling longer lifespan over conventional roofing systems. Like all roofing projects, however, costs and energy savings can vary depending on multiple factors such as project size, project location, climate, and ease of roof access.
ASC Building Products' selection of cool colors assists in meeting the sustainability targets developed through LEED, CCRC, and CA Title 24. The solar performance data of our standard coatings have been tested and maintained by the Cool Roof Rating Council (CRRC). You can check out our Reflectivity Emissivity chart here. Better performance equals better cost savings and more ecologically sound. You can find all of ASC Building Products cool colors here.
Moreover, metal panels are long-lasting and can be repurposed or reused. With their high recycled content, they are also 100% recyclable at the end of their lifespan. ASC Building Products metal roof and wall panels have been a product of choice in achieving sustainability goals, Passive House Institute Certification, or Net Zero Energy Certification. Metal roofing meets the program performance criteria for state and federal energy tax credits and is also eligible for other cool roof incentive programs.
A study by scientists at the U.S. Department of Energy's Lawrence Berkeley National Laboratory (Berkeley Lab) modeled 100,000 structures in several different types and ages of homes, retail stores, and office buildings in cities across California and the U.S. Findings showed that sun-reflecting cool walls had potential to save just as much or more than sunlight-reflecting cool roofs and could help alleviate the urban heat-island effect.
When choosing to protect your investment, choose metal from ASC Building Products. The premium metal roof and wall panels are designed to transform your home while providing long-lasting protectascion. With a portfolio of panels which have been tested by an accredited third party, ASC Building Products assures building owners outstanding product performance, energy efficiency, long-lasting value, and peace-of-mind.
Original source article: ASC Building Products