By EVERROOF.
Silicone roof coating avoids re-roofing and adds 15 years to existing roof.
The Westgate Media Park (Westgate) located in Los Angeles, California, is a Class B 150,000 square-foot office campus constructed in 1974. The property's tenants are heavily media-oriented, with Fox Entertainment divisions and The Post Group among its larger occupants. The current owner purchased the building in 2000 and invested in significant cosmetic upgrades, including a curved stainless-steel fascia to give it a more contemporary look.
Challenge
The original high-quality built-up roof (BUR) system has never needed to be torn off and replaced. The building's property management company, Tarantino Construction, has worked with Culver City, California-based Hull Brothers Roofing since 1992 to maintain and make any necessary repairs to the five-ply, monoform membrane. Charles Jewett, president Hull Brothers Roofing, recently counselled Tarantino Construction that the roof, while it stood the test of time for 46 years, needed more than just minor repairs. However, after assessing the roofs condition, Jewett and his team determined that a complete tear off and re-roofing wasn't necessary.
The challenge on this project was that the 76,400 square foot roof system has 80 air conditioning units, other roof-mounted equipment, skylights, electrical conduits gas pipes, and vent and drainage systems.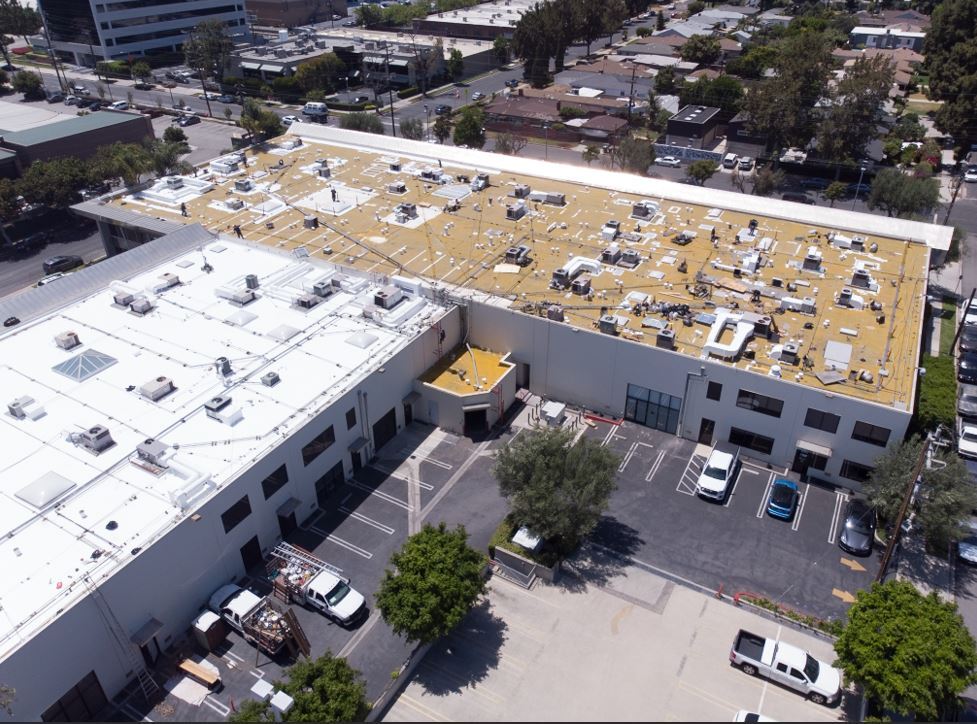 Solution
Westgate's BUR roofing system consists of extra layers of ply sheet, a large amount of hot asphalt, and a base of additional asphalt and reflective aluminum emulsion mixed with chopped fiberglass strands, giving the aluminum emulsion extra body and a thick finish surfacing. This durable system was the perfect candidate for Jewett's silicone roof coating suggestion, which will extend the existing roof's lifespan up to 15 years. And, unlike other coating materials, silicone won't degrade, chalk, or crack from prolonged exposure to direct sunlight. Silicone coatings erode much slower than other elastomeric coatings without becoming too brittle or hard.
Hull Brothers turned to California-based EVERROOF to leverage their manufacturing expertise and myriad silicone roof coating products. Six years ago, EVERROOF representatives met with Hull Brothers to offer an alternative to roof tear offs and traditional re-roofing. Since that time, Hull Brothers hasn't torn off even one cap-sheet roof because of the benefits EVERROOF silicone roof coatings provide their customers.
"I was so impressed with EVERROOF's coating products and support that I've been able to generate more revenue for my company because it is a complete paradigm shift for my customers," commented Jewett.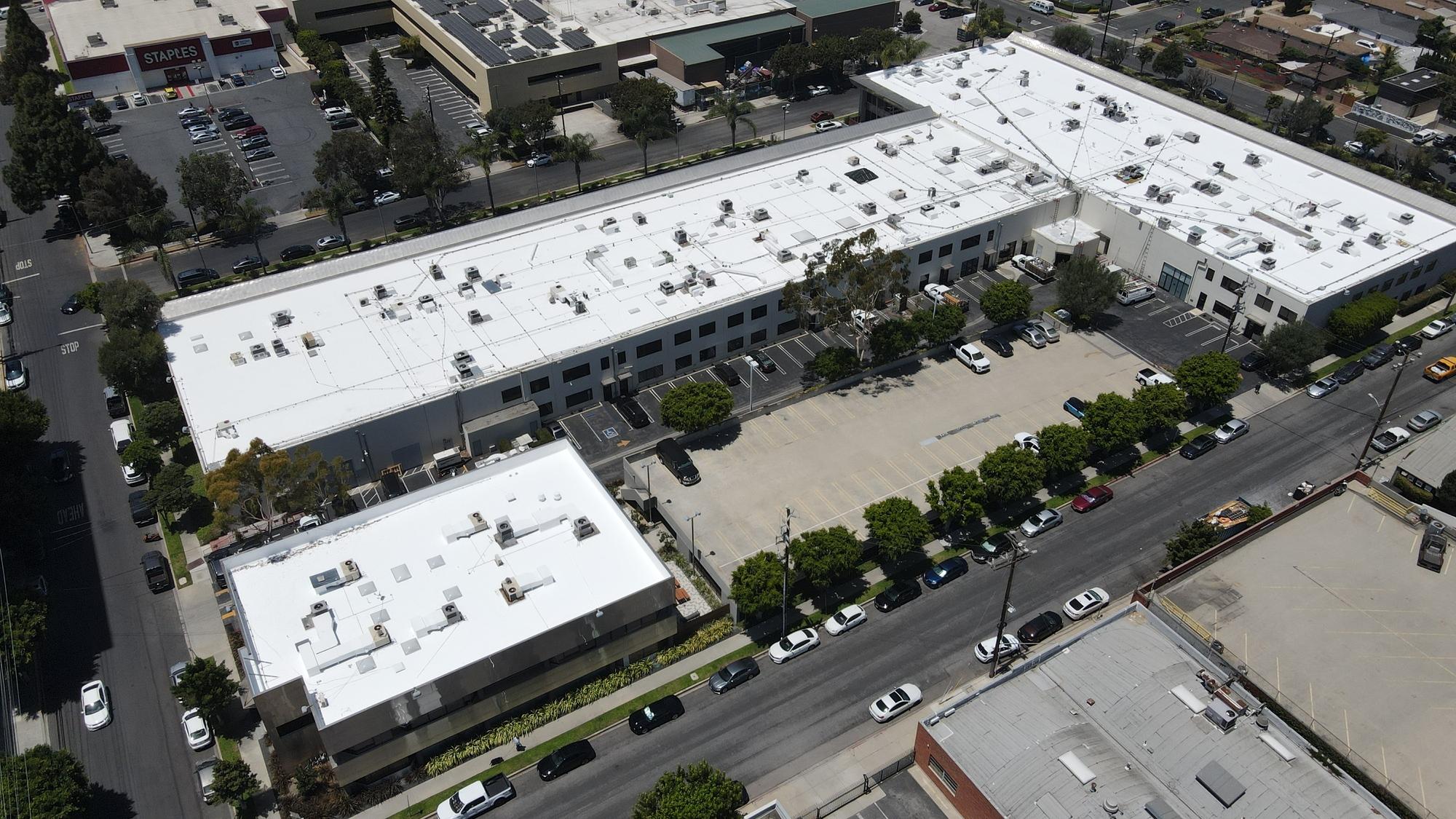 The four-step coating process consisted of Hull Brothers pressure washing Westgate's roof, putting on a primer, using Mastic™ sealant to reinforce any cracks, such as vents, skylights or pipe penetrations, and finally applying the silicone [coating]. Once cured, this moisture-cured coating formed an elastomeric and durable film, which allowed the roof coating to seal around penetrations, bridge cracks, and reinforce membrane seams and protect against the damaging effects of ponding water.
Tenants are rarely disrupted during this process that requires about half the time of traditional re-roofing. However, because of the pandemic, the offices were empty.
"While the offices are currently empty, Westgate is typically occupied with tenants and their offices have exposed interior ceilings. A silicone roof coating is less disruptive to tenants and is a cleaner installation with no falling debris compared to a tear off and re-roof," commented Mike Tarantino, president Tarantino Construction.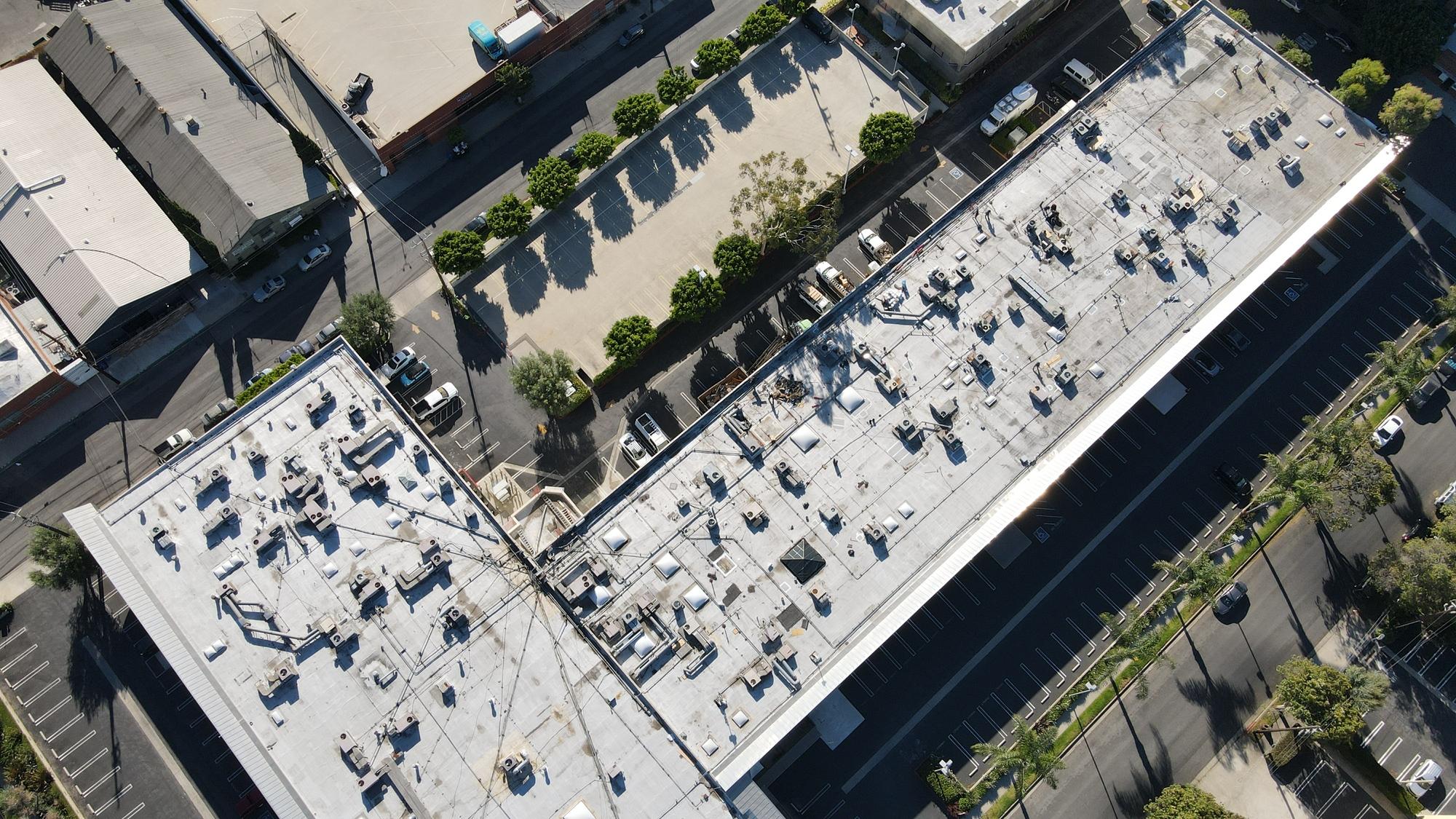 Results
EVERROOF's new silicone roof coating saved the property owner 45 percent over the cost of a tear off and new roof. It also added an extra layer of UV protection to reduce thermal absorption. This will help Westgate's interior stay cooler, reducing energy consumption and costs, which the tenants will appreciate since they pay the electric bills.
This new roof coating provides a tax benefit to the building owners who can deduct (up to $1 million) on income taxes as an expense the first year rather than being considered a capital expense subject to depreciation over multiple years.
"As the property manager, we are tasked with controlling maintenance costs. This silicone cool roof coating is a cost-effective solution that will reduce maintenance expenses because we now have a new roof – without the expense of a complete tear off and re-roofing – that will prevent leaks," said Tarantino.
This new cool roof silicone coating is in compliance with California's updated Title 24 Building Energy Efficiency Standards that went into effect January 1, 2020. The cool roof dramatically reduces roof temperatures by reflecting UV rays, which also prevents the building's interior from heating up, thereby lessening air conditioning usage.
The owners are also saving money with this new silicone roof coating because it can be installed in half the time required to reroof, which also costs money to haul away and dump the existing roof in a landfill, and adds expenses for the new roof material and installation.
Learn more about EVERROOF in their RoofersCoffeeShop Directory.