By Lauren White, RCS Reporter.
Family, friends and local companies band together to replace water damaged roof.
Veteran, family man, and retired correctional officer, Augustine Rodriguez, 82, was burdened with a leaky roof on his longtime home in Chino, California. Knowing the roof would only become worse with the onslaught of winter rains, his daughter Renee began searching for a solution.
Augustine's granddaughter, Marina, recommended contacting Shell Roofing for an inspection. Rudy and Hector Gutierrez, brothers and owners of the company, are family friends. In an interview with Champion Newspapers, Renee shared, "I asked if the roof could be patched...There were water spots inside that have been there for a while." The results of the inspection were not good, and unfortunately, a new roof was going to cost them $30,000.
"We were just going to hold on with a lot of prayer and hope that the roof would last another two years until we could replace it," Renee explained to Champion Newspapers. Rudy, RCS influencer, and his brother had other plans though. Impressed with Augustine and his service to others, the brothers decided to donate the roof, materials and labor included.
The Gutierrez brothers spoke to a couple of their vendors, ABC Supply in Ontario, California and Ted Berkely of Berkeley Construction to help with the roof replacement. ABC Supply donated the roofing materials and Ted repaired the wood and painted the trim. Ever Sanchez and Iran Guido, both of Pico Rivera, were in charge of the project. Workers labored in 100-degree temperatures to complete the roof replacement.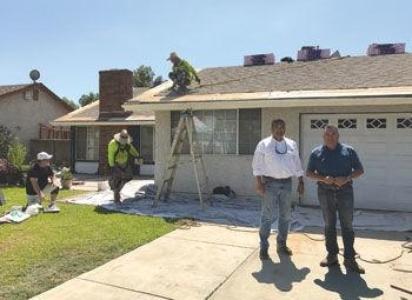 Brothers Hector (left) and Rudy Gutierrez of Shell Roofing in Chino stand in front of the Rodriguez home this week as the roof is undergoing repairs. Champion photo by Brenda Dunkle
Rudy shared in his interview with Champion Newspapers that, "He [Augustine] is still very sharp and active and feels he can do the roof himself...He was very reluctant for us to do this." However, the Rodriguez family was overwhelmed with the generosity of these companies. Augustine told Champion Newspapers he was, "Flabbergasted!" when he learned his roof was going to be replaced for free. Renee was also overcome with gratitude, sharing, "The magnitude of receiving this gift is unbelievable."
In a text message to Renee, Rudy explained, "You are our friends and neighbors, and at the end of the day, it's about neighbors helping neighbors," according to Champion Newspapers reporting. The Rodriguez family hosted a party at their house to thank the Gutierrez family and the employees who replaced their roof. Now Augustine and his daughter Renee won't have to worry about getting wet or having any further roof damage when the winter rains come.
Do you know of someone in the industry who is 'doing good deeds' in their community? Help us catch them at it. Send news and information to info@rooferscoffeeshop.com.