Using technology sets your company apart and demonstrates your commitment to safety and accuracy.
If you pay attention to news out of the roofing industry, you know that two themes dominate the headlines. Labor shortages and hefty fines stemming from the absence of fall-protection and injuries. Providing fall protection and new hires is a job for other companies, but as a solutions-oriented company, we want to share how our technology can address some of the industry's major concerns.
Hire for the future
The roofing industry is aging, the average age in the industry is 36.9 years old. There are many reasons for this but one of the main reasons has been the general promotion of college attendance over the trades. That makes it more important than ever to make your company desirable to young hires and technology is a great way to do that.
When penmanship isn't emphasized in the schools, do you really want your team hand-writing their measurements? Showing potential hires that your company is taking advantage of tech solutions, and even having them help implement those solutions, will help ensure that your company stays at the cutting edge of the industry.
Keep your experienced employees
Another aspect of our aging industry is the retirement of our experienced employees. Roofing is notoriously difficult on the body, especially installation. The inspection and sales process can put people in precarious situations too. Keeping your sales team off of the roof, or limiting their time taping from ladders can be a load off of your mind and your liability insurance.
Earlier this year at the IRE, we talked to Jim Thompson of Thompson Third Generation Roofing about how RoofSnap was working for his company. He told us about his salesman Ken, who was getting close to exiting the industry, and how he was able to keep selling because RoofSnap was keeping him off the roof for his measurements. Watch the full interview below.
Save time, stay safe
When you think about your sales team's process, there's really only two tasks that should put them at risk of falling; their measurements and the roof inspection. We've removed the need for getting out the ladder for measurements, but if you want to really cut your insurance bill, you may want to look into a drone-based inspection system. Systems like Kespry have automated the drone inspection process, but if you've got a qualified pilot on staff, you can take advantage of their skills to create a video fly-through of the roof and take your customer on a guided tour.
We're not saying you need to completely digitize your sales process, but if you run the numbers you may find that the money you save on your insurance bill more than covers the technology cost.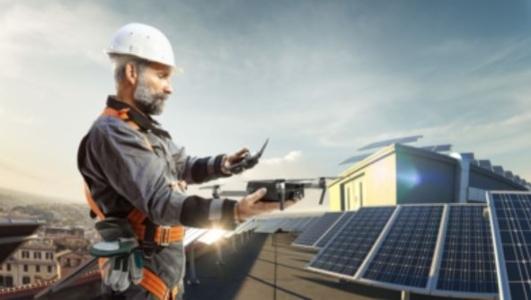 Our software was designed to make the sales process more efficient, but it might save your employees a fall while it saves them time.
If you'd like to see how our software fits into your business, schedule a demo with us or drop us a line! We're a solutions-oriented company, ready to solve your problems.