By SMT Research.
Don't let other people damage your roof and your profitability!
Benjamin Franklin once said, "By failing to plan, you are preparing to fail." Creating a plan for building a new project is common, but it's less common to create a plan for the immediate future of a new building in case of a roof leak. No one wants to think about the worst happening; a brand new roof needing to be repaired prematurely, or even worse, assets below needing to be replaced from water damage due to a leaking roof.
Unfortunately though, if the roof fails within a short amount of time after being built, the cost and planning that comes with making those repairs or replacement can be a nightmare. Not only is it a large capital expense to replace a building's roof, but in many cases it can also harm a roofer's reputation long term by having this negative association even if it is not warranted.
There are strategies available to mitigate this risk, but contractors often overlook them and think they're unnecessary. However, SMT has found this outlook to be shortsighted, and the effort of protecting a building's roof far outweighs the potential replacement and repair costs. We believe that with the right plan in place, SMT can help mitigate the risk.
Generally speaking roofers do great work, but then we have to ask, why do so many roofs have membrane breaches during construction? SMT Research has found through quality assurance scans that it is extremely common to find hundreds of damages and defects in membranes during construction before the construction project has been completed. If the membrane damage is left there, it can turn into a leak right away or later on in the building's lifetime. Often membrane damage isn't caused by the roofer, it comes from other factors like the roof being exposed to the elements for too long before being completed, or other tradespeople using the roof as workspace and lacking necessary education about protection of roof membranes.
A building is constructed in stages, and during that sequencing the roof membrane is often installed to enable interior work to commence, and the membrane left exposed as a work surface in order for other work to be completed on the building.
The roof is at risk for damage from other on-site workers like driving nails or screws through the membrane for framework support and accidental damage in areas such as using the new membrane as storage for staging materials and work surfaces.
Preventing the damage can seem impossible, especially on large projects that take years to complete and have hundreds of contractors working on at any given time. While it may seem impossible to prevent the damage from occurring, it is much more possible to find and repair the membrane breach before permanent damage to roof decks below occurs.
SMT has the solution: Digiscan — a point-in-time membrane scanning tool which detects damage or defects in the membrane. Digiscan is a non-destructive method of scanning, unlike other traditional methods of leak detection. While construction is ongoing, SMT uses Digiscan to scan the roof membrane to look for penetrations that will later cause a leak.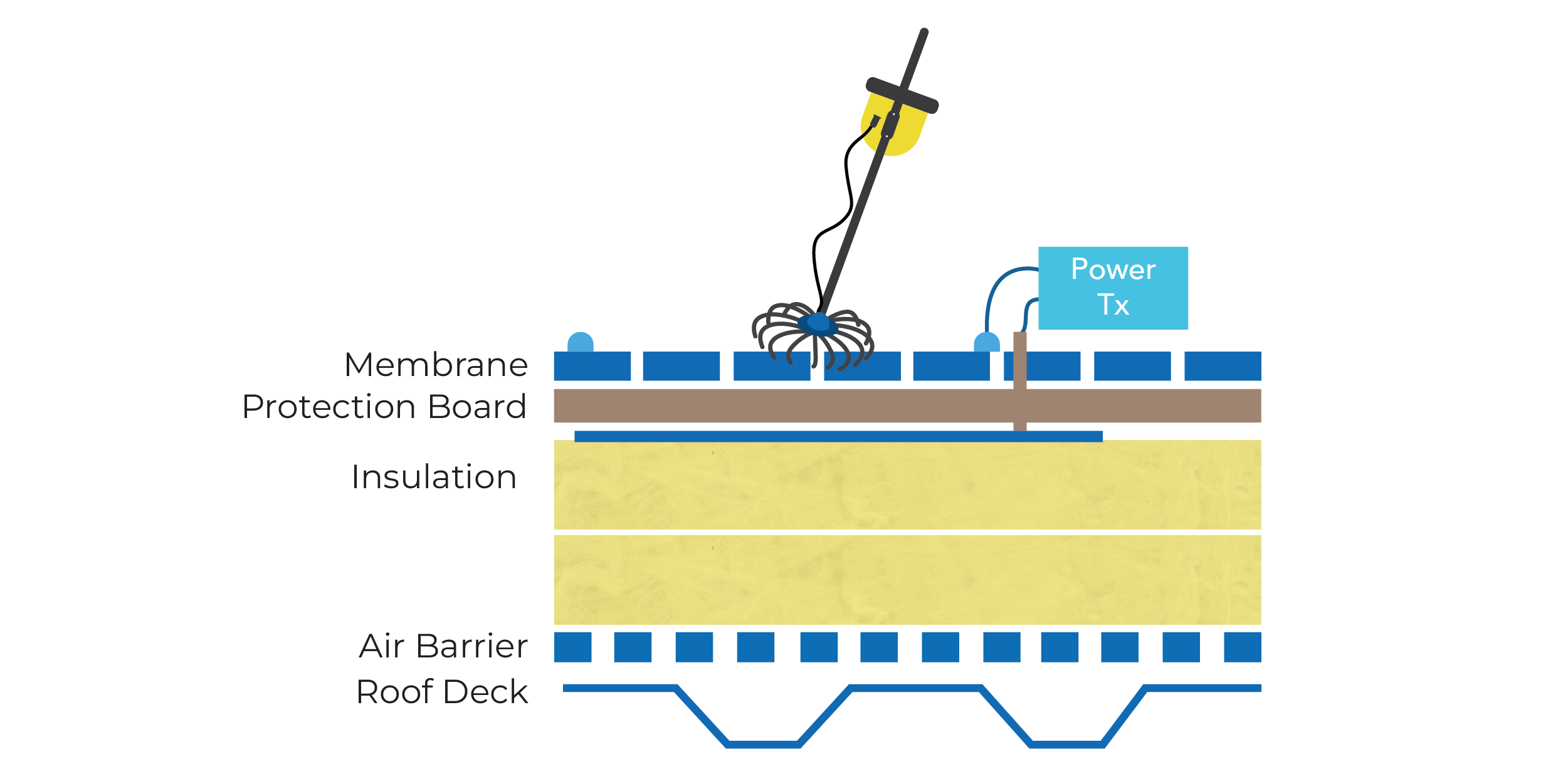 With Digiscan, we can scan everywhere within our adjustable guard circuit, which allows us to scan large areas quickly and efficiently. Our technology and metal detector style shape makes Digiscan lightweight and portable, making it possible to scan tricky architectural details like water features, landscaped environments, with or without even terrain. Digiscan is able to test vertical and horizontal spaces with ease, no conductive medium needed.
SMT provides reports when we scan with Digiscan, complete with photos of all known penetrations. Having this information from the report will allow the roofer to go back and make repairs before finishing the roof, which will make the roof way less at risk for premature leaks. This documentation and method of quality assurance also protects the reputation of the roofer, if scanning is done immediately after membrane installation, the roofer can show other parties that it was installed correctly.
Having a moisture management plan is the best way to maximize the useful life of your roof while at the same time minimizing its recurring costs. Specifically, the Digiscan gives your roof the best start to its life possible by ensuring quality installation and catching any potential defects. SMT wants to protect your building and your reputation, contact us today so we can help!
Learn more about SMT Research in their RoofersCoffeeShop® directory or visit www.smtresearch.ca.