Product donation provides weather-protected home for Rhode Island cancer survivor.
GCP Applied Technologies (NYSE:GCP), a leading global provider of construction products technologies, is pleased to announce that they partnered with Sweenor Builders Incorporated to donate roofing product for their 2019 Habitat for Humanity project in South Kingston, Rhode Island.
For years, Sweenor Builders and GCP have partnered with the Emmy Award-winning TV series This Old House® to build and remodel one-of-a-kind homes. Both organizations are excited to further their partnership, bringing their expertise and innovation to Habitat for Humanity to provide a home for a young woman for the holidays.
South County Habitat for Humanity hosted the home project, which provided a home for Mary, who completed treatment for a very rare and aggressive type of cancer called Ewing Sarcoma just over three years ago. "Being a Habitat for Humanity homeowner will mean having the financial ability to be able to own a house and plant roots somewhere that can be forever mine," said Mary. "To have a kitchen to cook holiday meals for my family and friends was amazing. My life and goals and dreams have changed so much since overcoming cancer. Being diagnosed with cancer just a few years after graduating college meant that between student loan debt and medical bills, I never thought I would be able to afford my own home. However, Habitat has afforded me the opportunity to make my childhood dream of homeownership a reality."
GCP donated its flagship product, GRACE ICE & WATER SHIELD® self-adhered roofing underlayment, to protect the new Habitat for Humanity home from New England's extreme weather. The roofing underlayment protects roofs from harsh weather such as wind-driven rain and ice dams. It seals around the fasteners used to attach the shingles, which helps prevent water buildup from leaking into the house.
"Habitat for Humanity is such a great organization, one that we are always eager to assist," said Lynn Connors, Marketing Manager, GCP Applied Technologies. "We worked with Habitat for Humanity in the rebuilding and new construction of homes for families impacted by Hurricanes Harvey and Irma. We are now pleased to support them in our own backyard, providing needed roofing underlayments to protect the home from water, ice and snow."
Do you know of someone in the industry who is 'doing good deeds' in their community? Help us catch them at it. Send news and information to info@rooferscoffeeshop.com.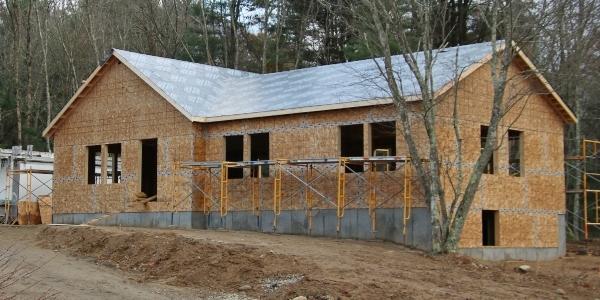 About GCP Applied Technologies
GCP Applied Technologies is a leading global provider of construction products technologies that include additives for cement and concrete, the VERIFI® in-transit concrete management system, high performance waterproofing products and specialty systems. GCP products have been used to build some of the world's most renowned structures. More information is available at www.gcpat.com.
About Sweenor Builders
Based in coastal Rhode Island, Sweenor Builders is an award-winning builder of luxury custom homes. Recognized by This Old House® and the National Association of Home Builders, the firm's portfolio features collaborations with New England's leading architects along with a range of in-house design/build and interior design services. The company has become one of Southern Rhode Island's most sought-after builders, thanks to the guiding principles of its President and CEO Jeff Sweenor. Since 1989, he's surrounded himself with craftsman who share his passion for delivering rewarding client experiences, and quality homes that last for generations.
About South County Habitat for Humanity
South County Habitat for Humanity is dedicated to eliminating substandard housing locally and worldwide through constructing, rehabilitating and preserving homes; by advocating for fair and just housing policies and by providing training and access to resources to help families improve their shelter conditions. For more information, call 401-213-6711 or visit www.schhri.org.