By Lauren White, RCS.
Collaboration of companies donate new roof and more to Vietnam veteran.
In Yankton, South Dakota, veterans and the elderly, many living on SSI or V.A. benefits, are being overlooked for their housing needs. Duane Kleinschmidt, a disabled Vietnam veteran, knows this firsthand after receiving a letter from his insurance explaining that his roof was in such disrepair they would no longer insure it.
Kleinschmidt found the Home Repair Program offered by Habitat for Humanity. In an interview with Yankton Daily, Rebecca Meier, executive assistant at Habitat for Humanity, explained that the program "operates by performing repairs through an interest-free loan to the homeowner." Meier continued, "Housing is a basic human right— having a decent place to live...Our Home Repair Program builds ramps, weatherizes windows, roofs, things like that. Those are things that are essential to being able to stay in your home and to have a healthy home."
Unfortunately, Kleinschmidts income fell below the level to qualify for the program. Meier didn't turn him away though. She completed a home visit, part of the Home Repair process, and determined the home needed attention. "Because his insurance wasn't helping the situation and we, based on our basic program, were not able to help him, I started diving in a little bit deeper to see how we could help," Meier stated to Yankton Daily.
That's when Habitat found Purple Heart Homes, a non-profit in North Carolina that is "dedicated to providing housing for service-connected disabled and aging veterans," according to Yankton Daily. They funded the entire project and sought the assistance of Owens Corning through its Roof Deployment Project.
"Owens Corning works with its Platinum Preferred contractors to help install new roofs for veterans," as mentioned in the article by Yankton Daily. They worked in collaboration with Habitat for Humanity of Clay and Yankton Counties, Purple Heart Homes, Xcel Roofing and roofing materials and manufacturer Owens Corning to provide the Kleinschmidt family with a new roof and energy efficient windows and siding. Shon Thielson, owner or Xcel Roofing told Yankton Daily, "We are spearheading this in conjunction with Owens Corning...They are donating the shingles, we are donating the labor, and it's also with Habitat for Humanity and Purple Heart Homes."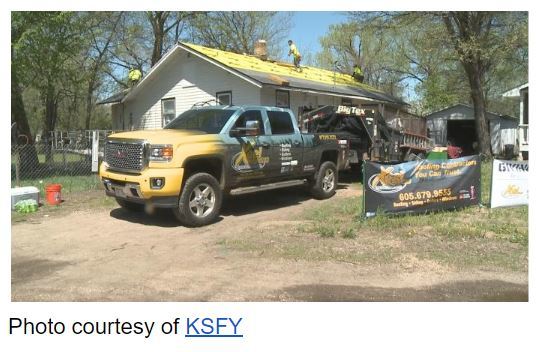 Xcel Roofing, Owens Corning, and Habitat complete similar projects to help veterans every year.
The alliance between these companies allowed the Kleinschmidt family to have a safe and healthy place to live. Hopefully they can continue to make a positive impact in the Yankton community for more veterans and elderly homeowners on fixed incomes.
Do you know of someone in the industry who is 'doing good deeds' in their community? Help us catch them at it. Send news and information to info@rooferscoffeeshop.com.