By Lauren White.
'M&M' man nominated to receive a new roof from Lynchburg Roofing Gives event.
A Desert Storm Veteran, father to four children, and devoted grandfather, Tracy Bryant is well-known and liked among his Lynchburg community in Virginia. Better known as the "M&M man," Bryant is recognized by his constant smile and his M&M truck. In an interview with WSET News, Bryant expressed, "For years I've done anything and everything I could for anybody. If they needed something, I may not be the one to be able to do it but I would know somebody that could."
Unfortunately, Bryant was diagnosed with a rare form of cancer. He also had a leaky roof that needed replacing. The existing roof he put on himself in the 90s. Bryant explained to WSET, "Leaks was the biggest issue and the gutter had fallen off a couple times. I've done some patching trying to band-aid it." According to his nominating story, "Tracy has been working hard to make repairs to his home as he is able to. He is battling cancer and with his limited income, his roof has been one task he hasn't been able to accomplish. Patching will only last so long."
Others noticed Bryant's struggle and nominated him for the Lynchburg Roofing Gives event. Thanks to votes, the M&M man was chosen as the winner. Bryant was extremely grateful for the nomination and told WSET, "It's humbling, very humbling I was nominated three times that I know of so that was a blessing in disguise." A new roof would have cost him $10,000. In his interview with WSET he commented, "I don't know how I would have done it. Financially I'm strapped with disability income."
Brian Morris with Lynchburg Roofing told WSET, "Tracy kind of epitomizes what the Lynchburg community is. He's always the first one to give so we're so thankful to be able to give a new roof to him...His story really resonated and we think it resonated because he's a veteran and he served this country and it's wonderful to be able to give to veterans that we have in this community."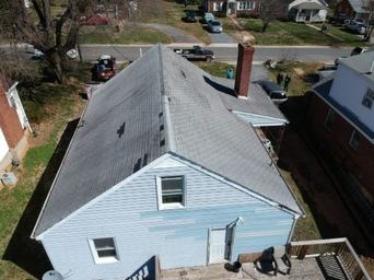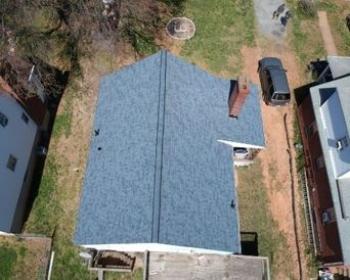 Lynchburg Roofing expressed their gratitude for the opportunity to honor Bryant. "We had the privilege of installing a new 50-year leak proof roof along with new gutters to ensure he never has to worry about leaks again. If something catastrophic happens to his roof, we're only a phone call away."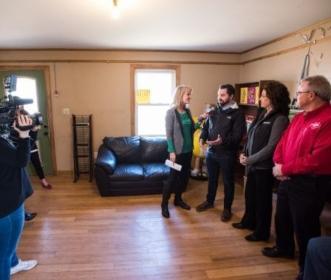 Other partners contributed to help serve the M&M man. WSET ABC13 helped spread the word about Bryant and the other finalists for the Lynchburg Roofing Gives event to reach a wider audience. Foster Fuels donated remote-controlled gas logs to help keep him warm during winter. And Wooldridge Heating and Air supplied Bryant with a new HVAC system.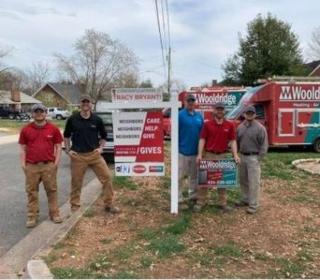 The tagline of the Lynchburg Roofing Gives event is, "Neighbors care. Neighbors help. Neighbors give." The M&M man saw this first hand and will now be warm, dry, and comfortable in his home under his new roof.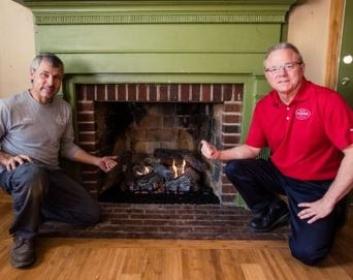 Do you know of someone in the industry who is 'doing good deeds' in their community? Help us catch them at it. Send news and information to info@rooferscoffeeshop.com.