Installed in 2019, DaVinci Roofscapes Composite Shake and Synthetic Slate Tiles are protecting these commercial buildings across the United States.
Aloha Composite Shakes Pahala, Hawaii
The Colony One at Sea Mountain resort features 15 buildings on the Big Island of Hawaii. Built in 1978, the structures were initially roofed with natural cedar shakes. The 76 condos were re-roofed again in 1998. Now they're getting their third — and hopefully last — re-roofing.
"We're in the process of re-roofing three buildings each year at Colony One," says Debora Letelier, operations manager with Kokua Roofing. "The entire project will be complete in 2022. The new DaVinci Single-Width Shake tiles were selected for their beauty and long life span. These polymer tiles can truly stand up to the sun and winds in Hawaii."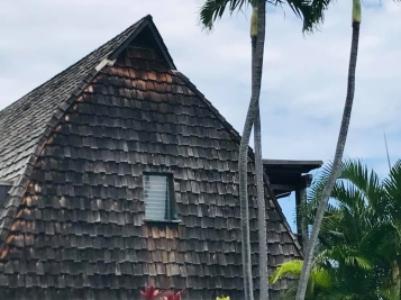 New Synthetic Slate Roof for New Pioneer Hall Minneapolis, Minnesota
Established in 1934, the five-floor Pioneer Hall student housing facility on the University of Minnesota campus underwent a massive renovation in 2019. The exterior of the outside wings were left standing. However, everything else was torn down and reconfigured.
As part of the rebuilding effort the university needed a new roof to top off a new Pioneer Hall. That's when DaVinci Roofscapes came into the picture.
"The DaVinci Multi-Width Slate product got approved for this project because it so authentically duplicates real slate," says Jesse Turner, onsite project manager for McGough Construction, the general contractor for the project. "At the same time, there are many benefits of having a top-quality synthetic roof. The impact- and fire-resistancy, plus low maintenance aspects are huge benefits for the university."
Selection of a roofing color was also a critical factor in choosing the DaVinci synthetic slate product. DaVinci created a custom color blend of dark purple, medium brown, dark stone, medium green and dark green for Pioneer Hall.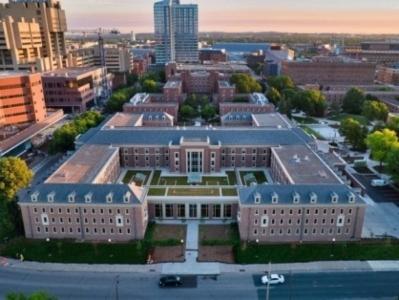 Renovated Seaview Resort Boasts DaVinci Roofscapes Composite Slate Roof Galloway, New Jersey
Following an extensive $18 million renovation, the award-winning Seaview, a Dolce Hotel, is once again open for business. Located on 670 scenic acres along Reed's Bay in picturesque Galloway, N.J., the luxury resort and golf club now boasts a composite slate roof overhead.
"The decision on a new roof was important because we face the bay and have constant exposure to salt air and strong winds," says Mike Tidwell, director of sales and marketing for Seaview, a Dolce Hotel. "We needed to preserve the historic look of the roof while finding a product that weighed less than real slate and could give us decades of hassle-free maintenance.
"We selected a DaVinci Roofscapes Single-Width Slate roof to provide us with the same aesthetic appeal as the original slate roof."
"One of the aspects we liked best about selecting the DaVinci product was our ability to choose a custom color mix that replicated the original roof," says Tidwell. "We chose a blend of Dark Violet, Medium Tan and Dark Terracotta that helps preserve the historic look of the structure."

A Devil of a Hail Storm Lincoln, Nebraska
Since 1869, members at First Presbyterian Church in Lincoln, Nebraska have dealt with hail storms that impacted their homes and church. In 2019, the real slate roof over the church was deemed a loss due to hail damage. Just 21 years after being installed, it was ready to be replaced.
The massive roof replacement project was coordinated by Precision Construction & Roofing. It involved adding a new Bellaforté Slate roof to the church sanctuary. In addition, the chapel, offices, fellowship hall and many classrooms got a new roof. The city-block sized church facility now looks revitalized with an Evergreen-colored roof.
"We recommended the DaVinci product to the church because of its Class 4 impact rating," says Eric Hunter, owner of Precision Construction & Roofing. "We've installed about 100 DaVinci roofs in this area. They all hold up extremely well to our regular hail storms. We're confident the church will experience the same peace-of-mind now that they've invested in the impact-resistant roof."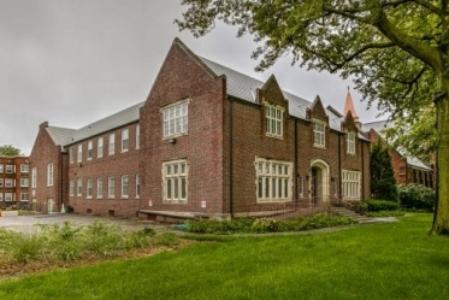 Composite Shake Tops 1895 Historic Home at Museum Clermont, Florida
Visiting Clermont Historic Village Museum takes you back in time to the late 1800s. You'll find buildings constructed out of their original heart pine wood. But, you'll also find a state-of-the-art synthetic shake roof on one structure. The 1895 Townsend House got a new Select Shake composite roof in an Aged Cedar blend last year.
"We all agreed that the synthetic shakes from DaVinci Roofscapes are the best solution," says Jim Briggs, president of the Clermont Historic Village Museum. "They maintain the original look of the roof, plus we know they'll have a long lifespan.
"All of our visitors love the look of the roof. Many people think they're the original style wood shakes. We know better. We have the comfort of knowing they'll endure through hurricane conditions year-after-year. And, we also know this roof is resilient enough to stand for many years after we're gone."