By Meta Team.
Learn how the COVID-19 pandemic affected the roofing industry and the major concerns contractors still have.
When COVID-19 left the world uncertain on how to operate safely, factory shutdowns and reduced product inventory became a common occurrence in the roofing industry. However, what the industry did not expect was the major increase in demand for resources due to consumers having more money to spend and lower interest rates. John Altmeyer, executive chairman of GAF, had this to say about the effects of the pandemic on the roofing industry:
"The industry left 2019 in a "pretty stable" situation before demand slowed and supplies declined as the Covid-19 pandemic struck. Inventories throughout the supply chains were diminished. Fast forward to 2021, the economy rebounds. Demand picks back up again. The supply chains are stressed. They struggle to get those inventories built back up."
COVID-19 breakouts globally forced the temporary shutdowns in factories and ports. In turn, the manufacturing of goods was reduced and shipment of many items were delayed. The following graph from the US Chamber of Commerce Q4 2021 Commercial Construction Index shows material shortages ranking as contractors' highest concern due to COVID-19: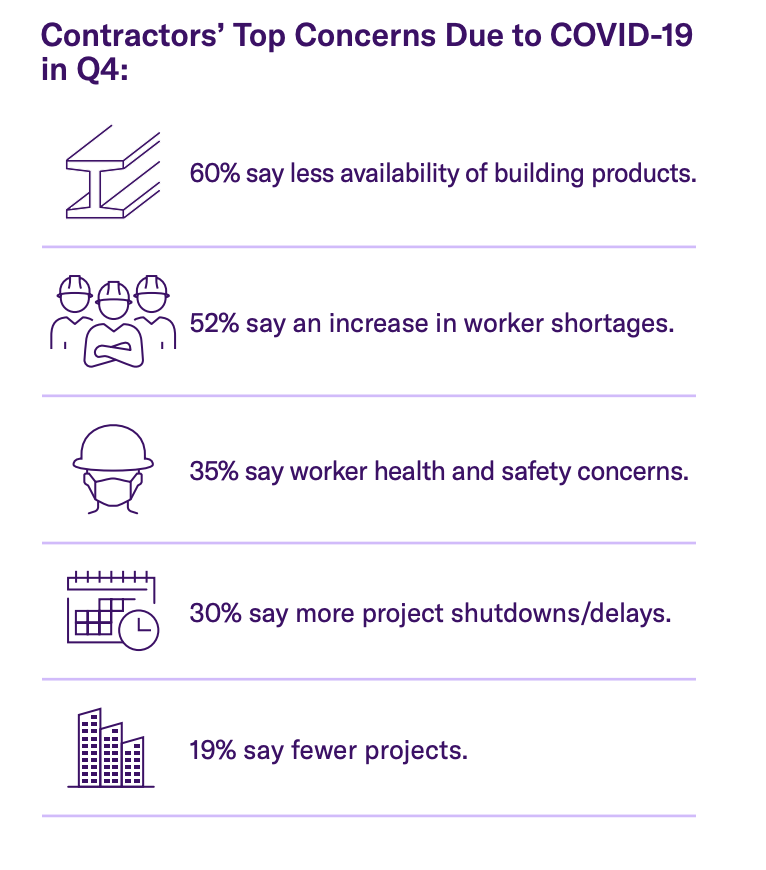 The Chamber report notes that 95% of contractors report a shortage of at least one material with steel ranking highest at 27% and roofing products second at 19%.
The property insurer FM Global, summed the impact of COVID-19 to, "The pandemic has disrupted demand (as consumers have hunkered down) and product supply (as factories have suspended production), setting up a bullwhip effect of supply and demand mismatches."
This complex set of interwoven issues has moved roofing manufacturers to no longer hold pricing on material quotes or guarantee delivery dates. Materials are priced at the time of delivery and the longer it takes to deliver, the more it currently costs. In a letter to roofing contractors, Jennifer Ford-Smith, director of marketing and product management at Johns Manville states, "Due to unprecedented demand combined with raw material shortages, nearly all products are experiencing significant lead times into Q1 2023." The manufacturers do not seem to see any relief from the myriad of issues affecting both price and lead time until at least 2023.
To learn more about the impact of COVID-19 on the roofing industry, visit Meta Team's website.
Original article source: Meta Team