By Lauren White.
Junior No. 3 Firehouse expertly restored in Maryland.
"Preservation Maryland recognizes people, projects, and places that exemplify and advance the collective preservation movement statewide," according to a press release from Wagner Roofing Company. This happens every May during National Preservation Month.
A Stewardship Award was presented to Wagner Roofing Company during the "Best of Maryland" Awards. They received this accolade for their work rehabilitating the Junior Company No. 3 Firehouse in Hagerstown, Maryland. Doug Carroll, the firehouse's private owner, received honors as well.
The Junior Company No. 3 Firehouse was originally constructed in 1852. At that time, it was occupied by federal troops during the Civil War. Following the Battle of Antietam in 1862, it was used as a temporary field hospital. In 1970, the Maryland Historical Trust nominated this building to be placed on the National Register of Historic Places.
Years later, in 2006, William "Doug" Carroll III, a retired U.S. Navy Commander, and his wife Kristy purchased the firehouse. Between 1970 and 2006, the firehouse fell into disrepair. As Hagerstown residents, neighbors to the firehouse, and history aficionados, the Carrolls wished to return the structure to its original splendor. They also wanted to restore the significance of this building to the city of Hagerstown.
Mr. Carroll contracted Wagner Roofing Company in 2018 to be a part of the restoration efforts. The Maryland Historical Trust largely funded the repairs. New Buckingham slate and copper flashings replaced the original slate roof and cupola. Wagner Roofing also remodeled the dormer by providing custom wood framing and new windows.
The final step was for Wagner Roofing to scrape and repaint the historic brick façade. With the help of the Maryland Historical Trust and Mr. Carrolls' in-depth research, the building, along with the iconic bell tower and surrounding ornate cornices, were restored to their historically-accurate color scheme.
Repaired to its original glory, the Junior Company No. 3 Firehouse can be seen from nearly every edge of the city. With the help of Wagner Roofing, its appearance is renewed, and the memories, history, and character this building holds will forever be cherished.
Get more industry news and information like this delivered right to your inbox when you sign up for the RCS Week-in-Review newsletter.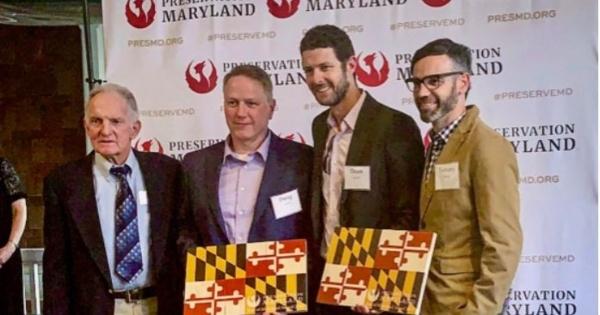 All photos courtesy of Wagner Roofing.