By Lauren White, RCS Reporter.
This inventive company has come a long way since its beginnings in Strasbourg, France.
From France to Switzerland, back to France, and all the way over to Canada and the United States, SOPREMA has a unique company history.
It all begins in 1908 with Charles Geisen in Strasbourg, France. Before SOPREMA, he founded the "Alsatian Emulsion Factory." It was common then for architects to design large terraces for private villas. The roofing materials they were using, natural asphalt and coal tar, were expensive and unreliable. Charles found a better way though. He dipped jute cloth into hot bitumen, an asphalt product, which resulted in a "...lightweight, solid, strong sheeting…" according to SOPREMA. This product was named MAMMOUTH®, which is French for "Mammoth."
One year later, Charles created, "...a loyal customer base by starting the forerunner of the SOPREMA Contracting Division, a group of well trained, experienced installers that are still in existence today."
Between 1914 and 1918, the company moved to Zurich, Switzerland and then back to Strasbourg, France. This was due to the start of World War I. The company name also changed when they moved to Zurich, and they became known as "Asphalt Emulsion Zurich." Once the war ended, "...the Alsace Region of France was returned to the French control allowing the company to resume its operations in Strasbourg," as explained by SOPREMA.
Still, in France, Charles' son Pierre, an engineering graduate, started managing the company in 1933. During this time Pierre developed MAMMOUTH ALU by improving the MAMMOUTH membrane. He did this by "...adding a layer of thin aluminum foil to protect the bitumen from temperature variations, weather, and ultraviolet rays, thus extending the membrane's life span," SOPREMA notes. This product was just as successful as the original MAMMOUTH product and is still being produced.
In 1941, due to World War II, the company had no choice but to move to Avignon, France. "In this 'free zone,' Pierre Geisen opened a new plant named Societe des Produits et Revetements d'Etancheite Mammouth (Society of Waterproofing Products and Coatings Mammoth)," as explained on the company site. And that's how SOPREMA got its current name.
During 1962, Paris was experiencing post-war reconstruction and urban development. SOPREMA took this opportunity to build a new plant near the Paris market in Louviers, France. With Normandy's refineries producing bitumen, SOPREMA was able to access it easier, thus helping with their continuous and quick growth.
In SOPREMA's "state-of-the-art research laboratory" in Strasbourg, ELASTOPHENE and SOPRALENE were developed. In 1972, SOPREMA produced the "...first rolls of the innovative ELASTOPHENE brand of SBS modified bitumen membranes," SOPREMA discloses.
Not long after, in 1975, SOPRALENE was developed. SOPRALENE is, "...the first line of SBS elastomeric bitumen membranes reinforced with polyester fleece," SOPREMA explains. The addition of the polyester fleece acted as a reinforcement, making the product stronger and more flexible. This product, in addition to SOPRALENE FLAM— same product but heat weldable— was very successful in France and abroad. SOPREMA reveals, "The growth of worldwide exports required the development of additional subsidiaries in Europe as well as North America."
From 1978 to 1984, SOPREMA expanded its reach to Canada. Known as SOPREMA CANADA, the headquarters is located in Quebec. With its success, Quebec also had a manufacturing operation built there.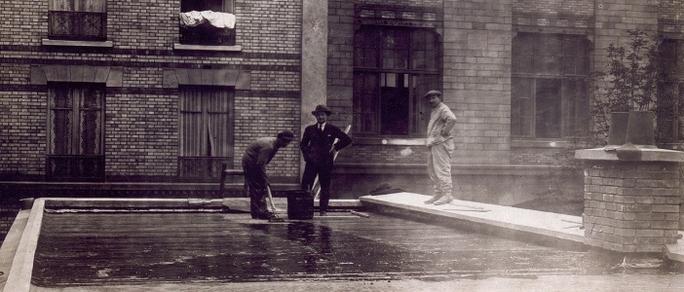 There was a change in SOPREMA's management in 1992 when Pierre-Etienne Bindschedler, Pierre Geisen's grandson took over. And just a year later SOPREMA's sixth manufacturing plant is established in Wadsworth, Ohio. This was the first plant in the United States.
In 1997, back in Strasbourg, SOPREMA developed ALSAN. This line of liquid waterproofing products, "...has continued to grow and offers a cost-effective, load-bearing, high-performance seamless waterproofing solution," SOPREMA discloses.
Chilliwack, British Columbia and Gulfport, Mississippi were the destinations of two new plants in 1999 and 2007, respectively. The opening of these two plants served the Pacific Coast region and allowed the U.S. market continuous access to SOPREMA's products.
For over 100 years, SOPREMA's products have been recognized and respected around the world. The company has been able to stay in the family throughout the years, and it survived both World War I and World War II. SOPREMA has managed to expand its reach worldwide. With their continuous improvements and inventive products, SOPREMA is successfully providing the roofing industry with a line of superior products and services.
Learn more about SOPREMA and its product offerings.