By Karen Edwards, RCS COO.
Improving accuracy, protecting profits and eliminating friction between contractors and adjusters.
OneClick Code's story is one we hear often in the roofing industry — a contractor became frustrated with a poor-performing product, or in this case, a broken system, so they took the matter into their own hands and created a new way of doing things.
CEO Garrett Kurtt was in those shoes. He spent 14 years in the property restoration industry as a contractor, an adjuster, an appraiser and even an expert witness. Frustrated at the complicated building code system he became determined to build a better way of finding the right codes to defend his estimates.
The old way doesn't work
In a recent Tech Talk for RT3 members, OneClick Code's Director of Marketing and PR Jessi West Gunteski shared the company's story. "Contractors and adjusters are using very outdated and manual systems to gather building code information," Jessi said. "These manual systems of calling the cities and counties to find building codes for roofing projects leaves money on the table and wastes a lot of time."
Jurisdiction is key to accuracy
OneClick Code's solution is that easy – contractors and adjusters can type in the property address and with one click have access to accurate jurisdiction, building codes, sales tax and more. Using addresses alone isn't enough says Jessi because that is just assigned by the U.S. post office and doesn't determine the jurisdiction of the property. "We've found that 45 percent of properties in the U.S. fall outside of the city listed in their postal address," explained Jessi. "If you get the jurisdiction wrong, you get the sales tax wrong, you get the building codes wrong, and we see that these errors can cause up to 25 percent price swing in estimates."
Jessi shared with RT3 members an example of two properties, which both had mailing addresses in Englewood, Colorado, yet one of those homes fell under the jurisdiction of Arapahoe County. If one were to assume they were both under the jurisdiction of Englewood, they would not have accurate estimates because of the differences in sales tax, permit fees and the fact that the code in Arapahoe doesn't require ice and water shield like the code in Englewood does.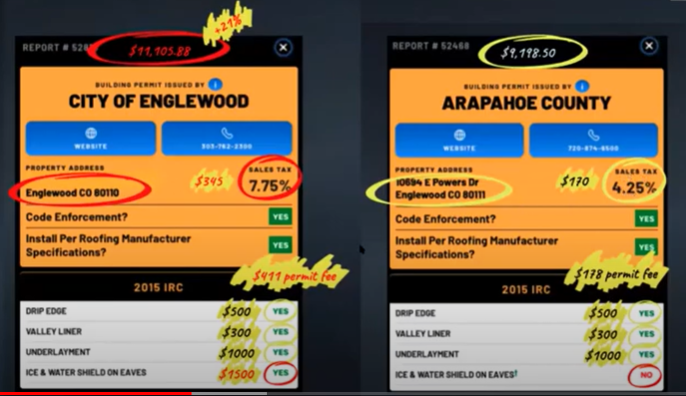 It's a common problem to get the jurisdiction wrong according to Jessi. She shared that OneClick Code did a study with a top 50 insurance carrier to analyze 500+ properties. They found that 36 percent of the properties were assigned the wrong jurisdiction, meaning that carrier over or underpaid those claims.
The secret sauce
OneClick Code spent the first two years as a company manually calling 30,000 cities and counties across the U.S. to build their extensive database of building codes. They continue to update it daily, using proprietary, patented geolocation technology to identify each property.
The company works with contractors, adjusters and carriers because they want to be that single source of truth that helps everyone be more accurate in their estimates. To help get everyone on the same page, OneClick Code includes the documentation needed along with the code language and the specification report, complete with diagrams of the roofing systems.
If accuracy, profitability and eliminating the back and forth with insurance companies sounds good to you, give OneClick Code a try. Start your 14-day free trial at www.oneclickcode.com.
Learn more about OneClick Code in their RoofersCoffeeShop® Directory or visit www.oneclickcode.com.