By Lauren White.
American Red Cross honors Antis Roofing.
"The old saying is true...heroes don't always wear capes," says Linda Voss, Regional CEO of the American Red Cross Desert to the Sea Region, serving Orange, Riverside, and San Bernardino Counties. Antis Roofing & Waterproofing was honored as one of these heroes at the fourth annual Orange County Heroes Luncheon at Hotel Irvine in California. The luncheon, "Aims to recognize local individuals and organizations who embody the mission and spirit of the Red Cross by saving lives and creating safer and more resilient communities," explained Antis Roofing.
In a room full of business leaders, elected officials, sponsors, and community supporters, Antis Roofing & Waterproofing was one of 16 recognized for their dedication and contributions to the American Red Cross. Angel Beltran from Antis shared, "Antis Roofing & Waterproofing supports the Red Cross mission through generous donations to disaster relief efforts, hosting blood drives, participating in the Missing Types Campaign, volunteering at Sound the Alarm events and most recently highlighting the Red Cross in the Antis Community Corner with the Anaheim Ducks." Antis Roofing works closely with other organizations including Alzheimer's Orange County, Ronald McDonald House Charities and Habitat for Humanity, among others.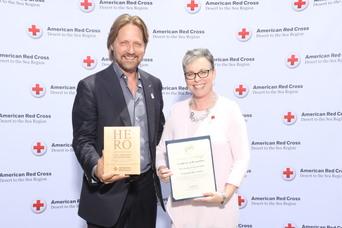 Linda Voss commented in support of Antis Roofing, "We live and work among many unsung heroes. It's a distinct honor to recognize the incredible feats of ordinary people with extraordinary courage in Orange County. Bringing their stories to the forefront to receive the attention and praise they deserve — that's what it's all about."
With a year of powerful storms, Antis Roofing employees worked tirelessly, even volunteering their time and skills to help others. Charles Antis, founder/CEO of Antis Roofing, expressed in his acceptance speech that, "It's an honor to be recognized. I want to say I do have heroes in my company, and they are the employees...I have the most amazing team and we truly are changing the world." Karen Inman, president/CEO of Antis Roofing, explained on behalf of Antis Roofing, "Our employees are very focused on giving back...Antis Roofing & Waterproofing commitment to the community is just part of each employee's DNA."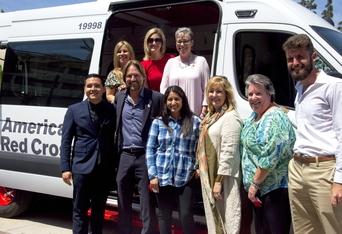 Charles Dewhurst and Linda Rosse from Red Cross Orange County told KTLA 5 News, "How many times do we hear that, 'I don't think I'm a hero. It's my job or part of my job or I've been trained that way.' But you know what, you were there, you reacted, you did something that not everyone would or could do." These people have done extraordinary things to help others.
Antis Roofing was awarded the corporate hero award. In their press release about the event, the Red Cross also recognized Antis as their Disaster Relief Sponsor, helping to make the luncheon possible. Others awarded for their above and beyond efforts to help those in need and save lives included heroes of: animal welfare, community, first responder, gift of life, service to the armed forces, water rescue, and youth.
"We all try to find our superpower, so I'd like to think that we are heroes. And we are heroes because a hero will come to the rescue in the moment and help somebody out," expressed Karen Inman in regards to Antis Roofing. The "purpose before profit" approach Antis has adopted is one we can all strive to adopt.
Do you know of someone in the industry who is 'doing good deeds' in their community? Help us catch them at it. Send news and information to info@rooferscoffeeshop.com.