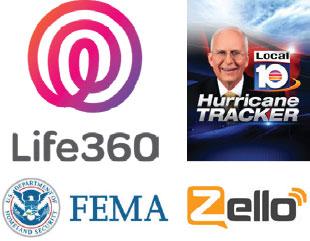 Keeping the communication lines open with apps is crucial before, during and after natural disasters.
The storm may have passed but often the cleanup takes weeks or months depending on the severity of the damage. Here are some helpful apps that you can use to stay safe and informed before, during and after a disaster:
With Zello, a PTT (Push To Talk) radio app, turn your phone or tablet into a walkie-talkie. Talk to your contacts privately or join public channels.
Life360 lets you keep track of your family and friends in an emergency. It sets up a personal network so you can send messages and share locations privately. Check in every so often so your loved ones know where you are and send messages to everyone at once.
The FEMA app is your one-stop-shop with tools and tips to keep you safe before, during, and after disasters. Stay updated with weather-related alerts from the U.S. National Weather Service.
The Max Mayfield Hurricane Tracker app provides the latest and most accurate information about severe weather where you live to help you keep your family safe. The app provides information on projected hurricane paths, interactive live radar, live local 10 news storm coverage, severe weather alerts, tropical weather outlooks and watches and warnings.
The apps are available for iOS and Android devices.
This blog post first appeared on the Polyglass blog and can be viewed here.