Add the NRCA Roofing Manual—2018 Set—Spanish to your library today!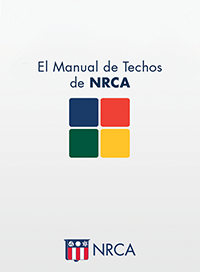 El principal recurso técnico de la NRCA le entrega la información de techado más actualizada y útil de la industria. Es una excelente adición a su biblioteca técnica y es un material de referencia confiable para los exámenes de licencia de contratista de techos estatal.
La colección contiene los siguientes cuatro volúmenes:
Precio de miembro: gratis
Precio de no miembro: $995
¡Descargue hoy su Manual de Techos de la NRCA—Colección 2018—Español!
---
Share this: