More than a roof. It's a Legacy.
We are an award winning slate roofing company serving the Eastern United States with offices located throughout Ohio and Maryland. Founded in 1986, The Durable Slate Company provides premium historic roofing services and has earned numerous high-profile awards for busines integrity and roofing ingenuity.
Established in Columbus, Ohio, over thirty years ago, we started as a small slate roofing company. Through quality service, sound methods and professional integrity, we quickly grew and now offer our roofing services nationwide. We follow The Durable Way: Incredible craft, service, transparency and professional integrity.
Mastering stone, metal, & earth, we build the world's best historic roofs. Our family of craftsmen transform slate, copper, & clay into a premium & bespoke product, finely built to the last nail. A silent protector, your roof will endure beautifully, inspiring future generations to build better. Let's make history.
Visit our website to learn more.
---
2020 Gold Circle Award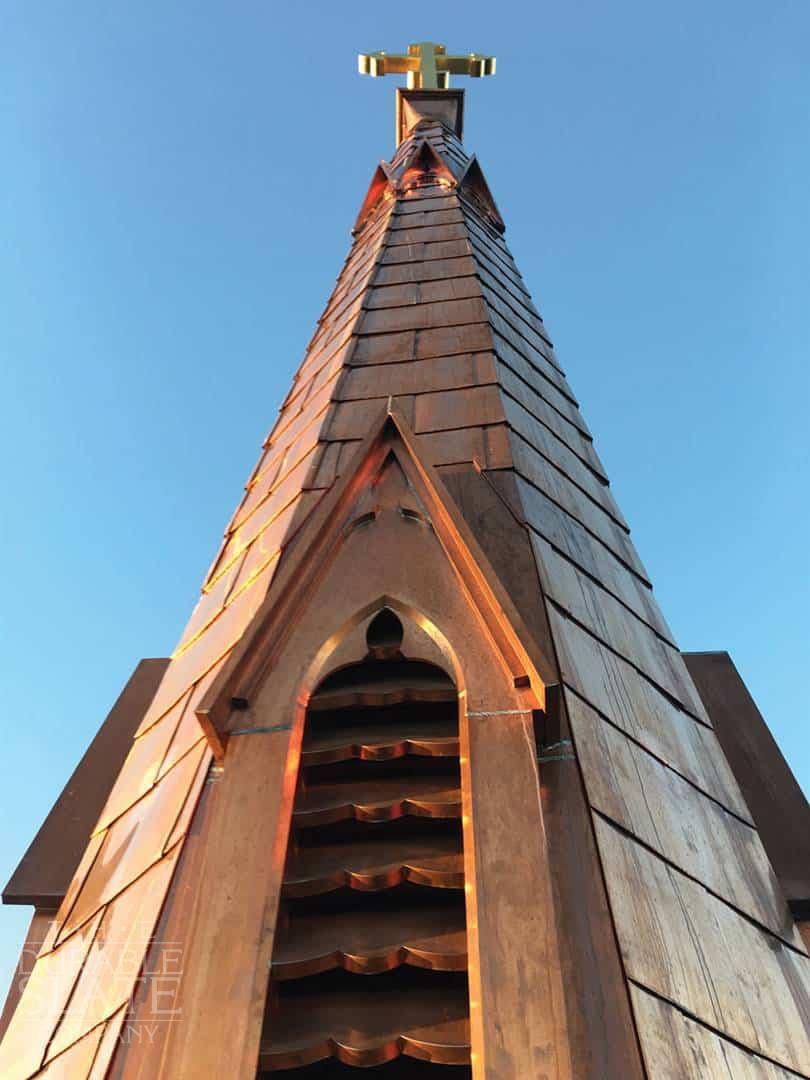 In April 2018, The Durable Slate Company crew began work on Steeple Square. At 211 feet high, the steeple is one of the tallest structures in Dubuque. To work safely at this height, The Durable Slate Company workers helped design and install a scaffolding system.
The Durable Slate Company workers repaired and/or replaced deteriorated roof deck sheathing and applied Owens Corning Titanium® Synthetic Underlayment to the roof deck. To create new flat-lock copper panels, The Durable Slate Company craftsmen used 15,000 pounds of 20-ounce copper and handmade each panel with a cleat to allow for expansion and contraction.
In October 2018, The Durable Slate Company crew completed work on Steeple Square. A Dubuque icon since the 1800s, the revived Dubuque skyline landmark now serves as a beacon for affordable housing, educational training, recreational programs, celebrations and community empowerment.
For its exceptional work on Steeple Square, The Durable Slate Company received a 2020 Gold Circle Award from the Roofing Alliance in the Outstanding Workmanship category and a North American Copper in Architecture Award from the Copper Development Association. In addition, The Durable Slate Company is the first U.S. company to win a prestigious International Federation for the Roofing Trade IFD Award in the Metal Roofing category.
Chrystine Elle Hanus, Steeped in Roofing, Professional Roofing, July 2020
---
The Durable Way.
Our unique approach to historic roofing.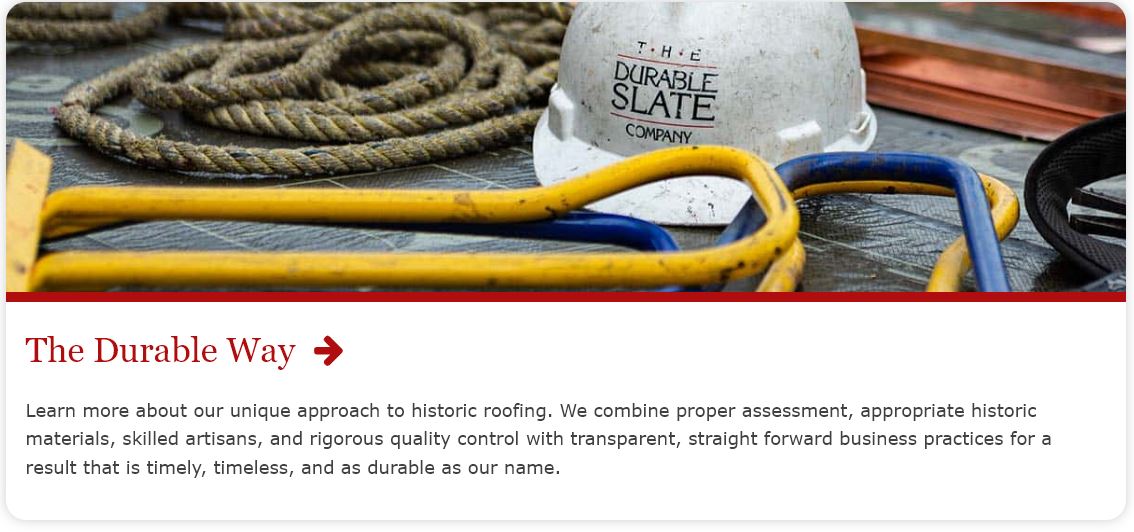 ---
Our Services
From slate or clay-tile roofing to copper gutters to precision ornamental metal work, The Durable Slate Company can handle any specialty roofing project of any size, anywhere. Whether small or large, all roof repairs receive the same attention and commitment to quality. You'll love our work.
---
Slate Roofing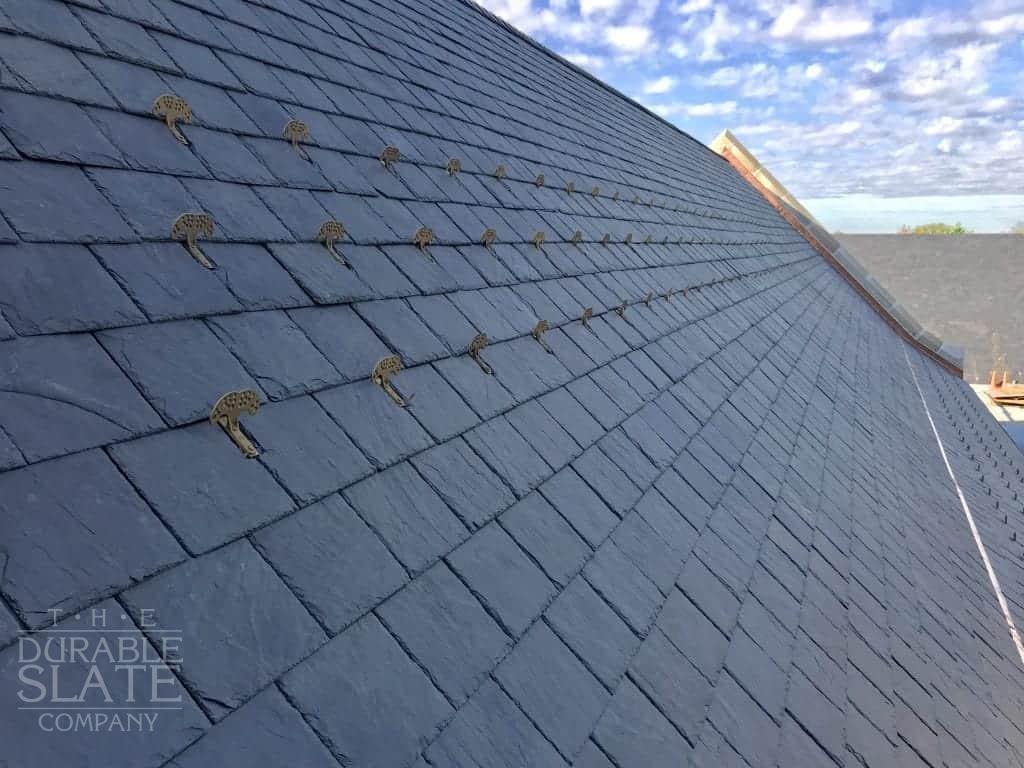 Expert slate roof restoration, repair, & replacement. No matter the building type, no matter the size, we provide the same premium service and attention to detail. Traditional roofing methods, lasting materials, and a classic approach to business is The Durable Way and slate roofing is our art.
And with such a large stock of reclaimed slate in America, we can match most slate for an exceptionally seamless repair or full roof replacement. If your slate roof has been damaged by fire, wind, storm, other forces of nature, or just requires a bit of upkeep, you can be confident in The Durable Slate Company for your slate roof repair needs.
A thorough evaluation by a professional is provided by The Durable Slate Company at no additional cost to you to determine what is best for your slate roof.
---
Clay Tile Roofing
We install, repair and restore all types of clay roof tiles expertly, by contractors with in-depth knowledge and respect for the roofing material.
The repair and restoration of old clay tile roofs should only be done by a roofing contractor with suitable expertise; too often tile restoration is carried out by contractors without the in-depth knowledge and skill required, resulting in many ruined clay tile roofs. Choose Durable instead.
---
Copper Roofing
The Durable Slate Company installs all types of copper roofing including standing seam, batten seam, soldered flat lock, copper shingles, diamond pattern, and other custom systems.
With proper fastening, skilled handling of joints, and adequate consideration for thermal and building movement, a well-installed copper roof can last many decades with little or no maintenance.
---
Copper Gutters
We install all types of hanging copper gutters from standard 16oz. k-style to custom heavy gauge gutters with bar stock supports to withstand the harshest winters. We can replicate all ornamental gutters, collector heads, and downspouts.
Leaks in these gutter systems can cause extensive interior damage, and, if not properly repaired, may result in structural damage.
---
Ornamental Metal
Though slate and metal roofs have much intrinsic beauty, patterns in the roof and ornamental elements such as finials, collector heads, decorative cornice, and other fancy metallic roof protrusions add another aspect of beauty to the exterior fabric. These items can also uniquely customize new roof installations.
---