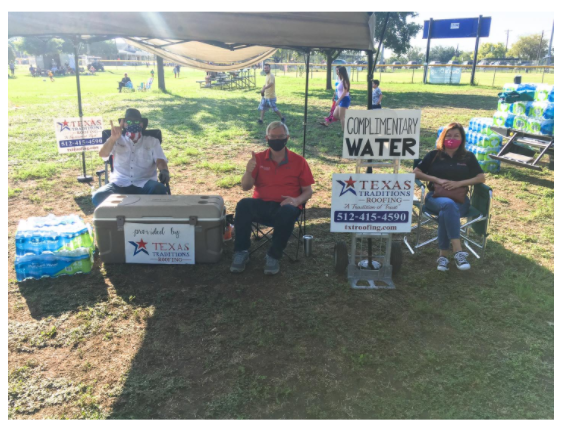 Texas Traditions Roofing began as a shared calling by three family members to work and give back to our community. As a local roofing contractor, we are an experienced and highly professional team focused on serving you with good, old-fashioned core values. Customer service is the heartbeat of our business. We treat others as we wish to be treated, and we believe in giving back to the community.
As a family owned business, we are firmly founded on quality, customer satisfaction and community involvement. Whatever your roofing needs, we believe these traits will translate into a pleasing and positive experience for you. Like our name says, we believe in doing business based on strong, traditional Texas values, and we are working hard to establish a Tradition of Trust for our customers and our community.
Our Core Values:
Put God first, family second.
Be brutally honest and accountable to each other.
Treat everyone with humility and respect.
Vastly exceed expectations.
Be the roofing expert.
---
Comprehensive Roofing Construction & Installation
Many Choices of Roofing Materials
Because every roof is different and every building is different, Texas Traditions Roofing offers different options for steep-slope and low-sloped roof applications. Some types of roofing we offer include:
Metal roofing – We use metal products from Sheffield Metals, Berridge, MBCI and other metal manufacturers for low and steep-slope roofs that desire a metal roof. .

Low-sloped roof from GAF and Mule-Hide, both offer exceptional products that will protect your building's low-sloped roof and provide you with decades of use.

Asphalt shingles for steep-slope applications. Leading brands like GAF, Owens Corning and CertainTeed are a few names we offer.

GAF Timberline Solar Shingle – GAF Energy has developed the first nailable solar shingle, creating an integrated solar roofing system. This shingle is designed to blend with a regular asphalt shingle, making it capable of protecting and powering your home at the same time, without losing curb appeal. Gone are multi-level racks and unnecessary penetration points.

Tile roofing from DaVinci. If you want a distinctive look for your steep-slope commercial roof, you can't go wrong with the slate or shake-style tiles.
How we're different from other Roofing Contractors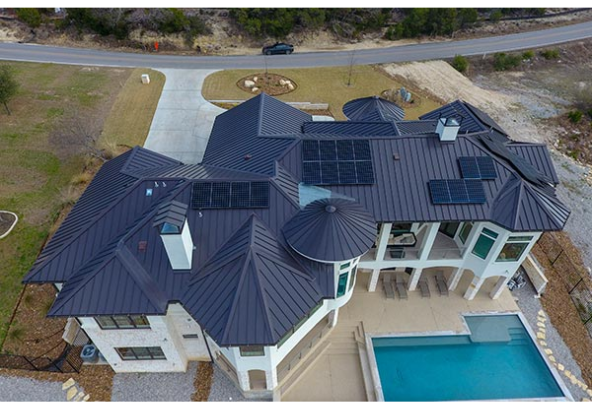 Texas Traditions Roofing is locally owned and operated. We are licensed through the Roofing Contractors Association of Texas and are fully insured to help protect you and your commercial building. We also have been highflyer certified by our manufacturers, ensuring our professional experience. We also offer a no obligation free roof inspection. Our roof advisors are not there to sell but advise you in the right direction for your roof.
When you partner with Texas Traditions Roofing, you'll find that we strive to complete the job within the budget and on time. We'll automatically enroll you in our proactive roofing maintenance program, which will help you roof remain in good condition longer than an unmaintained roof.
Call today for a free consultation.
Whether you're a contractor, architect or business owner, call Texas Traditions Roofing to learn more about our new construction services and why we're the top roofing contractors in the Austin area. Call 512-894-8674 to book an appointment with one of our roof advisors.
---
Residential Roofing Options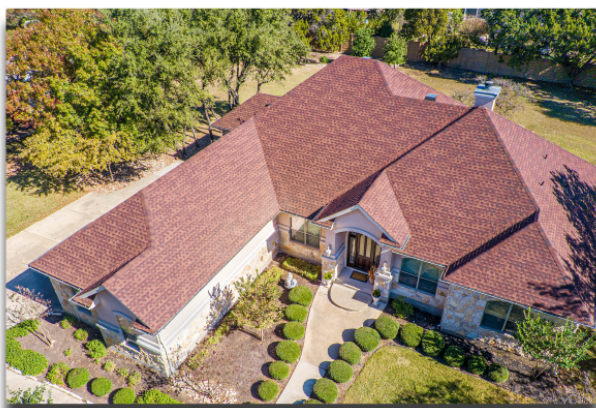 A majority of Central Texas homes are roofed with asphalt shingles.
Roofing technology has seen significant advancement in the past decade. When you're looking at asphalt shingles, chances are good that you'll choose an architectural shingle for its distinctive look and the advanced features available from quality brands. Some of those features include:
Algae resistance
Impact resistance
Wind resistance
Cool roofing technology
Color blend technology
Class A fire rating
Other options for your home's new roof include tile and metal roofing. Like asphalt shingles, tile and metal roofing have advanced dramatically in recent years. Today's tile roofing can look like real slate or shakes. Metal roofing comes in a variety of colors and styles, many of which provide excellent insulative values on top of impressive durability.
---
Providing the Central Texas Region with Superior Roofing Services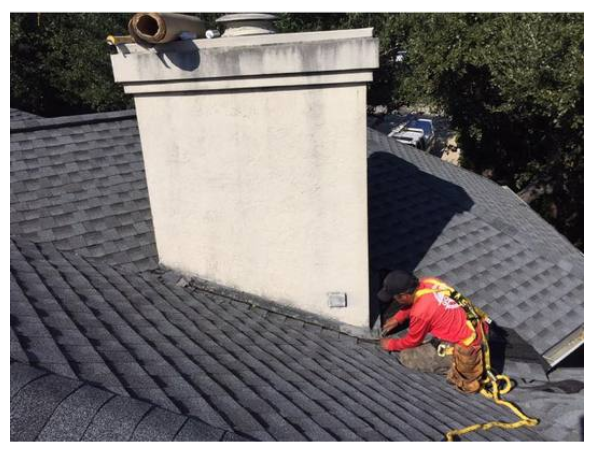 We know there are many roofing companies you can call in Central Texas. If you're looking for one that is locally-owned and -operated, insured, licensed and dedicated to doing everything with traditional Texas values, you've found the right company. Texas Traditions Roofing was established in 2014 by three family members with the goal of offering experienced, professional roofing services.
Texas Traditions Roofing is based in Georgetown, TX, and services a large portion of Central Texas. From New Braunfels in the south to Woodway in the north along I-35, we provide exceptional residential and commercial roofing services.
Our service area also includes cities like Killeen, Lampasas, Burnett, Marble Falls, Rockdale and San Gabriel – to name a few. This benefits homeowners as well as commercial property owners in that they don't have to juggle multiple roofing companies for their roofing needs.