Polyglass U.S.A. Inc., is a leading manufacturer of roofing and waterproofing solutions.
Known for its self-adhered roofing systems based on the company's patented ADESO® technology and CURE Technology® , Polyglass also produces a full line of
premium roof coatings and roof maintenance systems.
Providing quality, innovation and service at its best, Polyglass adds value worldwide.
Visit Our Website Here
Sign Up For Our Newsletter Here
---
Simplify Roof Maintenance With PolyFlash® 1C
Many contractors view PolyFlash 1C as a must-have white
flashing compound because it can seal a wide variety of
roofing and waterproofing details in wet and damp
conditions. As a reliable, versatile solution for
temporary and permanent roof repairs, PolyFlash 1C
is an ideal product for contractors to have on hand when
performing roof maintenance.
✓UV resistant
✓High tensile strength
✓Crack bridging capabilities
✓Extensive application ambient
temperature range 40°F to 122°F
Learn More Here
---
Velociflex High Wind Resistant Roof Assembly
Polyglass' Velociflex roofing system is highlighted by two plies of modified bitumen membranes. The base sheet is "loose-laid" and mechanically attached in the side laps, which allows for fast and efficient installation. Offering multiple installation and assembly options, the Velociflex systems were independently tested providing for high speed wind protection up to 270 psf (pounds per square foot). Protect your building with Polyglass' Velociflex: a redundant, multi-ply, modified bitumen roof system reinforced with high strength polyester. Great for new roofing, re-roofing and recover systems.
Learn More Here
---
Check out our Q-Rewards Program!
Sign Up Here
---
Polystick® XFR
Polystick XFR is a dual purpose fire resistant and self-adhered waterproofing underlayment. Utilizing ADESO® dual-compound self-adhered technology, Polystick XFR features a SBS (elastomeric) modified bitumen upper compound and an aggressive self-adhesive compound on the bottom. Polyglass' patent pending Burn-Shield Technology™ provides superior fire resistance.
Polystick XFR features a slip-resistant film surface which can be exposed up to 180 days. With a temperature resistance of up to 265°F, Polystick XFR is ideally suited for high temperature roof covering systems such as steel and copper roofing, where fire resistance is required or desired.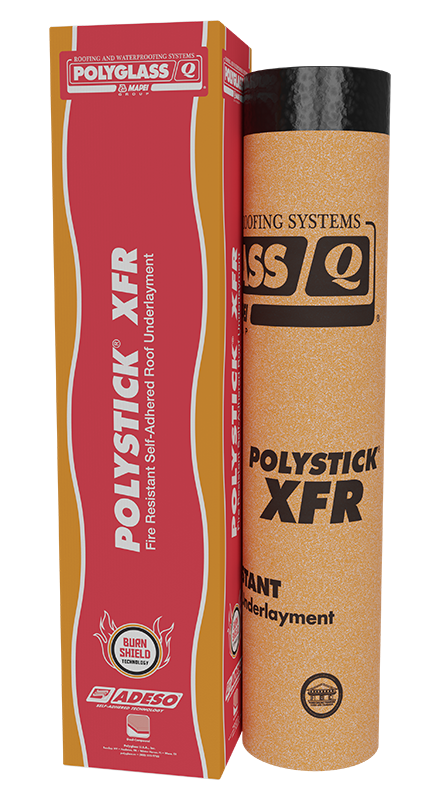 Learn More Here