FULL-SERVICE EXTERIOR ENVELOPE CONTRACTOR

Kalkreuth Roofing and Sheet Metal is one of the top 10 roofing contractors in the country and strives to maintain a progressive vision for the future. Kalkreuth specializes in complex commercial exterior envelope applications in various markets throughout the country. The company boasts an extensive project portfolio including clients in the automotive, chemical, government, education and healthcare industries. With a wealth of resources and an extensive construction industry network, Kalkreuth has the capabilities to complete any project according to specifications.
Our goal is to deliver exactly what the project requires, no matter the delivery method or level of complexity. Every project receives the attention it deserves from our in-house estimating, engineering, project management, and safety departments. At Kalkreuth, our process provides you with the peace of mind in knowing your project will be effectively managed from start to finish.
Since 1984, Kalkreuth Roofing and Sheet Metal has become one of the most trusted roofing and exterior cladding contractors in the industry, and our customers rely on access to the best people, products, services, and technology available. We are proactive in the ever-changing construction industry because we do it all. No resource goes untapped and no project unfinished. Trust your project to a true industry professional.
---
ROOF REPLACEMENT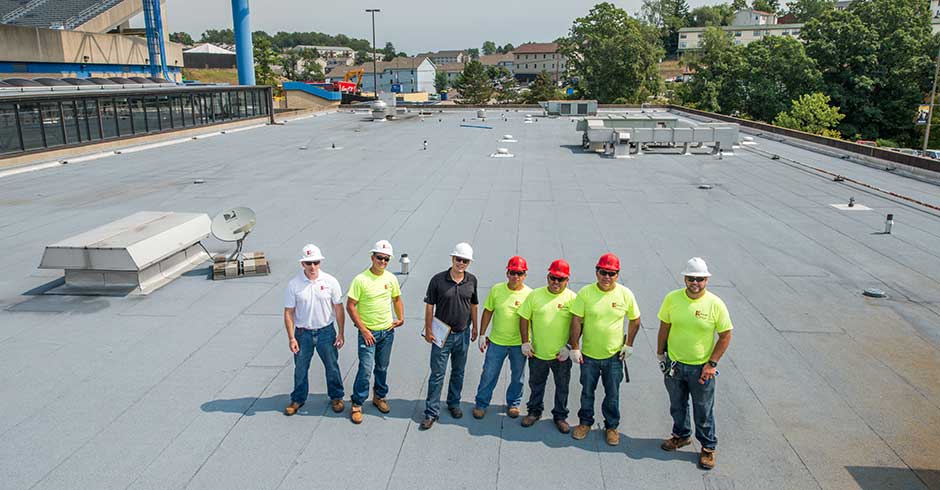 For publicly funded projects, Kalkreuth Roofing and Sheet Metal frequently participates in formal bid processes, which typically include bid/surety bonds, professionally prepared bid forms, legal documents, and public bid openings for entities such as township, county, city, and state governments. Kalkreuth has substantial bonding capacity due to our size and firm foothold in the industry.
Kalkreuth has extensive experience in performing inspections and providing consulting services for privately-funded projects. Kalkreuth prides itself on meeting with each customer to determine goals for their building, and we work with our customers to achieve the desired results. The roof replacement process typically involves budgeting for funding, core analysis, professional measuring and consulting for appropriate roofing system and material selection. We can also advise the customer for proper asbestos testing services and offer professional and personal recommendations for decking replacement, interior protection, and scheduling to minimize interruptions.
We offer a full range of solutions from full replacement to retrofit. Depending on roof conditions and project-specific recommendations, we provide a range of options from tear-off to overlays. In the event your inspection reveals a lesser need, we also provide roof repairs and renewals when a complete re-roof is not required immediately.
---
CUSTOM METAL FABRICATION
We operate a 60,000-square-foot metal fabrication shop for custom architectural metal wall panel systems, accessories, and trims.