Founded in 2016, GREEN LINK Engineering was
established to discover innovative solutions to higher performance, more sustainable construction.
Our company is young, but it is rooted in nearly 50 years
of experience pioneering a range of successful products,
several of which have become standards in the
construction industry. Our focus is designing
and producing innovative polymeric
architectural products.
We are a creative, agile group open to new ideas that will result in stronger, longer-lasting, more energy efficient structures.
We seek dialogue with contractors, architects, materials engineers, product designers and project managers that can lead to new approaches for meeting the challenges of the 21st century. We are an idea company, dedicated to the continuing development and manufacture of stronger, safer, and more durable architectural products. Our existence shall be secured by a relentless pursuit of knowledge, tempered with extreme sensitivity to the needs of the world we live in. The only world we have. We are tolerant of new perspectives and embrace change as a requirement for growth and survival.
We are driven by our commitment to each other and by teamwork, the force that allows common people to produce uncommon achievements. We will assure the future of our company by carefully building the resources necessary to pursue our mission and to achieve our dreams. In all of our endeavors, we shall strive to produce a perfect product and fulfill the needs of our customer.
---
KnuckleHead Mechanical Support Kits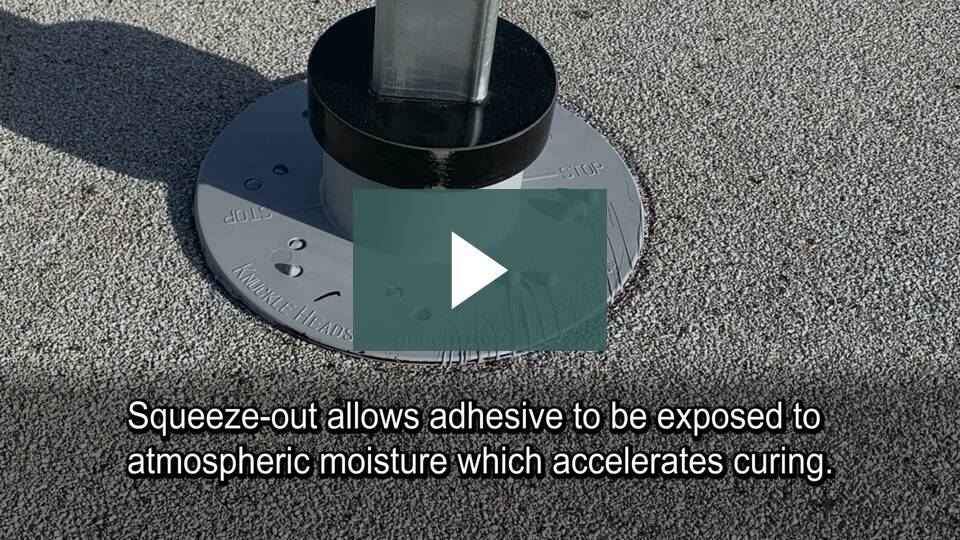 KnuckleHead Mechanical Supports are a single-source solution for mounting HVAC/R equipment. KnuckleHead equipment supports come in a range of strut frame configurations to support a wide variety of rooftop equipment. KnuckleHead Mechanical Support kits are available for single units or can be customized for multi-unit support.
KnuckleHead Mechanical Support kits can be loose laid or secured to the roof deck using fasteners or Green Link Adhesive/Sealant. Please consult roofing system manufacturer or contractor to avoid voiding warranties when penetrating membranes.
KnuckleHead Mechanical Support Kits - Green Link Engineering
Interested? Request a quote today!
---
GREEN LINK Introduces Knucklehead Stanchions and new Mechanical Support Products
KnuckleHeads are a height-adjustable rooftop support system featuring a range of designs and extensions that protect roofs by keeping pipes, struts, HVAC equipment, solar arrays, ductwork, walkways, and cable trays elevated. The KnuckleHead rooftop system contributes to longer lasting roofs and more efficient and sustainable construction.
When local building codes require that equipment such as air conditioning units and compressors be elevated off rooftops to allow snow and water accumulation to flow underneath, GREEN LINK Engineering's Knucklehead Stanchions and new Mechanical Support Products are the solution.
The Stanchions feature a vertical slotted channel with an over-molded urethane footing, which is threaded and designed to mate to the center bolt of GREEN LINK's Knucklehead Bases. Support rails can be set into the slots and secured with brackets to form a structural frame.
Installed, the stanchion allows equipment to be elevated from 6" to 24" off the roof or ground surface. Once the height is set, the channel slots allow support rails to be moderately adjusted so equipment can be optimally leveled.
The Stanchions are sold separately or as part of the Elevated Mechanical Support Assembly kit offered by GREEN LINK. The kit includes KnuckleHead Stanchions, support rails, equipment rails and necessary hardware for constructing 3'X4' or 4'X4' support frames. Custom lengths are available upon request.
---
MetalHead
MetalHead is Green Link's latest, innovative support
system, designed to significantly outperform reclaimed rubber-based, block type support product.
Made in the U.S.A. Patent Pending. MetalHead is an extremely strong and durable support system for pipes, cable management, ducts and HVAC/R equipment.
The aluminum extrusion design provides a sturdy
triangular base with the strut channel incorporated,
which allows attachment of all standard strut
hardware.
Pipe Clamps
Standard strut compatible metal clamps can be used to secure pipes of varying diameters.
Standard size MetalHead is 9.5″ long and can carry multiple pipes simultaneously.
Polyurethane Insert
A molded polyurethane insert is engineered to slide into the channel top for securing up to seven .850″ pipes.
The insert fastens to the head with standard bolts.
Elevated Channel
In this configuration, a section of channel is elevated by threaded steel rods, which attach into a threaded urethane block insert that slides into the MetalHead channel.
This configuration elevates pipes up to 18″ off the roof surface.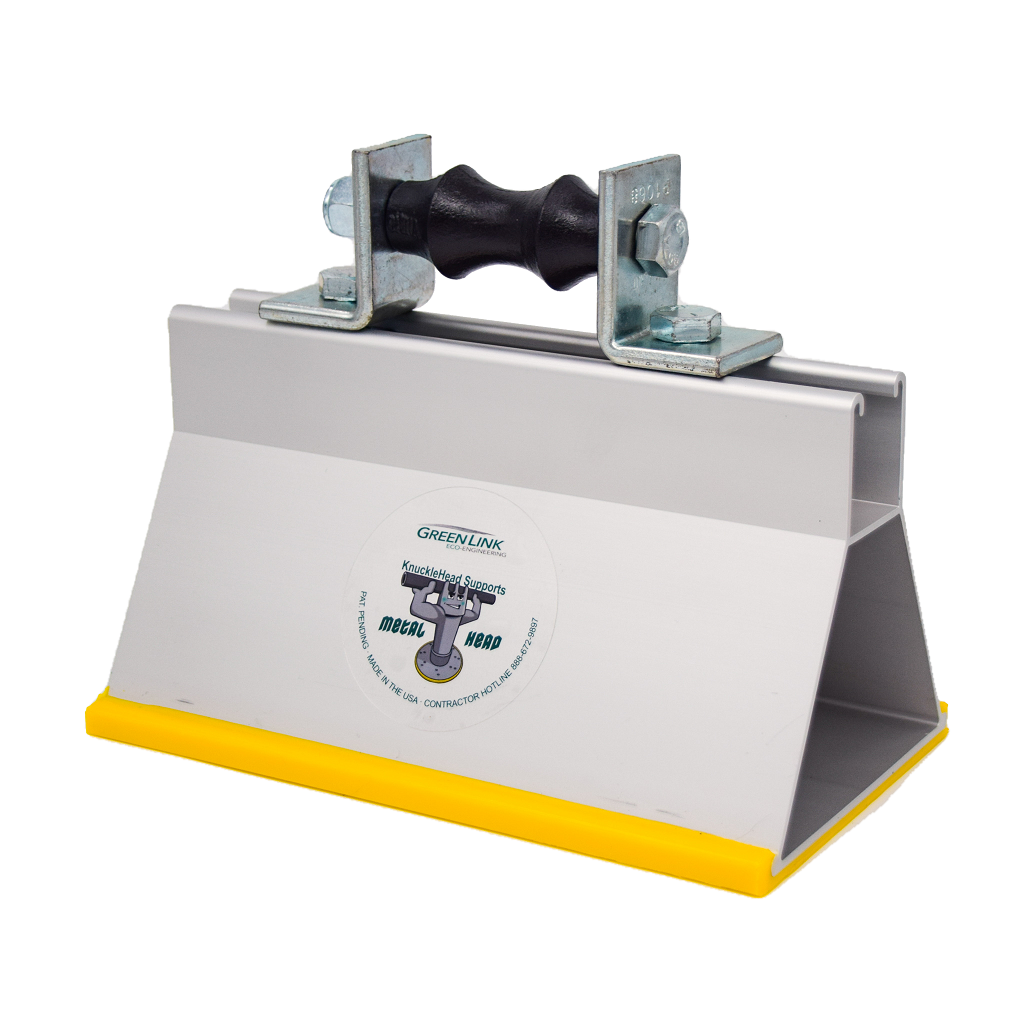 Roller Supports
Roller supports for pipelines are also available.
---
KnuckleHead Rooftop Support PVC Pipe Boot Install
See more videos on the GREEN LINK YouTube Channel.
---
Angela Peck Introducing the KnuckleHead Line at AEC BuildTech in Chicago