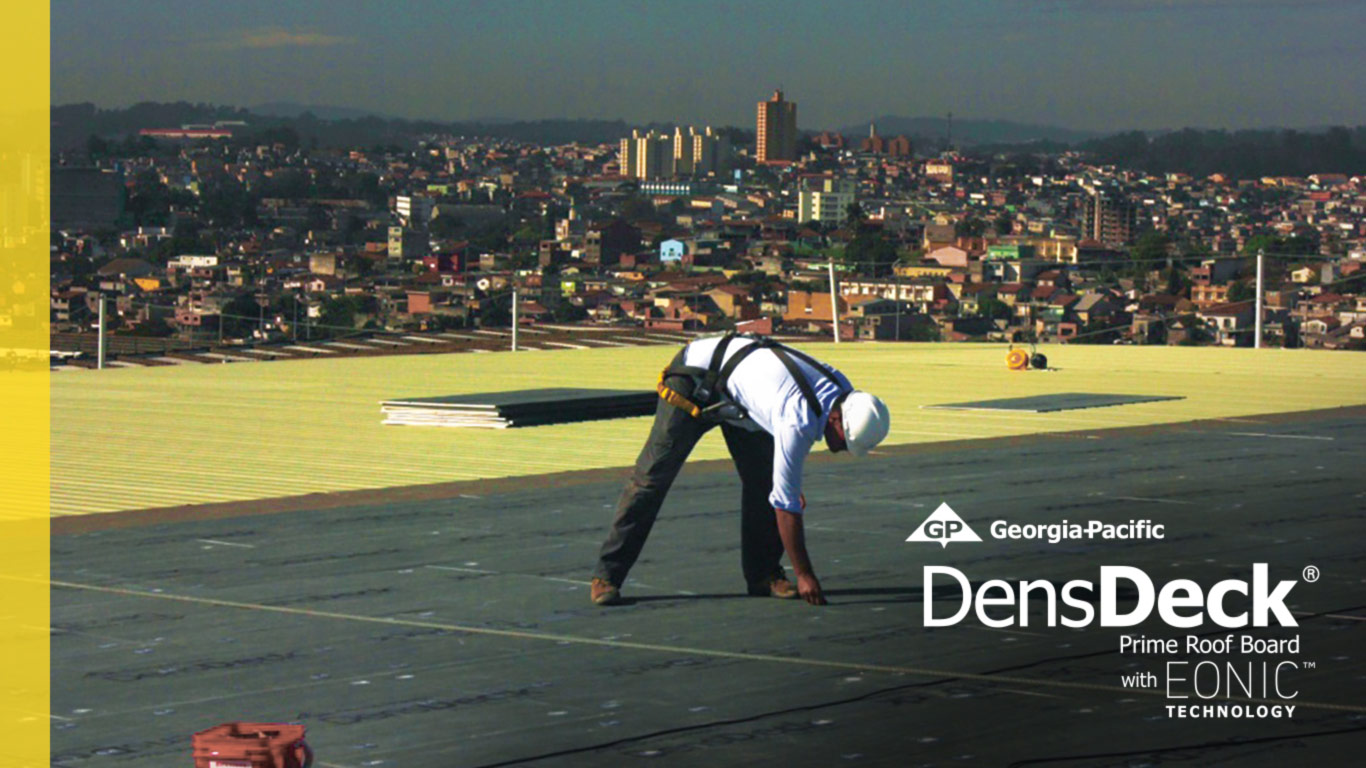 Georgia-Pacific is one of the world's leading makers of tissue, pulp, packaging, building products and related chemicals. You may recognize our household brands, such as Brawny® paper towels, Quilted Northern® bath tissue and Dixie® cups and tableware.
If you're in the construction business, you're probably familiar with our gypsum panels and other quality building materials. Even if you work in aerospace, mining or facilities management, Georgia-Pacific products may be part of your day.
From sub‐floors and exterior sheathing products to drywall in walls and ceilings to roofs and fire doors, we are known for our wide range of products used throughout residential and commercial construction around the world. Our building products are designed to be strong, durable and sustainable.
We're on the job with you from the moment your products are ordered until the day the project is done. For commercial designers and builders, we offer 3‐D Design files, LEED calculators and courses that meet the continuing education requirements of the American Institute of Architects. For home builders and remodelers, our resources include everything from our Panel Guide App to help you pick the right panel for the job, to a Tool Selector and our YouTube channels for product information and tips on proper installation.
But our products go into more than just buildings. We also make the plaster doctors use to set a broken bone, the soil amendment farmers use for healthy, high‐yielding crops, and components for pottery and sculpture casting.
You'll find our ready‐to‐use construction materials like plywood and lumber at retailers across North America, while our composite panels are in much of the furniture you buy. And builders, architects, general contractors and remodelers are using our products in homes and commercial spaces in your community every day.
---
DensDeck® Roof Boards
Installing the right materials for your low-slope commercial roofs can provide a solid defense against the most common forms of damage and wear. Georgia-Pacific offers three gypsum cover board solutions based on design intent. In 1987 we introduced the innovative design of DensDeck® Roof Board—a cover board with strong impact resistance and a non-combustible gypsum core.
Next came DensDeck® Prime Roof Board, with even more moisture resistance. Finally, DensDeck® StormX™ Prime Roof Board offers enhanced hail and wind-uplift resistance that can handle even the most extreme weather. Plus, DensDeck StormX Prime Roof Board is FM-classified for Very Severe Hail (VSH) in approved single-ply membrane assemblies.
Including a gypsum cover board can help protect your commercial roof systems, help you stay on schedule and provides a rigid substrate for future rooftop enhancements.
Learn more by visiting our website at DensDeck.com.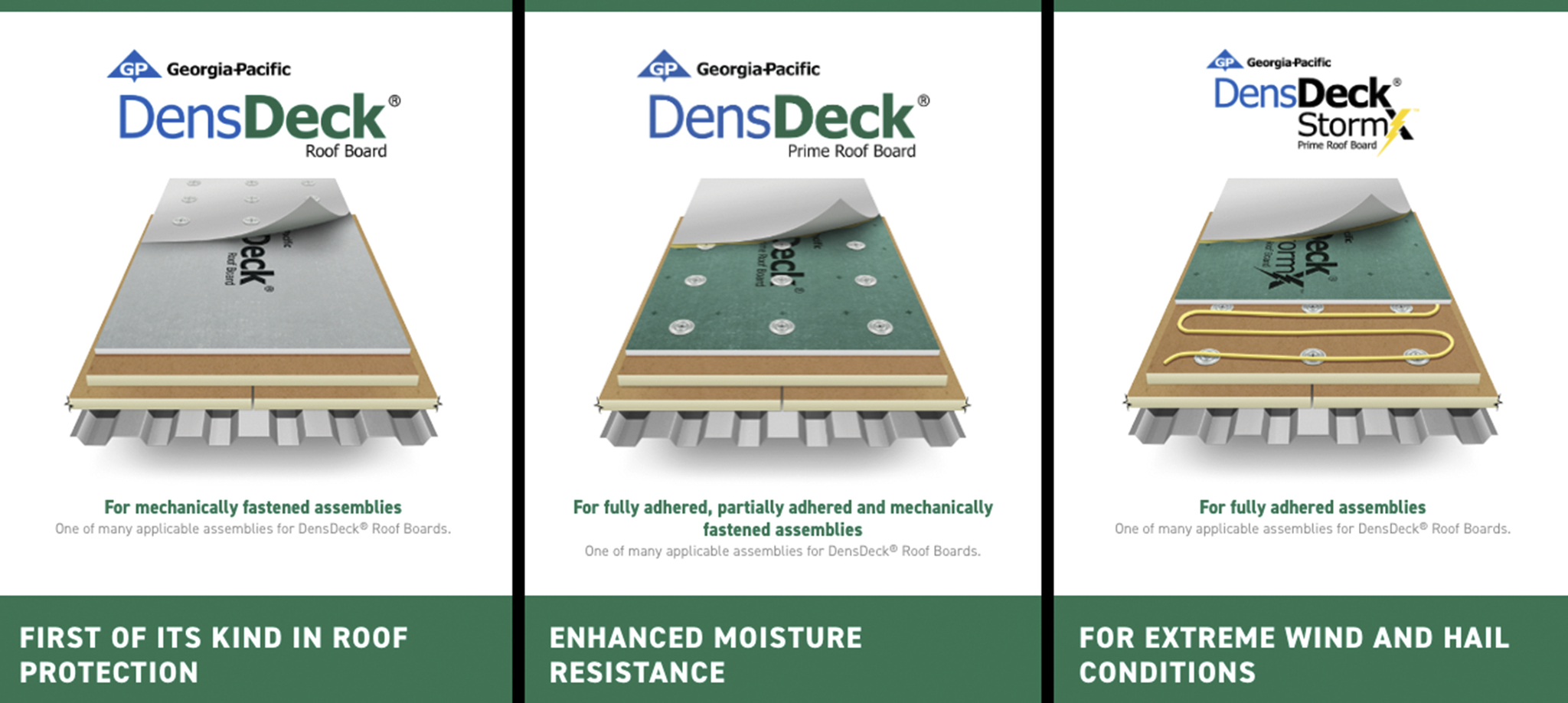 ---
The Four Dimensions of Roof Protection
DensDeck® Roof Boards help protect against some of the most common risk factors for rooftop damage:
Fire
The solid gypsum core in DensDeck Roof Boards is made of 21% crystallized water, which helps to inhibit the burning process and reduce a fire's escalation. The addition of fiberglass mat facers on the front and back of the board also help to slow the spread of flames and smoke.
Wind
When heavy winds move over and around a building, they create low pressure above the roof, just like air flowing over an airplane wing. Wind uplift can cause major roof damage through membrane delamination, fastener withdrawal and puncture from flying debris.
DensDeck Roof Boards are engineered to help mitigate these risks by adding strength to the roof assembly, giving the membrane support and providing a superior bonding surface. Gypsum cover boards also ratchet up your roof assembly's protection barrier by giving it an added layer of durability.
Puncture
Punctures may occur from foot traffic, dropped tools and rooftop installations. They can also be caused by severe weather carrying debris or hail. While small punctures may not look threatening, they can lead to serious problems over time. When water is allowed to seep in, mold may grow and weaken the structure, remaining nearly invisible until it's too late.
One approach to preventing puncture damage is to add an impact-absorbing layer to your roofing system. DensDeck Roof Boards are intended to be applied directly under roof membrane systems to add structural support, as well as dramatically reduce damage.

Hail
Several factors influence the design and construction of roofs, especially a region's climate. Hail and the rising threat of severe weather events have made it more important than ever to use materials that add strength and resiliency to your roofing systems.
Hailstorms can cause excessive damage to cars, homes and commercial buildings while also being deadly to livestock and people—even when a storm is brief. Get all the facts on severe hail and find out the best way to reinforce your roofs in the eBook, Design for Extreme Weather: Why You Should Specify a Resilient Roof System.
Get your copy of the Design for Extreme Weather: Why You Should Specify a Resilient Roof System eBook today!
---
Stop Callbacks and Prepare for the Future
Returning to a job site to fix damage that could have been prevented is always a source of frustration. Using a durable cover board can help you avoid rooftop damage during construction—so your crews stay busy working on new jobs instead of dealing with costly callbacks.
And although your roofs may start off with minimal equipment, you can't know what they will look like in the future. HVAC installations and maintenance can be tough on a roof, while solar panels may increase the risk of fire. Green roofs also call for versatile roofing systems with a rigid substrate to handle the load. Any type of weight-bearing rooftop installation calls for strength and versatility.
When you use gypsum roof boards, you can improve a building's resiliency, protect the owner's investment and reinforce your reputation for long-lasting, durable roof systems. DensDeck® Roof Boards offer a gypsum-tough solution for every commercial roof design.
Learn how to prevent callbacks to past job sites.