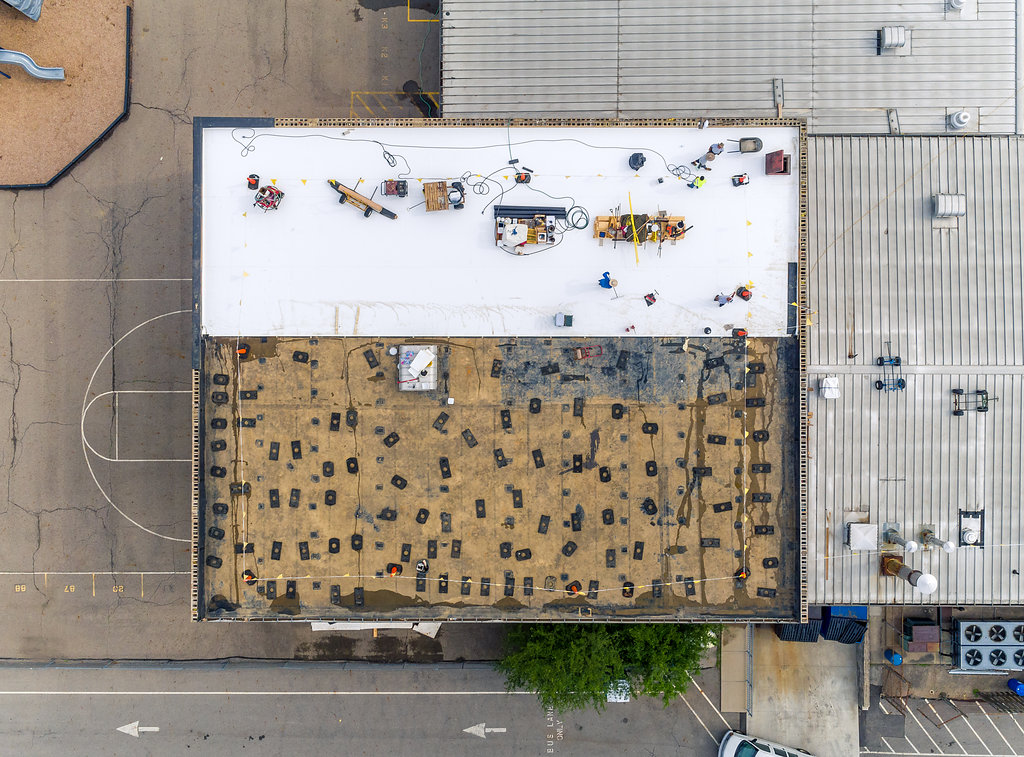 When you need a new roof, you want a commercial or industrial roofing contractor who has integrity and offers dependable work at fair prices. This is one thing that makes us so unique. We not only strive to ensure high-quality work but are guided by our principles. We serve our customers through Godly, safe, ethical, responsive, and quality-driven actions. At the same time, we seek to provide a fulfilling work environment for our associates and enhanced value for our shareholders. We also have a spirit of shared responsibility with our community.
Since 1979, our roofing company has been installing roofs for industrial and commercial customers throughout the area. We are licensed, bonded, insured, and eager to go the extra mile for our customers. The job is not done until you are completely satisfied. You'll find that we take pride in our services and truly value the relationships we have with our clients. Our number one goal is to provide you with the affordable roof installation you need to protect your commercial space from the outside elements.
---
Is it Time for Commercial Reroofing?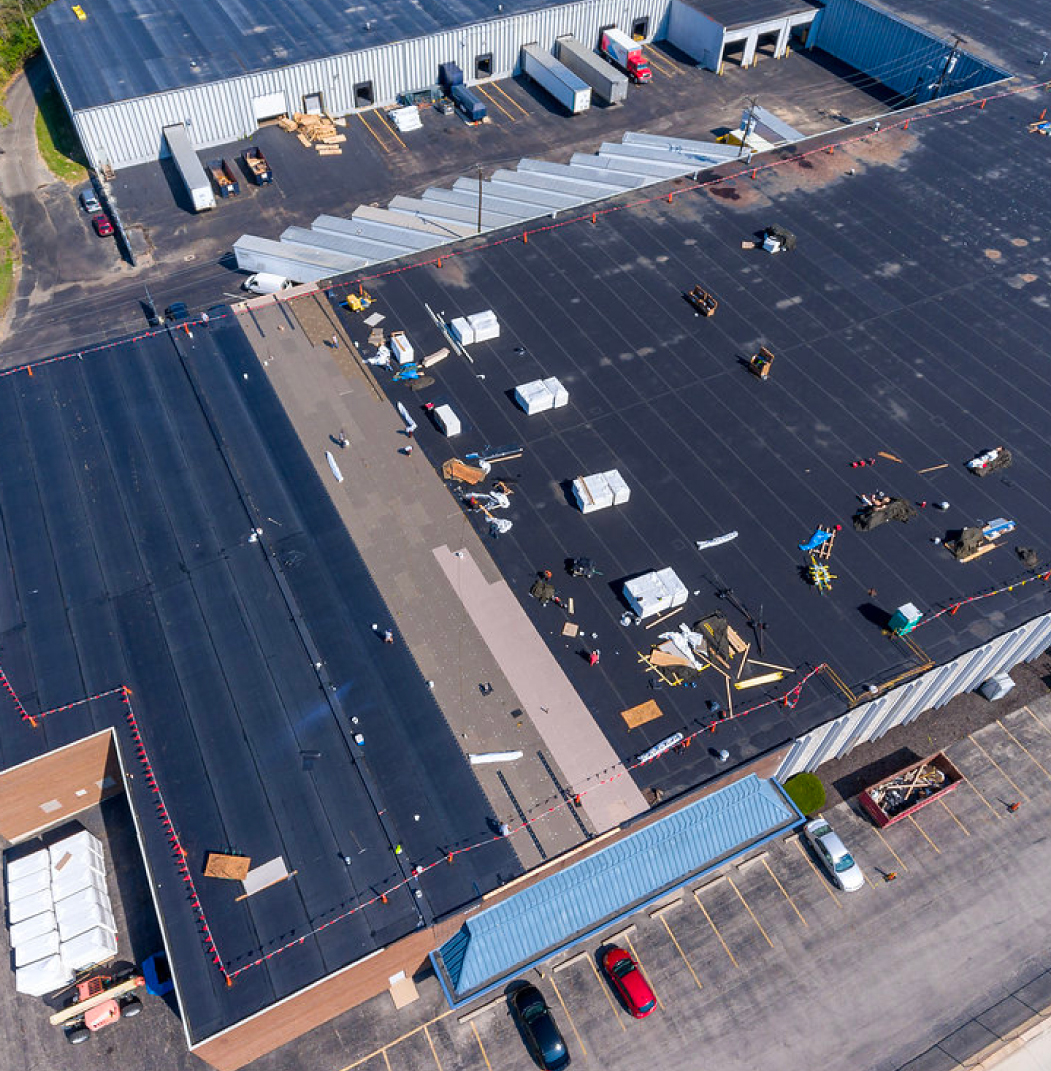 No roof can last forever. When yours is starting to show its age, Division 7 Roofing provides commercial roof replacement (reroofing). Depending on the type of roof on your building, it could last anywhere between 15 to 40 years. Using quality materials and the proper installation methods, our team makes sure you have a quality roof that is built to last.
In addition to selecting the right roofing contractor, using a quality product is vital to the success of a durable roofing system. When the time comes to reroof your building, we perform a thorough roof assessment to determine a number of important factors required to properly design the new system.
---

Asset Management
The roof on your commercial building is the most capital-intensive asset you have and they need to be routinely inspected and maintained. Roofing asset management services are a way to maximize the lifespan of your roof. Keeping your roof properly maintained will also ensure that your warranty remains active. We can do that for you. We help you identify your custom roofing needs. Asset management can also include emergency preparedness and repairs, leak protection, and procedures for keeping your roof in pristine conditions.
How can Division 7 Roofing help?
Data Reporting
Division 7 Roofing will help you manage your assets efficiently with our proprietary reporting. We will give you insight into historical roofing data, analyze your preventive maintenance program performance, provide you with price per square foot roofing costs and more.
Budget Forecasting
Forecasting accurate maintenance costs is always a laborious process for property managers. We have streamlined the way you gather information about your building by compiling it all for you in an easy to read report. Never go searching for your annual spend ever again.
Property Insights
With so many different trades performing maintenance on your property, it's easy to lose sight of the big picture. Gain visibility into your property with our strategic client review. Illuminate historical trends that will guide you to understand how your roof is performing. We'll show you key performance indicators on a large and small scale so you will know exactly what decisions to make regarding your property.
See what else Division 7 Roofing can do for you!
---
Preventative Maintenance
Preventive maintenance of commercial roofs
plays an important role in extending the life of your roof system. As a trusted and experienced commercial roofing contractor, Division 7 Roofing helps you efficiently manage your roof asset. Due to our extensive experience in the industry, we have proven preventive roof maintenance extend a roof's life from 5 to 10 years.
What is Our FVR Progra

m?
Although we are able to replace your roof, our goal is to save you money and save your roof. Best of all, our roof maintenance cost is very affordable. Our FVR Program consists of several steps. First, we perform a thorough assessment of the roof. We want to make sure it is in maintainable condition. After that, we provide a commercial roof assessment report. Based on your decision and needs, we create a tailored proposal to meet your objective.
---
Interior Insulation Repair
Division 7 Roofing has answered our clients' call to come up with a long lasting and aesthetically pleasing solution for pre-engineered steel building insulation issues. Insulation is one of the most important parts of your roof.
One of the most typical insulation issues occurs when the batt insulation under the metal roof becomes cut by the steel holding it and the insulation starts to fall. The compromised insulation then allows for condensation to build up and water to drip on the interior building contents.
By using the patented mechanical attachment method of a new insulation facer, we can renew the thermal integrity of the building (higher R-value) and leave behind a clean finish.
---
Leak Repair
You need a watertight roof, as well as one that looks appealing. For prompt, affordable, and reliable commercial roof leak repair in Columbus, OH, you can rely on Division 7 Roofing. Our roofing company has one of the largest and highest regarded fleets in Central Ohio. Committed to keeping your building watertight and ensuring your peace of mind, we run 10-to-12 trucks daily to ensure a timely response to your needs.
---
Technology Enhancements
Division 7 Roofing has always implemented cutting edge technology solutions to provide our clients with the best possible experiences. From drones to virtual reality meetings, we've got it perfected. As technology advances, so do we!
Thermal Imaging Solutions
Our Part 107 FAA Licensed Drone Pilots are also certified thermographers. Regular thermal scans of your roof will assist in identifying any moisture in the roof assembly. Not all roof leaks appear inside of the building. Water can be absorbed in insulation layers and slowly start deteriorating the structural components of the building and you wouldn't know until it's too late. With annual thermal scans of your roof, we can help prevent leaks before they start.
Virtual Reality Modeling
Our unique ability to acquire advanced imagery and bring it to life in a V/R environment has our clients' walking roofs without ever leaving their office. We can deploy our network of pilots anywhere in the U.S.A. and bring your property to you within days. This allows us to provide asset management, routine checks, and emergency services.
Roofing Materials
We always use the best and most durable materials for your roofing needs. As technology gives us new materials, we incorporate that into our roofing work. We make sure to use what is best for you.
---