Watch Who We Are!
---
About the Colorado Roofing Association
The Colorado Roofing Association was established in 1978. Our commitment is to "Promote the ethics, education, and image of the roofing industry throughout the State of Colorado through the actions of its members."
Volunteer members of the non-profit organization serve on the Board of Directors and chair the 12 active committees that ensure this commitment is met. With over 260 members statewide, the CRA has become one of the top trade associations in the western region and professionally represents a unified voice for the industry.
Key Events, Programs and Services

---
Call for Job of Year submissions!
An evening to honor the "Best of the Best" in Colorado's Roofing projects and to highlight the achievements of our members. Recognition is given to contractors in both the steep and low slope roofing categories and a Lifetime Achievement Award is presented to an outstanding individual who has contributed to Colorado's Roofing industry.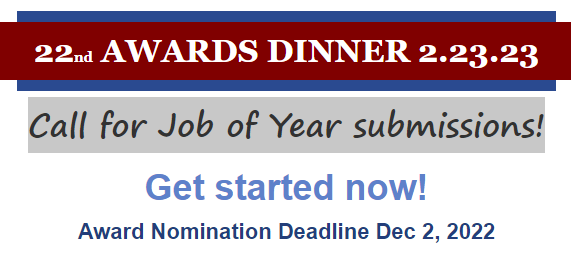 We want to see your outstanding work! Take the time to showcase the professionalism and expertise in your company by submitting a nomination (or two) for a Job of the Year Award. The annual Awards Dinner is also the time to nominate a deserving individual for the Lifetime Achievement Award.
Job of the Year
Job of the Year awards are given to roofing contractors in recognition of their outstanding work. Awards are judged based on size of contract. Nominated projects must have been worked on and completed between December 2021
and November 2022.
Lifetime Achievement Award
The Lifetime Achievement award is given to an individual in the roofing industry whose contributions have impacted our industry in a positive way. A Lifetime nominee should be an individual who has contributed to the success, development and continuation of the Colorado Roofing Industry.
---
RoofersCoffeeShop goes to the CRA Trade Show!