All Points Tile & Slate is a distributor of new tile and reclaimed tile for whole roofs. Our huge inventory of 500,000 square feet of roof tile includes discontinued & rare tiles, sold by the pallet or by the piece for repairs. In addition, we proudly offer the silica dust-free Hytile Roof Tile Cutter. Our services include delivery, custom color match tile glazing, & free tile identification.
The original inspiration that led to the foundation of All Points Tile & Slate® began in January of 1979, when Penn Marshall entered the roofing industry in Central Florida as the operations manager for an established contractor. During this time, he discovered that he was extremely passionate for the work he was doing and strived to learn all aspects of the roofing industry. What Penn realized, during his tenure as an Operations Manager, was that many of his frustrations came from locating the rare, discontinued tile that is coveted among all tile roofing contractors to complete small repair jobs. In order to satisfy homeowners that trusted Penn with repairing their roofs, he began focusing on acquiring these precious tiles.
Penn's industry knowledge, keen eye and highly motivated work ethic eventually led to what All Points Tile & Slate, Inc. is today. Penn has taken his 40 years of experience and passed it on to his staff at All Points Tile & Slate. Presently, we have an inventory of over 500,000 square feet of clay and concrete tile comprised of manufacturers from five continents. Our staff is capable of identifying hundreds of different types of tile to help our customers have their roofs restored to their original beauty!
See our inventory.
---
Help us Recycle, We'll Buy Your Tile!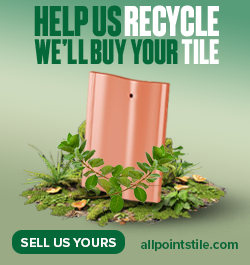 Over the past several decades there has been an emphasis placed on companies to reduce the CO2 emissions they produce to help preserve environmental qualities such as air, water, land and climate. Manufacturers in the roofing industry are tirelessly working to innovate their manufacturing processes, as well as the products themselves to last longer and reflect more sunlight while still withstanding the destructive powers of wind, hail, rain and fire.
While it is crucial to create the best possible product available as a manufacturer, we here at All Points Tile and Slate feel like we play a critical role in progressing towards a more environmentally friendly roofing industry. Our focus is on salvaging quality roof tiles to help service our customers' capability of repairing their roofs by reusing material, rather than replacing it before its lifespan has expired.
---
Sell Us Your Old Roof Tiles!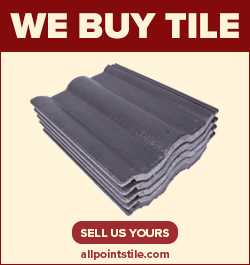 Do you know what old roof tiles from your jobs are worth? We do! Not only will you help keep roof tiles out of landfills, but you can save money on your jobsites by allowing us to buy back your old, unwanted roof tiles. It's a win-win!
Because we specialize in procuring rare and discontinued roof tiles to help industry professionals and homeowners find the right materials and have their roofs repaired, that's why we need your old roof tiles!
Let's get started! Contact us today!
---
Trying to match a tile? Let the experts do it for you.
It can be hard to find a tile when making a repair; usually, the homeowner has either made the choice years ago or is trying to match a tile choice the previous owner made. Tile comes in hundreds of different styles and from numerous manufacturers, so it can feel like finding a needle in a haystack.
Thankfully, All Points Tile and Slate has a knowledgeable staff, well studied in identifying all different types of tiles. With over 35 years' experience in the tile industry, these experts have a passion for tile identification.
The best way to guarantee a match for a specific tile is to send in a photo with your inquiry. All Points Tile and Slate's online form makes it easy to find a match, all you need to do is fill out your name, email, phone number and send in up to six photos of the tile you are trying to identify.
Match your tile with All Points.
---
Hytile USA Roof Tile Cutter
The HYTILE Roof Tile Cutter is very quick. It's ergonomic design reduces back strain and the robust construction absorbs the shock of cutting tile rather than the
operator's arms.
It also keeps it's operaters safe from silica dust exposure! This is a rugged tool that actually does the job that it was designed to do and continues to do it well. Some of the earlier models are still in service after over thirty years.
No health threatening Silica Dust
No Silica Dust on skin or clothes
No Silica Dust in the environment
No Silica Dust staining the roof tile
No Silica Dust for foam adhesives

Find out more.
---
Services Offered at All Points Tile & Slate
Roof Tile Glazing - Find your tile but can't find the right color? We offer a professional tile glazing service to match the color on your roof. With our process, the glazing on your tile comes with a 10-year guarantee.
Tile Identification - Not sure what tile is one your roof? Our experts have over 35 years experience in the tile industry and take pride in knowing all the different kinds of concrete and clay tiles.
So if you need a few tiles replaced on your that have broken and you're not sure what kind of tile they are be sure to fill out our form and contact us so we can help!
Roof Tile Delivery - All Points Tile and Slate offers various transportation services including:
Ground delivery for small repair orders
Ground delivery of material for complete roof replacement
Ground retrieval of salvaged roofing material