TAMKO - Webinars On-Demand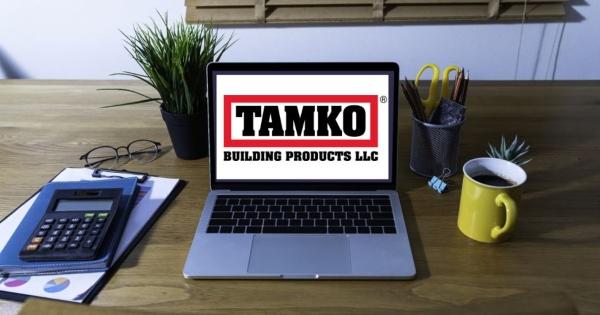 Do it better! Don' t miss these informative webinars from TAMKO.
Learn more about TAMKO, visit their RCS Directory.
---
Top Tips for Remote Marketing and Selling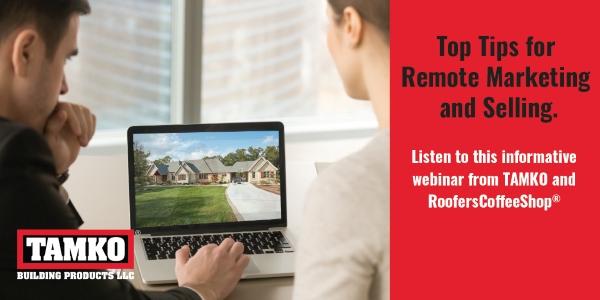 Kim Eckerman and Melissa Dunson of TAMKO share with Heidi the importance of remote selling and marketing during this time of sheltering in. They share that this is not a momentary practice but the new normal for roofing contractors. Learn about new technologies for remote selling including visualizer software with the ability to provide full measurements and 3D models without stepping into the customer's home.
Listen to the Podcast
---
TAMKO's NEW 3D Roof Measurement Tool
TAMKO recently announced a major upgrade to its Shingle Styles Visualizer that unlocks accurate 3D measurement and modeling to make remote estimating and bidding easier than ever. Powered by the industry-standard EagleView technology, the new 3D measurement tools are available without a subscription and at a reduced fee through the TAMKO Visualizer.
We recently hosted a webinar for contractors with experts from Renoworks, the technology company behind the innovative TAMKO Visualizer, to provide a full demo of the various features of the tool and answer questions. Get all the details on the tool and get a preview of the new functionality.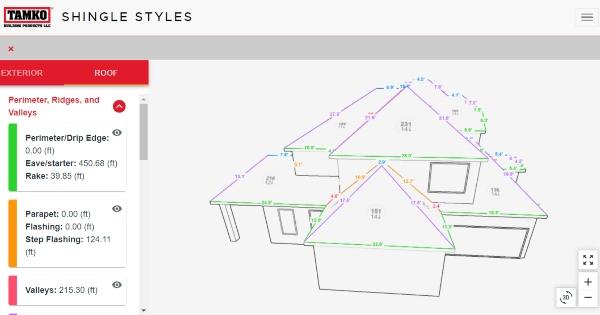 Click here for more videos about using the TAMKO Shingle Styles roof visualizer.
---
Using Homeowner Financing To Close More Deals
A major challenge roofing contractors face during this time is homeowner hesitancy to commit to large improvement projects due to a drop in economic confidence. Contractors can help provide solutions to homeowners facing uncertainty by offering financing that gives property owners the option to pay off their project in monthly payments, rather than in total at the time of completion.
To help roofing contractors continue to close deals, even in this time of uncertainty, consumer financing company GreenSky has come up with special promotional terms that contractors can offer for homeowners.
GreenSky recently hosted an educational webinar recently for TAMKO contractors on the role homeowner financing can play in their businesses and showed how to use homeowner financing to close more deals, along with more in-depth information on these new, limited-time homeowner financing options.
TAMKO Pro Certified Contractors can receive additional benefits with GreenSky through TAMKO's strategic relationship with the financing company.
Learn more about how offering homeowner financing could benefit your roofing business and get all the details on the limited-time GreenSky promotions in this educational training webinar.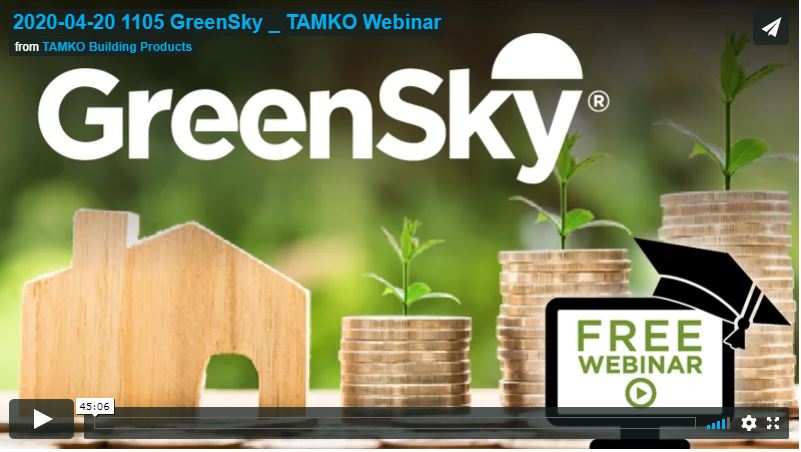 ---
The Digital Opportunity for Roofing Contractors and How CRMs Can Help
Due to the current global realities, face-to-face contact with customers has greatly declined, making the need for digital customer engagement and project management more important than ever. A popular tool to accomplish this is a Customer Relationship Manager (CRM), which is a technology platform, software, or app that keeps track of past and potential customer data and can include options for email marketing, tracking job progress, e-signatures on forms and even online ordering.
JobNimbus is a popular CRM built specifically for contractors to manage their leads, customer communication, and project status visibility. TAMKO has a strategic relationship with JobNimbus that provides TAMKO Pro Certified Contractors with special discounts on JobNimbus subscriptions.
JobNimbus recently hosted a webinar for TAMKO contractors outlining how contractors can move their business operations to a digital format during this time and how CRMs can help. Learn the basics of customer relationship management and the opportunity for roofing contractors to expand their digital efforts in this educational training webinar.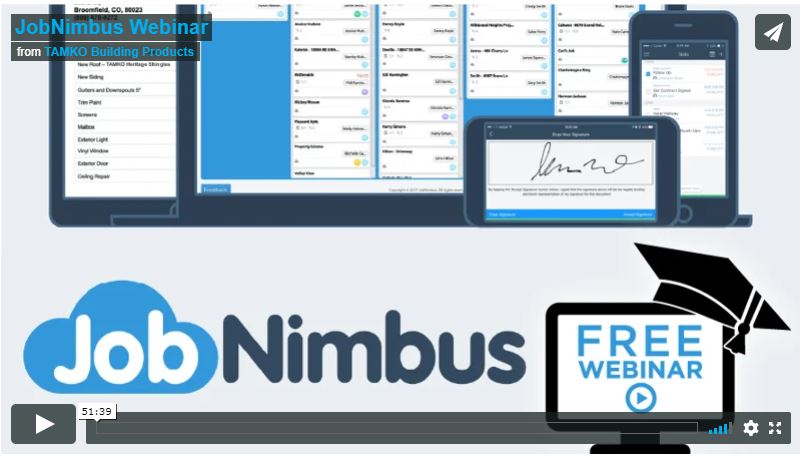 ---
---