S1:E3 Coffee Break - What to Know About AskARoofer!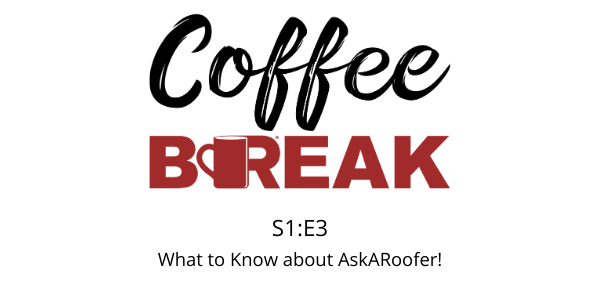 Recorded on January 19, 2021
In this episode of the R-Club Coffee Breaks, we want to highlight some things to look forward to in 2021 as an R-Club member.

#1 – We want your content!
R-Club members are encouraged to send us their content for publication on RoofersCoffeeShop®. As a leading contractor in the roofing industry, you are encouraged to share your knowledge with others. Do you have a cool project? Let's do a profile of it. Send your thoughts and ideas to AJ@rooferscoffeeshop.com
#2 – Bliss Roofing is the R-Club Roofer of the Month
Each month we will interview an R-Club member as our roofer of the month. The interview becomes a podcast that you can share with your potential customers so they can learn more about your company. January's featured contractor is Bliss Roofing from Portland, Oregon. Listen to the podcast here.
#3 – AskaRoofer.com
AskaRoofer.com was recently acquired by RoofersCoffeeShop and provides a platform for homeowners and building owners to learn more about roofing, ask questions to professional roofing contractors and locate a roofing contractor in their area.
As an R-Club member, you get an exclusive opportunity to answer questions from website visitors that could potentially turn into your next job. Look for the site to formally launch in Q1 2021, but you can explore it now here.
---