Owens Corning Power Hour Webinar Playlist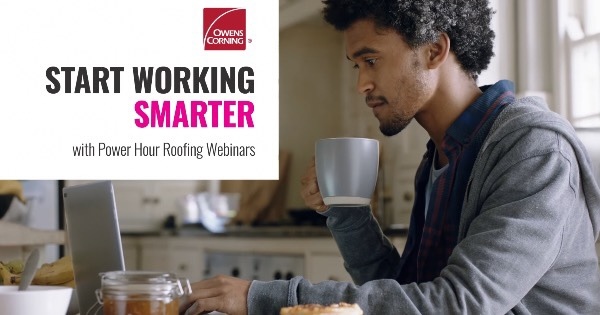 To learn more about Owens Corning, visit their RCS Directory.
---
Tech Talk: Off-Sets & Step Flashing
July 7, 2021 l Watch Now
Our Tech Talk experts walk through an overlooked critical step of off-sets and step flashing as part of the Total Protection Roof System®
---
What's as Powerful as a Review: A Platform to Consistently Generate Them
June 23, 2021 | Watch Now
Customer expectations are rapidly changing as they become increasingly obsessed with research and convenience. When looking for any business, customers want to quickly look online, find the best option, and solve their needs as soon as possible. The businesses that provide a modern frictionless experience will win and dominate their local market. Podium is designed to help your business create simple, repeatable customer experiences so that you can win in your market. Join Podium as their Director of Sales talks about how to help your business create simple, repeatable customer experiences so that you can win in your market.
---
Must Have Owens Corning Selling & Branding Tools at Your Fingertips
May 19, 2021 | Watch Now
Shingles – check! Roofing Accessories – check! What about selling and branding tools? Yep – We've got them too! And they're game changers.
Widgets, ProSell™ app, Design and Inspire color selection tools, Roof-in-a-Bag, Social Media Playbook, Warranty Helper Guide and more, learn how to add them to your company's tool kit today!
---
Tech Talk: Prepping the Deck
May 5, 2021 l Watch Now
Watch and learn as Owens Corning technical experts share details on deck preparation and underlayments followed by a Q&A.
---
Consumer Financing: A Must for your Business
April 21, 2021 l Watch Now
Whether you're retail or insurance focused – offer financing! Why? When you offer customers financing options, more shoppers buy today - and buy more - helping your business outpace the rest. Contractors see higher lead conversions, bigger job values and higher repeat purchases. All good stuff! We'll discuss programs Service Finance Company, LLC has available to meet today's needs, loan options and touch-less approval process while respecting social spacing rules.
---
The Reputation Economy is Here: Are you Prepared?
March 18, 2021 l Watch Now
Okay … it sounds a bit gimmicky but trust us it's for real and you need to pay attention. Gavin MacDonald, GuildQuality Director of Sales will first examine what the Reputation Economy is and how it has shifted due to the current pandemic. Then, we'll discuss specific ways to strengthen your online reputation that you might not be aware of. And finally, we'll provide you with three action items to implement that will immediately impact the success of your business.
---
Storm Preparedness: Get Leads, Get Paid
February 18, 2021 l Watch Now
That was a crazy storm! Do you want to generate more leads for storm damage or insurance work in 2021? Do you want to get paid more for the work you do -- with less time on the phone with the insurance company? Listen and learn as our team of experts talks more about storm preparedness and how to take lead generation to the next level.
---
2021 Outlook: The New Stimulus Package and Industry Trends
January 26, 2021 l Watch Now
As COVID-19 continues to influence daily life, many contractors are continuing to process and refine all the information that is out there. During this webinar, Trent Cotney, CEO of Cotney Construction Law, will uncover the most pertinent COVID-19 issues for the roofing industry as we enter 2021, including discussion on the most up to date legal issues and industry trends to help shape your 2021 business plan!
---