METALCON LIVE is BACK! - "Construction, Metal Construction and Design: Trends and Outlook"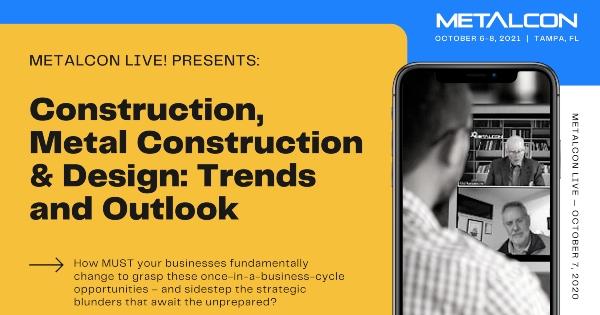 "Construction, Metal Construction and Design: Trends and Outlook"
What are the jaw-dropping economic and market changes for metal construction and design decision-makers just over the horizon? How MUST your businesses fundamentally change to grasp these once-in-a-business-cycle opportunities – and sidestep the strategic blunders that await the unprepared? Only METALCONLive! Has you covered!
Hear directly from METALCONLive!'s blue-ribbon expert panel what's coming in sustainability, workforce, cost-containment, the status of the steel industry, and so much more.
On-demand mini-summit and get:
Crucial information that supports (or changes) your 2020 Q4 and 2021 Q1 strategic decisions

The construction industry macro-market and forecast through 2024

Insider news and opinions from industry giants eager to help you succeed

Fresh perspective on the impact of COVID-19 and the next generation of construction

Strategies to reinvigorate your workforce and make them comfortable heading back to the jobsite

Data on construction industry trends and insights from a leading architect you can use to SUPERCHARGE your business growth plan of attack
Moderated by Frank Stasiowski, FAIA and METALCON Co-Founder in partnership with the Metal Construction Association
Panelists:
Tony Bouquot, General Manager, Metal Building Manufacturers Association

Paul Giovannoni, Managing Director, FMI Corporation

Alan Scott, FAIA, LEED Fellow, Senior Consultant, Building Science Solutions at Intertek

Sarah Skidmore, Leadership Development Consultant and Executive Coach, Skidmore Consulting
Stay tuned for more METALCONLive! programming to come featuring profit-boosting ideas, news, trends, essential training, and creative business solutions exclusively focused on the unique demands of the metal construction professional!
---