Fire Concerns and Code Complexities in Waterproof Deck Coatings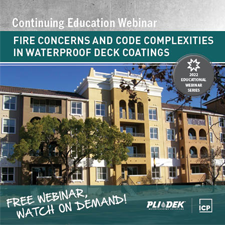 Free Webinar: Fire Concerns and Code Complexities in Waterproof Deck Coatings
As of November 2020, the California Residential Building Code requires that all decking materials must pass a 30-minute ASTM E84 fire test, which evaluates key fire resistance characteristics of building materials. Previously, California required that decking materials pass a 10-minute test. While California legislators are doing everything in their power to shore up the fire resistance of homes and buildings in their state as a result of several consecutive record-setting wildfire seasons, how will this change impact code and testing across North America?
Are you up to date with the latest complexities in these codes as it pertains to waterproof deck coatings? In this presentation you'll learn how to identify and recognize the key governing agencies and specific codes related to fire testing and materials, and construction methods for waterproof deck coatings to prevent common oversights and failures during, and after, application.
Please join us for this free, on demand AIA CEU presentation!
---
Share this: