By Heidi J. Ellsworth, RCS Partner.
Sashco will see you at booth #310 at the 2019 RCAT Show September 18 – 20, 2019 at the Gaylord Texan.
This year the Roofing Contractors Association of Texas (RCAT) Expo will be located at the Gaylord Texan Resort & Convention Center in Grapevine, Texas and Sashco will be demonstrating their new Cobra Lap Joint Nozzle with Through the Roof! sealant. In fact, the first twenty to mention RCS at Sashco's booth #310 will receive a half pack box of Through the Roof! with a Cobra Nozzle. The 2019 Texas Roofing Conference is free for Contractors! Download your free pass here!!
With the help of seasoned roofing contractors, who tested various prototypes, Sashco was able to design the ideal nozzle shape specifically suited for lap joints. The new design produces a flat bead that does not require tooling yet forces a clean ribbon of sealant over the joint for a tight, permanently waterproof seal.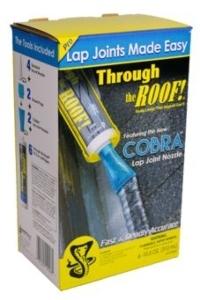 Now they are ready for the RCS audience to get their hands on this amazing nozzle at the RCAT Show. Stop by the booth and get yours and hear what other roofing contractors are saying:
"I love how it makes a straight, clean, flawless bead."

"The Cobra Nozzle is transparent blue, so you can easily see the clear Through the Roof! sealant flowing through it and easily place it over the center of the joint."

"It placed a heavy tape-like metered bead over the areas. I loved it. The shingles were adhered and a great looking bead on the flashing."

"For . . . filling the large gap - it was almost magical in allowing for a very nice application of sealant without any fuss."

And just down the aisle at booth #300 join us at the RoofersCoffeeShop® booth. We will be joining many great manufacturers like Sashco sharing new ideas and ongoing promotions with Texas roofing contractors. RCAT proudly hosts one of the largest state roofing shows in the country. Roofing contractors will experience over 110 exhibiting companies showcasing the latest products and services, making this show a vital part of the success of any roofing or sheet metal contractor's Texas business.
Visit Sashco's booth #310 while you attend the RCAT expo for free!