Renovation and opening of the new institute to be complete by end of 2021.
When members of the Masonic Fraternity of Lodge 98 laid the cornerstone for their building in 1922, they could hardly have dreamt what would happen to their location almost a century later. Now under full renovation, the buildings will soon house the Masonic Institute for the Developing Brain.
Located on East River Parkway in Minneapolis, the 116,000-square-foot facility opens to the public in November of 2021. Thanks to initial funding of more than $35 million from Minnesota Masonic Charities, the institute will focus on the early diagnosis, prevention, and treatment of neurodevelopmental disorders in early childhood and adolescence. But first the structure needs top-to-bottom rebuilding --- inside and out.
Extensive Renovation
The University of Minnesota purchased the 10.2 acre property in January of 2020. A two-level building is being redeveloped to include clinics, research facilities, tele-outreach, a dedicated community center, family-friendly spaces and conference areas. Previously used as the Shriners Healthcare for Children campus in Minneapolis, the land and structure were acquired with the express desire to create the Masonic Institute for the Developing Brain.
"The scope of the project is basically a full renovation of the building," says Bryce Frandrup, project coordinator, University of Minnesota. "This includes demolition and rebuilding of interior walls, new electrical and mechanical systems, and a total roof replacement."
Knutson Construction was hired as general contractor to oversee the renovation. They brought in Central Roofing Company to install a new roof over the remodeled structure.
Upgrading the Roofs
While the current roof on the facility was just 20 years old, it was decided to replace it at the same time as rehabbing the interior.
"We won this roofing project because of our existing relationship with both the University of Minnesota and Knutson Construction," says Mike Mehring, vice president of commercial roofing with Central Roofing Company. "The university made the sensible decision to renovate the roof now rather than wait until it started failing. With no occupants in the building, now is the ideal time to do the roof replacement."
After removal of the existing modified bitumen 3-PLY built-up roof, the Central Roofing team installed several new roof systems. Johns Manville 4-PLY GIG System was used on two built-up roofing systems. Also included on these roofs were Type IV felts, Dynaflex Modified Bitumen base flashing, Energy 3 polyisocyanurate insulation and Fesco Cover Board. A Securock Thermal Barrier Roof Board was also used on one of the systems.
For a fully-adhered EPDM roof system, Johns Manville 60 MIL reinforced EPDM was installed, plus the same insulation and cover board as the other roofing systems. A self-adhering vapor barrier was also added. Gas and electrical conduits were set on rubber pipe support blocks above the roof structure.
Handling Challenges
The Central Roofing team worked through difficult winter weather conditions to stay on schedule. They met the challenges associated with installing the new roofing systems to the existing parapet wall without touching or damaging the top.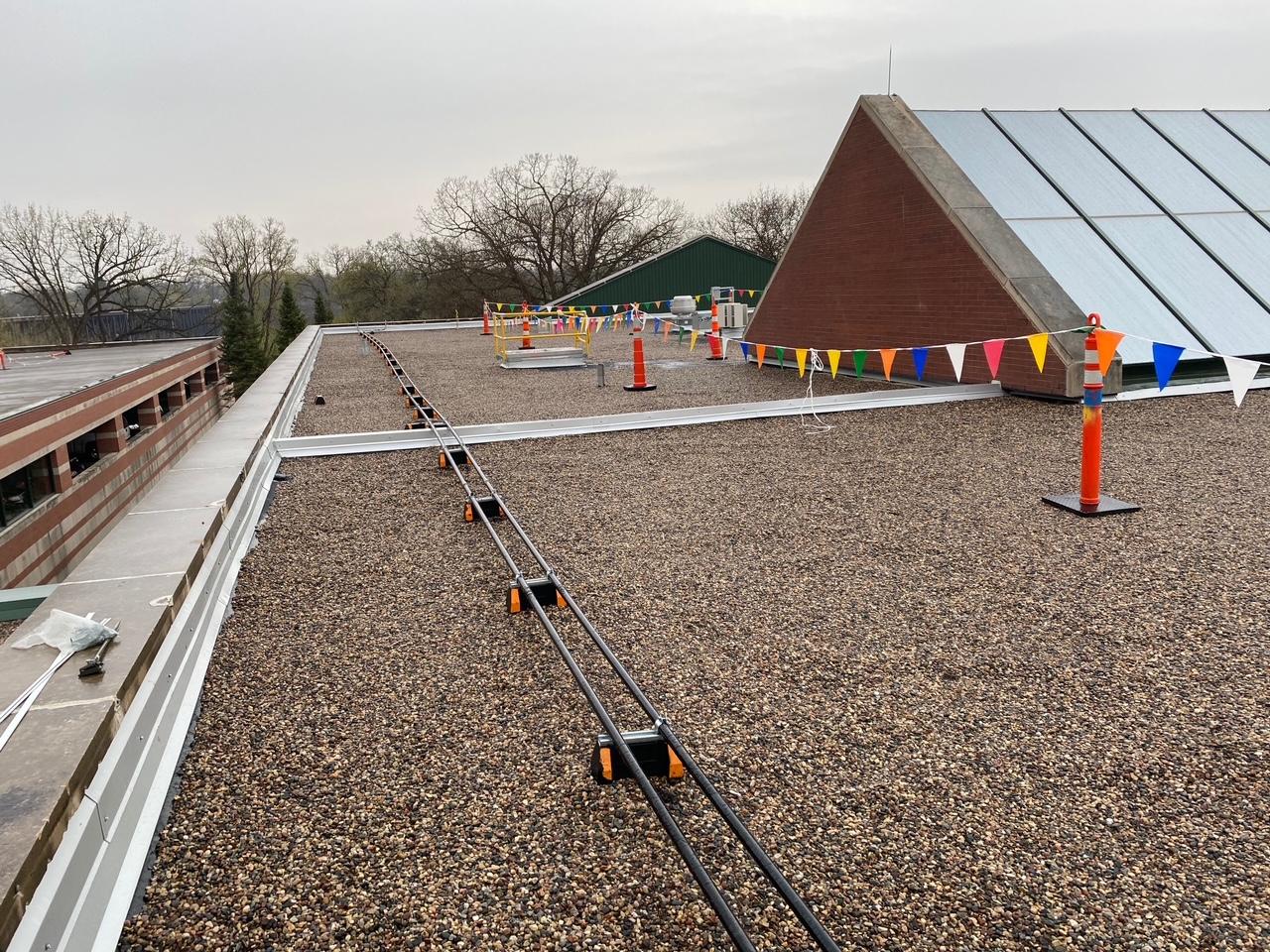 "Central Roofing was proactive in investigating, addressing and reviewing every challenge they discovered to ensure educated decisions were made," says Trevor Dickie, project manager with Capital Project Management at the University of Minnesota. "The unique circumstances of COVID implications, a winter installation and material ordering delays made this a very demanding project. Despite all of this, Central Roofing completed the roof within an acceptable timeframe and within budget."
Goldy Gopher Fans
Central Roofing Company has a long-term relationship with the University of Minnesota's Twin Cities Campus. The roofing team inspects, evaluates and fixes roof on more than 280 university buildings each year. This allows officials to give approval on small fixes that are needed immediately, along with planning out for full roof replacements.
In addition, Central Roofing Company replaced the roofing systems on the Hubert H. Humphrey School of Public Affairs in 2019.
"Our team is always pleased to work on projects related to the University of Minneapolis," says Mehring. "For this particular structure, we're proud to provide a roof over a location that will help people understand, prevent, diagnose and treat neurodevelopmental disorders in young children and adolescents."
Central Roofing Company is a nationally-certified woman-owned and operated private corporation based in Minneapolis, MN. Established in 1929 the company has more than 200 union employees. Central Roofing Company focuses on projects for commercial roofing, exteriors service, and metal wall panels. For more information, visit www.CentralRoofing.com.