By DaVinci Roofscapes.
If you're building a home in California, then it's important that you know about the Wildland-Urban Interface (WUI) Code.
Designed to reduce the risks of wildfire spread from forest areas to life and property, the WUI code includes the evaluation and identification of building products that resist flame spread, including roofing materials.
WUI is not a statewide code. So, if you're in the process of planning or building a property in California, check with your county officials. Some counties provide WUI specific information for their area, like Washoe County. You can check the State Fire Marshal's Building Material List (BML) to see if a product is approved. The Wildland-Urban Interface Building Codes website also has helpful information.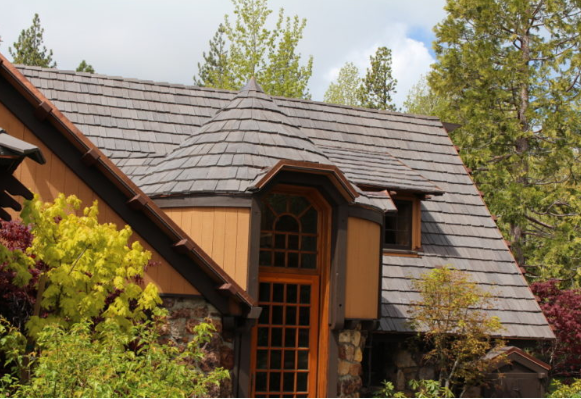 Why have a code?
As you know, wildfires have dramatically increased in California and throughout other parts of the country during the past several years. This year alone, the National Interagency Fire Center has reported 41,419 fires across the nation burning 5.9 million acres of land.
In California this year the situation is dire. The Carr fire has been labeled the "most destructive fire in state history" burning 218,000 acres and destroying 1,604 structures. That's in addition to the Mendocino Complex fire that started just a few days later. Now the largest in California's history, that massive fire has burned more than 283,000 acres.
The WUI Code recognizes the growing trend of wildfires in our country, especially in California. Officials have tested and identified building products that are flame resistant to reduce and stop the potential spread of wildfires to homes and businesses.
The basic requirement of WUI is that the exterior of a structure be ignition-resistant and be able to resist the entry of flying embers and fire radiation during a wildfire. As you've probably heard in the news, the sparks from a wildfire are capable of traveling up to a mile away in windy conditions, making homes far outside the "hot zone" capable of being in jeopardy.
The good news
As sparks and embers travel, they generally end up on the roof of a property. If you have a composite shake roof overhead from DaVinci Roofscapes, you'll have greater peace-of-mind because DaVinci Shake products are WUI approved.
Our synthetic shake and slate roofing tiles are Class A fire rated. This is the highest resistance to flame spread that tiles can be tested for in the industry. In simple terms, even if you take a match to our roofing tiles, the flame will not spread. This helps keeps properties safer. (See flame spread testing of our composite roofing products.)
Keeping it cool
In California, it's important for residents to know that Cool Roof shake profiles from DaVinci are approved for both WUI and Title 24. Our Cool Roof tiles reflect sunlight and heat away from the home. Higher emissivity and reflectivity rates lead to greater reductions in the cooling load and in return increase energy efficiency. At the same time these tiles are flame-resistant and have gained WUI code approval.
With both synthetic slate and shake roofing options that meet Class A fire requirements, at DaVinci we made a good thing better. Our composite roofs not only resist fire, they also stand up to hail, wind and the sun. Plus they resist fading, rotting, cracking and pests. All this and they're backed by a Lifetime Limited Material Warranty.
Before you start building in California, get familiar with the codes in your specific area. Then, get acquainted with DaVinci Roofscapes.
Source: DaVinci Roofscapes.