IB Roof Systems relocates headquarters to Grapevine, Texas increasing fulfillment capacity of distribution center.
IB Roof Systems™, a leading provider of complete PVC roofing solutions for flat or low-sloped roofs, recognized five distinguished honorees at an office dedication held on November 20, 2020. After eight years in Irving, Texas, IB Roof Systems has relocated its headquarters to Grapevine, Texas.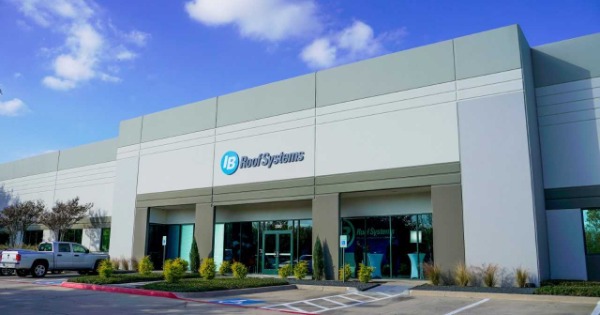 Photo: New IB Roof Systems Headquarters in Grapevine, Texas
"We couldn't be more excited to have our headquarters here in Grapevine, Texas," said Jason Stanley, Chief Executive Officer, IB Roof Systems. "While our headquarters is just one of five distribution centers we have throughout the U.S., this move significantly increases our fulfillment capacity right here in Grapevine."
During the office dedication, Jason Stanley honored five individuals who have not only served the roofing industry for decades but who have made tremendous impacts in the advancement of the roofing industry, provided invaluable technical assistance and professional consultation to IB Roof Systems throughout the years.
The individuals being honored included:
Colin R. Murphy, RRC, FRCI, LEED AP: Colin Murphy is an author, educator, inventor, Registered Roof Consultant, and principal of the firm Trinity | ERD, which he founded in 1986. Colin has received awards for outstanding publications and service to industry organizations and holds 15 U.S. and European patents for roofing and building envelope components and systems. He is renowned for his expertise in forensic analysis of building envelopes, design of building envelope systems and the testing of building envelope components and systems.

Larry J. Stanley, Founder, IB Roof Systems (1938 – 2013): Larry Stanley founded A-1 Roofing in Pleasant Hill, Oregon and then later founded IB Roof Systems in 1978 offering the industry's best PVC roofing system and a performance record that is second to none. A pioneer in the flat roofing industry, Larry Stanley's vision to create pre-formed flashings and edge details, set the standard for other manufacturers to follow.

Reid J. Ribble, CEO NRCA, FMR U.S. REP-WI: For more than 30 years, Reid Ribble was the president of his own roofing company in Kaukauna, Wisconsin. In 2010, he was elected to the U.S. House of Representatives for Wisconsin's 8th District. Since 2018, Reid has served as the NRCA CEO and has been working to create a career path for industry field workers, to elevate the roofing industry to be on par with other trade professions that currently offer national certifications, and to address the workforce shortage. Through Reid's leadership, the NRCA has introduced NRCA ProCertifcation®, an educational and assessment program aimed at certifying workers who have met all the requirements for each type of roof system installation.

Phillip M. David, RRC, CDT: Phillip David has served as a Senior Roof Consultant for Crenshaw Consulting Group prior to leading IB Roof Systems Technical since 2013. An invaluable resource to IB Roof Systems, Phillip uses his knowledge and expertise in codes, approvals, the testing of building envelope components and systems, and the forensic analysis of building envelopes to advance IB in the roofing industry.

Rene M. Dupuis, Ph.D., P.E. (1942 – 2020): Dr. Rene Dupuis founded Structural Research, Inc. in 1978, and was active in the commercial roofing industry since the 1970's until his recent passing in 2020. Dr. Dupuis provided research, education, and expertise to thousands with over 100 published works and many hundreds more technical presentations. He provided expert witness services in the areas of structural engineering, building envelope design, material testing, and building envelope forensics.
Learn more about IB Roof Systems in their RoofersCoffeeShop® Directory.
Main photo (top): Dedication Recipients (L-R) Colin Murphy and Phillip David are joined by IB Roof Systems' CEO Jason Stanley, Lynette Stanley and Matt Dupuis.
About IB Roof Systems
Since 1978, IB Roof Systems has been a nationwide leader in providing high-performance PVC membranes and systems for the commercial and residential industry. With hundreds of millions of square feet installed, IB Roof Systems is committed to offering quality products, exceptional service and unsurpassed technical expertise. The company is headquartered in Grapevine, Texas and has facilities across the U.S. in Springfield, Oregon, Las Vegas, Chicago and Atlanta to serve contractors in any location. Learn more at www.ibroof.com.