By Karen L. Edwards, RCS Editor.
Beacon Roofing Supply developed a recruitment strategy that focuses on members of the military who are re-entering civilian life.
Beacon Roofing Supply Senior Recruiter Brian Link came to the roofing industry from his role as a recruiter for the National Guard. He was on active duty from 2003 – 2016 and is still active today but on a reserve basis. He spent his last few active years as a recruiter for the Guard so his transition into a recruiting position at Beacon was a natural fit for him. He interviewed for his position at Beacon with Dana Bamvakais who was a military spouse for many years.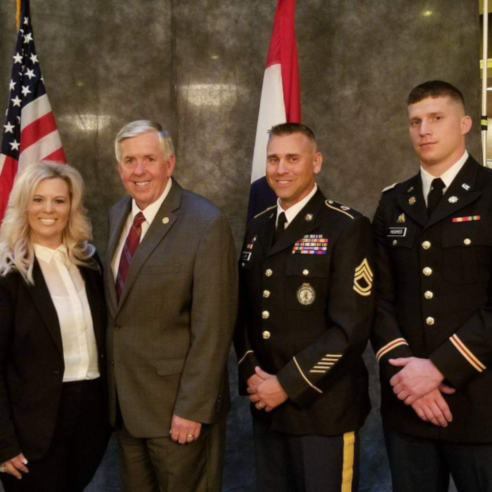 Photo: Above and Beyond Award from ESGR. Left to right: Dana Bamvakais (Vice President of HR West Division), Governor Mike Parsons, SFC (Sergeant First Class) Brian Link (Military Program Manager), 2LT (Second Lieutenant) Brian Hughes (Market Dispatcher)
After Brian joined the Beacon team, he and Dana began planning a program that would focus on recruiting newly discharged members of the military. "The military in general is a blue-collar type industry where you form strong relationships with people of similar backgrounds and experiences; people who work hard and do what it takes to get the job done," Brian said. "When you leave the military, you miss that camaraderie."
He knew that Beacon was the kind of company that could deliver some of those things that those in the military were used to having: that strong team, a stable company with the option to have a long career, the ability to provide for their families and an environment that cared about them. He and Dana worked together to develop the outlines of a military recruiting program that would target those transitioning to the civilian life.
They put together flyers that targeted the Transitional Assistance Program (TAPS) that all branches offer to those leaving to let them know there was a place for them at Beacon. The programs help the military members create a LinkedIn program, develop a resume and teaches other skills that will help make the transition smoother.
Brain cited an example of a person he had met two years previously who was in the military in Florida. He wanted to move back near his family in Michigan and Brian was able to find him a position with the company in that area.
The military recruitment program has the full support of the company, from the Board of Directors to the leadership team and to the employees. They are currently in the process of trying to get their Drive program approved as an apprenticeship so that employees can use their GI benefits toward earning their Commercial Driver's License (CDL). "If someone has experience driving large vehicles in the military, they will be able to complete a form detailing their experience, taking it to their state's Department of Motor Vehicles and only have to take the written portion of the CDL exam," explained Brian.
It's evident that Beacon is committed to supporting the military by the recognitions that they have received. The Employer Support of Guard and Reserve, the lead U.S. Defense Department program promoting cooperation and understanding between civilian employers and their National Guard and Reserve employees, recognized Beacon with their Above and Beyond Award with the Governor of Missouri presenting them with the award. They also recently received the Military Times award for Best for Vets.
"We really support our guard and reserve troops when they are deployed," said Brian. "We send them care packages and let them know that they will have a job when they return from deployment."
If you are a recently discharged member of the military or even if you've been out for many years, Beacon wants to talk to you. See all of their career opportunities or contact Brian Link at blink@becn.com.