A unique and modern private residence in East Hampton, New York won two first-place awards for the residential walls and interiors categories in ATAS International's 2020 project of the year competition.
Aaron Zalneraitis of Bates Masi + Architects in East Hampton, New York, the architect for this project, who is also the homeowner, selected Standing Seam Shingles for the exterior of this beautiful Long Island home. He also brought those bold lines of the vertical metal panels into the house, to achieve a natural transition from outside to inside. Along with wood flooring and ceilings, the metal walls help to achieve a warm and welcoming atmosphere to the living space. The glazing and screening between the three solid sections contribute to the open feel of the home and connects it to the outdoors.
This "Milestone" house was named for the granite milestone which Zalneraitis discovered when clearing the lot for his new home. It was one in a series of historic markers along a road connecting two villages. Zalneraitis stated:
"Just as milestones punctuate the roadside, the house is conceived as a regularly spaced series of insertions in the landscape. The resulting sequences of solid and void defines private and public areas of the home. Solid volumes contain bedrooms and service spaces, while glazed and screened gaps between accommodate the living room and screened porch. Metal Standing Seam Shingles define the solid living spaces, connecting them with the outside. Their projected vertical seams and low-profile flat horizontal seams emphasize the verticality of the solid volumes as they spring from the ground, especially as the sun rakes across their surface."
As a tribute to the area and the milestone inspiration, he continues to say, "In a community with a rich heritage of domestic architecture, the house connects to its place not through a reproduction of traditional styles, but by referencing the mechanics of the town's early wayfinding system. Drawing on the most immediate historic reference, the milestone, yields a design that is more relevant and conceptually bound to its context."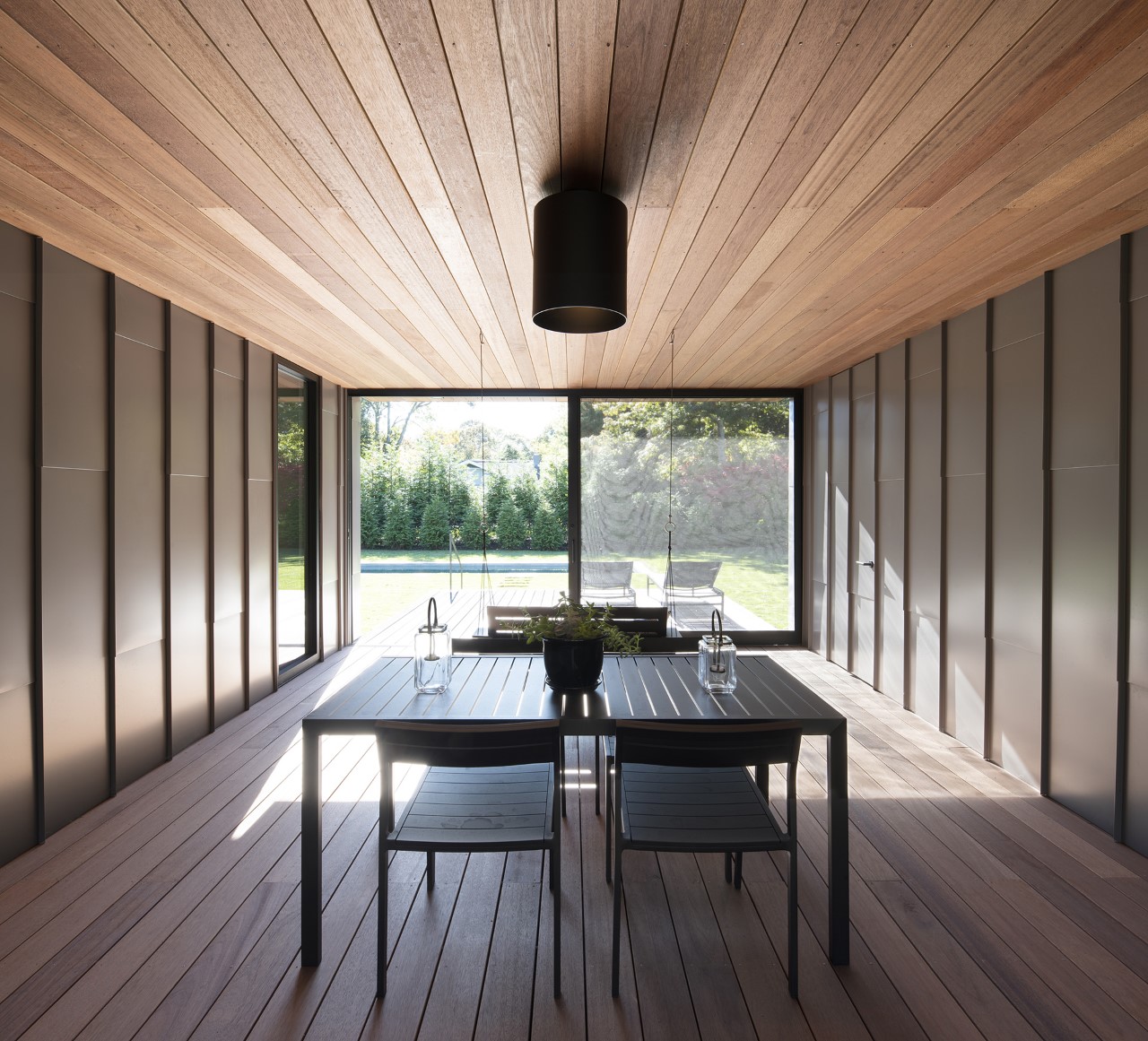 Standing Seam Shingles are elegant in their style and feature a four-way interlock to ensure weathertightness. These panels are installed with concealed fasteners over a solid substrate. Transverse seams are staggered to provide clean lines running up the wall. Traditionally a roof panel, ATAS' Standing Seam Shingles provide a unique vertical shingle look for wall applications. The panels for this project were manufactured in Slate Grey .032 aluminum. Two panel sizes are offered: 16" x 36" or 16" x 60", which allows them to be easily handled at the job site. The panel depth is 1" and the shingles have a smooth texture. They are available in 16 oz. copper in addition to .032 aluminum in over 40 colors, including wood grain print coats, matte, and weathered steel finishes. Corrosion-resistant aluminum panels were chosen for this project due to its weather resistance and durability for this home that is located across the street from a harbor susceptible to flooding in strong storms.
The contractor, TRM Enterprises of Bridgehampton, NY, installed a total of 2,800 square feet of the 16" x 60" Standing Seam Shingles on the exterior and interior of this home. The metal panels were purchased through New Castle Building Products of Eastport, NY.
About ATAS International, Inc.
Founded in 1963, ATAS International, Inc. is a leading manufacturer of metal roofing, wall cladding, ceilings, perimeter edge metal, and accessories. The ATAS portfolio features an expansive selection of products available in aluminum, steel, zinc, stainless steel, and copper. Standard profiles include narrow and wide ribbed wall panels, corrugated styles, standing seam and batten seam roof systems, metal shingles, shakes, tiles, and more. Additional options include curved, tapered, and perforated panels; concealed or exposed fasteners; smooth or embossed textures; horizontal and vertical applications; and a choice of over 40 stock colors with 70% PVDF finish.
With sustainability at the forefront of modern building design, ATAS proudly supports green building objectives with high performance solutions, such as solar-ready roof panels, insulated metal panels, cool roofing products, and solar air heating wall panels. The ATAS team consists of product and market specialists that provide a high level of support for your project, from initial discovery and design to installation. ATAS has two ISO 9001:2015 certified manufacturing locations in the United States: the headquarters in Allentown, Pennsylvania, and their facility in Mesa, Arizona. ATAS also has a second location in Allentown, Pennsylvania, and recently added a new manufacturing location in University Park, Illinois. For more information about ATAS International, please visit www.atas.com or call 610.395.8445.