Vertical zinc panels were used for wall cladding on this 10-story building.
The David Rubenstein Forum project at the University of Chicago utilized 60,000 square feet of custom Versa-Lok and custom fabricated wall panels that were manufactured by ATAS in 1.0 mm grey zinc. The panels were used as exterior wall cladding on this 166-foot-tall building consisting of 10 stories (a two-story base, and an eight-story tower). They were installed by Tuschall Engineering of Burr Ridge, Illinois, and the architects for the project included Diller Scofidio + Renfro of New York City and Brininstool + Lynch of Chicago. This project was the first-place winner in ATAS' 2020 Project of the Year competition in the commercial walls category.
The David M. Rubenstein Forum, which opened in September of 2020, is located on Chicago's Midway Plaisance, and offers views of Downtown Chicago, Lake Michigan and the University Campus. The architects' vision was to create a retreat space, which would allow for both formal presentations as well as casual meetings. The uniquely shaped building has an auditorium, a variety of meeting spaces, a dining room and an elevated wine bar and cafe. The University Room, which is the building's largest room, seats more than 600 people theater-style.
Vertical zinc panels were chosen to express the idea of connectivity on the facade. Zinc was favored because it is a natural and durable material that is timeless and creates its own patina which protects the material for a long time. Zinc is very flexible, which worked well with this building's geometry, and the way it reflects sunlight was appealing to the design team. The vertical panels also accentuate the height of the building.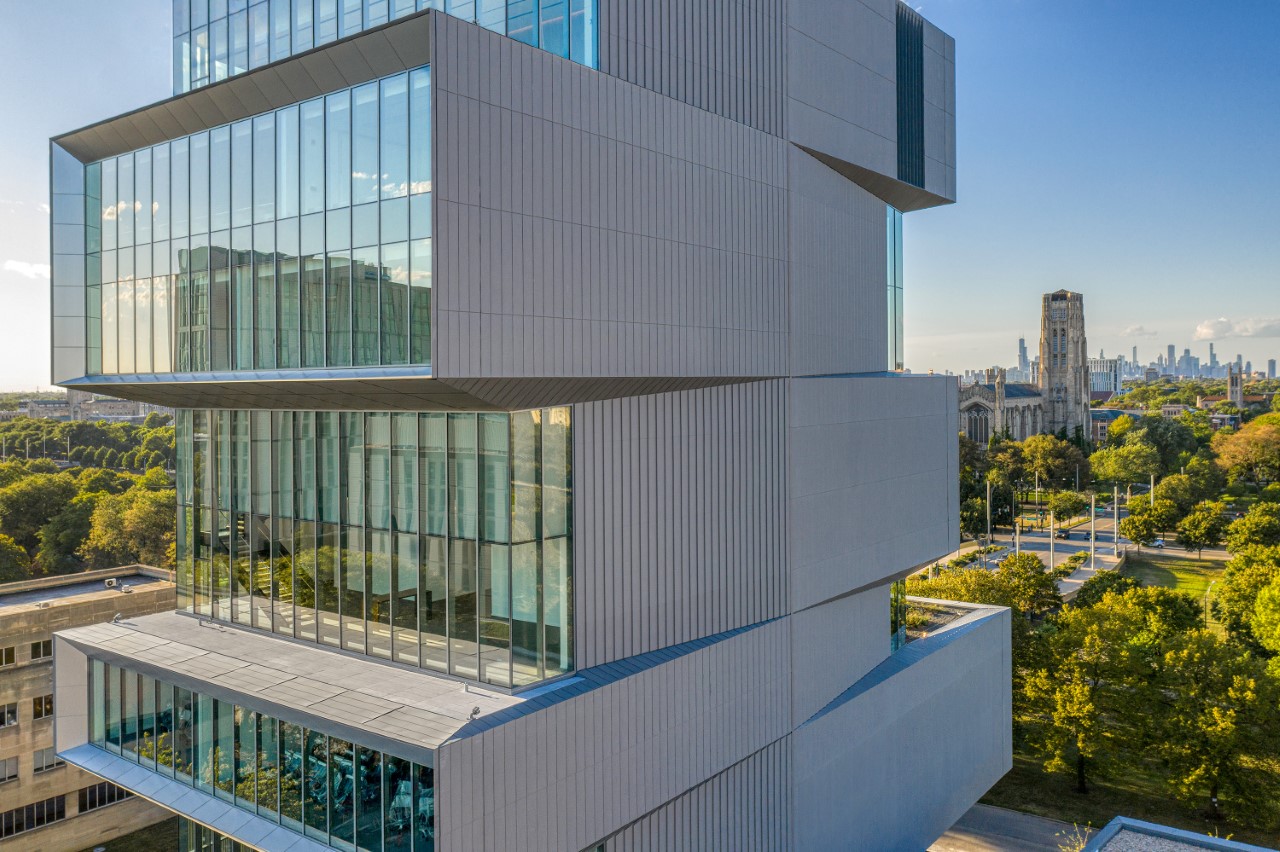 The Forum is targeting LEED Gold certification with its sustainable design. The choice of zinc as a wall cladding material will help to reach that goal. Zinc is durable, resistant to corrosion and 100 percent recyclable, which makes it safe for the environment. It can be reclaimed and reprocessed indefinitely without significant degradation of its properties. As well, the expected long-life span of zinc means that the wall cladding will not need to be replaced for decades. Depending on the environment, metal wall cladding can last well over 100 years, often outlasting the building itself.
This project also won two awards earlier this month. ATAS International was the grand prize winner of the Metal in Architecture Awards, which was presented at METALCON in Tampa, Florida on October 7. The David Rubenstein Forum project was the overall winning project, and it also won in the category of walls. A panel of judges comprised of the Metal Construction Association (MCA) council chairs and other metal construction and design industry experts determined the winners. Entries were judged based on the use of metal in design and construction as shown in the project photographs.
About ATAS International, Inc.
Founded in 1963, ATAS International, Inc. is a leading manufacturer of metal roofing, wall cladding, ceilings, perimeter edge metal and accessories. The ATAS portfolio features an expansive selection of products available in aluminum, steel, zinc, stainless steel, and copper. Standard profiles include narrow and wide ribbed wall panels, corrugated styles, standing seam and batten seam roof systems, metal shingles, shakes, tiles and more. Additional options include curved, tapered, and perforated panels; concealed or exposed fasteners; smooth or embossed textures; horizontal and vertical applications; and a choice of over 40 stock colors with 70% PVDF finish.
With sustainability at the forefront of modern building design, ATAS proudly supports green building objectives with high performance solutions, such as solar-ready roof panels, insulated metal panels, cool roofing products, and solar air heating wall panels. The ATAS team consists of product and market specialists that provide a high level of support for your project, from initial discovery and design to installation. ATAS has two ISO 9001:2015 certified manufacturing locations in the United States: the headquarters in Allentown, Pennsylvania, and their facility in Mesa, Arizona. ATAS also has a second location in Allentown, Pennsylvania, and recently added a new manufacturing location in University Park, Illinois. For more information about ATAS International, please visit www.atas.com or call 610.395.8445.