By Karen L. Edwards, RCS Editor.
Rooftop in Paris to feature 150,000 square feet of vegetables.
A Paris-based urban farming company, Agropolis, designed the rooftop farm that will sit on top of a redesigned entertainment complex, according to an article in Fast Company. While rooftop farms do exist in the U.S. with a 75,000 square foot farm in Chicago and a 55,000 square foot one in Brooklyn, this new one in Paris will be more than double the size.
Crops are set to be grown in open air, similar to traditional farms but will use vertical growing towers that aid in the ability for a plant to produce more food in a small growing area. There's no need for dirt either, since the growing towers are an aeroponic system. Plants are fed by a nutrient-filled mist that meets organic standards and saves water.
An Agropolis spokesperson, Pascal Handy, told Fast Company that the size of the rooftop farm has advantages. "Size is an opportunity to reach profitability, as balance on small or [mid-size] rooftops is difficult." Hardy also said they like using the outdoors to grow because an indoor environment uses other resources such as energy. "When you have a controlled environment, you get rid of many hazards, but you also use lots of resources, like energy, to produce vegetables and fruits," Hardy explained in the interview. "We decided to have productive systems, like growing towers, but in an uncontrolled environment to reduce investments and to avoid wasting resources."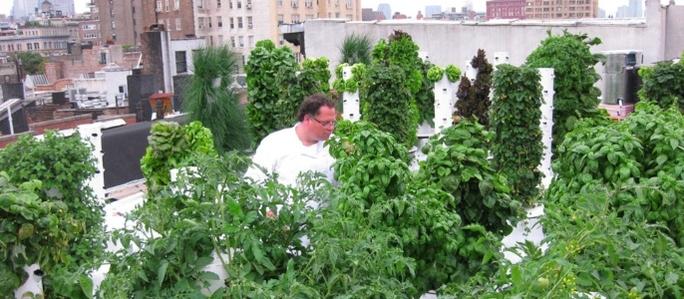 Making up for lost farmland
According to James Kauffman, Director of the Commercial Tower Garden Division of Agritecture, we lose "more than 50 acres of American farmland to urban development every hour and in that same amount of time the human population grows by 240 people."
Rooftop farms and gardens can enhance the urban landscape and make cities greener. Not only can rooftop farms help reduce the urban heat-island effect, they can lessen the environmental impact from food transportation. TowerGarden.com says that these vertical growing systems use only 10 percent of the land and water required for traditional farming. The aeroponic system is a closed system and recycles 100 percent of its nutrients and water.
Rooftops-to-restaurants
Restaurants are embracing the concept of Rooftop-to-Restaurants by growing herbs and vegetables on their roofs and serving them to guests. Bell, Book & Candle installed one of the first rooftop gardens in Greenwich Village in New York City. Chef John Mooney had so much success with the idea that he started another one, Bidwell, in Washington, D.C.
There's little doubt that growing food on rooftops delivers some powerful benefits for urban areas and the people who live there. Using aeroponics and no dirt is an interesting approach that should make it easier for contractors when performing service or maintenance on roofs that feature one of these farms.
Get more industry news and insights delivered right to your inbox each week when you sign up for the RCS Week-in-Review e-newsletter.
Image credits: Agropolis and Bell, Book and Candle.