Together with GSI, Centerpoint Connect Roofing Software is happy to integrate drone footage/3d modeling to its platform.
Drone footage has become an invaluable tool in the roofing industry. Many companies are finding drone footage beneficial due to its ability to provide a comprehensive aerial view, increased inspection efficiency and accuracy, time and labor savings and the ability to document project evidence. Providing 3D footage to your client can also aid in simplifying client communication.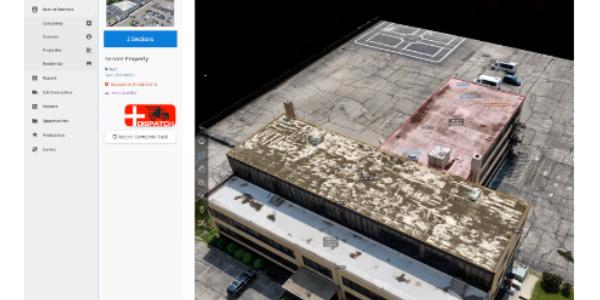 Adding this type of footage has previously been problematic due to the nature of the files. 3D files typically are quite large which can be difficult to manipulate, store and share.
With Centerpoint Connect, you can now copy the interactive URL that is provided by the GSI software and paste it into your property's data, which will house the file within Centerpoint.
You can build all of your information such as core cut, elevator shaft measurements, expansion joint information, wall & membrane measurements within Centerpoint Connect. Share drone images and data on client reports and keep all of the information accessible for all parties.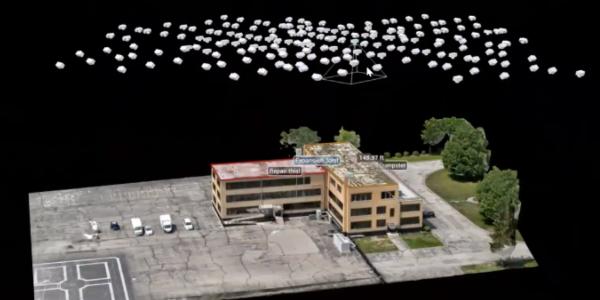 Simplifying the Process
Working with our partner at GSI, Kerrick Willis, there are several ways to adopt the drone process and obtain the footage. One of the most simple ways to do this, is to assign someone with a roofing background in house to learn the drone-flying process. Kerrick recommends this process as it is the easiest way to get going and most cost effective and GSI will train your assigned teammate to do this.
You can also hire a videographer/drone pilot to complete the footage for you, however, it will be a little more costly ongoing. The pilot can connect with Kerrick as well to understand what is needed, but, keep in mind that it may be harder to train a drone pilot to understand roofing rather than a roofer to understand how to operate the drone. Regardless, GSI can provide the flight path directly to the drone operator if utilizing a contracted individual.
To learn more about Centerpoint Connect and its partnership with GSI, schedule a Q&A session at https://centerpointconnect.com/get-a-free-demo/.
About Centerpoint Connect
Centerpoint Connect is a web-based roofing software application that reaches across all devices to form a fully connected system. From the office to the field, Centerpoint Connect delivers a complete front-end solution for roofing contractors. Centerpoint Connect has modules that cover sales, service, production and a client facing portal that is sure to impress your clients.
About GSI - GeoSpatial Integrations
GeoSpatial Integrations is your go-to source for cutting-edge photogrammetry solutions, transforming how commercial roofers, property managers, building owners, architects, engineers and general contractors work in the construction industry. Gone are the days of time-consuming and inaccurate modeling, surveying and data analysis methods.