Nearmap Video Playlist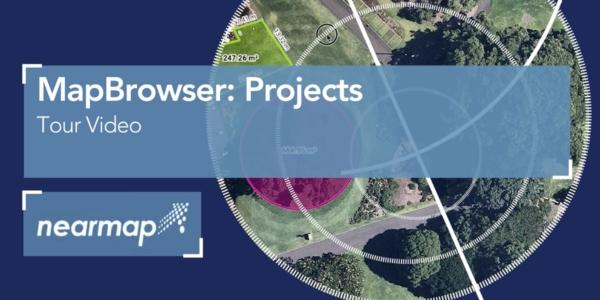 What will you accomplish in 2020?
We are on the cusp of a brand new year--an entirely new decade, in fact. What's in store for your organization in 2020?
At Nearmap, our mission is to help you achieve your project goals by saving you time and money in your project planning. We do this by transforming the way you see the world so it in turn, can transform the way you work.
As we close out this decade and head into the next, we'd like to share with you a bit of our accomplishments in 2019. We're looking forward to achieving even more with you and helping bring you projects into focus for 2020!
---
MapBrowser: An Introduction to the Projects Tool
A quick video walkthrough of the new Projects tool in MapBrowser. Now you can create and save projects on Nearmap's high-resolution aerial imagery. Projects also lets you take aggregate measurements of areas and distances; style objects with color and opacity; save site features in distinct layers, and organize projects with custom tags. For more information, visit the product documentation site on docs.nearmap.com.
---
How to Measure & Quote Jobs Remotely for Small Businesses with Nearmap
Whether you're in landscaping, roofing, fencing, pools or any other home-service franchise, it's easy to inspect and quote from your desk with Nearmap aerial imagery. Measure dimensions, calculate areas, see property boundaries and even get access to elevation information of multiple job locations.
---
Nearmap on OpenSolar: Building a 3D Roof Model with Obliques
In this short tutorial, we'll show you how to create a 3D roof model for your solar design using high resolution Nearmap Obliques. Learn how to add Obliques to your design, build a 3D roof model, get accurate slope and azimuth calculations, and do auto layout in a few short steps.
---
3D of Mexico Beach, Florida, post-Hurricane Michael
Nearmap flew over Mexico Beach, Florida, in the aftermath of Hurricane Michael to help emergency responders, insurance providers, and government planners visualise the storm damage in 3D to speed recovery efforts.
---
Landscapism: Experience Beauty From Above, Captured by Nearmap
Enjoy 7 minutes of calm with Landscapism – breathtakingly beautiful scenes curated from the real world. Ideal for meditation, mindfulness or just to unwind. Headphones recommended for an immersive experience. Peace and beauty from the world we live in.
---
3D FLY THROUGH VIDEO
Free Yourself—and your mind—by taking an immersive look around and through the city of Dallas, Texas.
---