Why Contractors Need the COBRA™ Lap Joint Nozzle
You know Through the Roof!®. How it seals leaks tar sticks can't. Now you can introduce the COBRA™ Lap Joint Nozzle that makes the contractor's job that much easier. For a moment, step into the contractor's boots.
Imagine, it's a last-minute end-of-day customer request so you climb on the roof to fix a leak, the wind is coming up, the rain is beginning. You want off that roof, but you have to get it right – right away!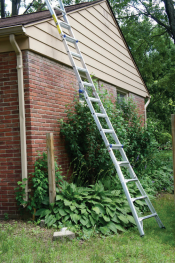 You can follow standard procedure and run two beads of tar stick; the beads must be straight on each side of the lap joint. "Dang it, my rag just blew off the roof." Whoops, well the two beads look more like finger painting than a DaVinci. Now you try to fix it and tool them flat. "Where is that putty knife?".
Rain is starting to blow in your face but pay attention, you can't trap air between the beads – could cause a leak. You pull the putty knife from your tool bag too quickly, it slips and glides down the roof. "Crap." Your finger is now the tool. Either wipe the excess on the roof or your pants- roof not an option. You're done but not confident in a tight seal. Or...
You can grab the Through the Roof!® cartridge with the COBRA™ nozzle and plug (resealed from the last job) and leave your tool bag behind. You line up the COBRA™ nozzle on the center of the lap joint. You can see it through the clear COBRA™ nozzle and clear Through the Roof!®. An accurate bead pressed firmly to the surface is guaranteed. You run one bead, no rag, no putty knife, no tooling.
Why use a round nozzle when you need a flat bead?
Visit our website today for a product estimator or to locate retailers in your area online at www.sashco.com/products.