SAVE OVER $300
Hapco RiOn Portable Repair Kit PRK2000EB is available for $1542.95.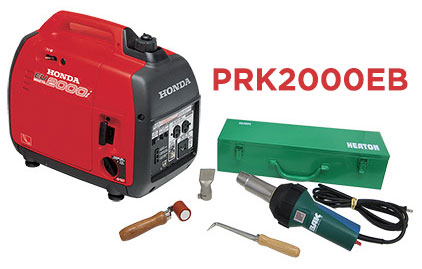 Hapco's Portable Roof Repair Kit (valued at $1800) is available for $1542.95. Weighing less than a bundle of shingles, this is a great addition to your roof maintenance department. No cord lines to deal with and no cranes.
Kit Includes
RiOn Hand Welding Tool with NEW ergonomic handle
Honda EB2000 50 States Compliant, 46lbs Generator
40mm Nozzle
40mm Hand Roller with Seam Probe
Seam Probe
Sturdy Tool Box for the RiOn
Fill out the form to get set up to buy yours today.