Exceptional Metals - Metal Roofing Tax Incentives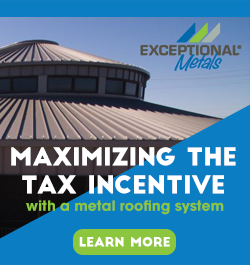 Now is the time to invest in a new, durable metal roofing system from EXCEPTIONAL® Metals!
---
Contractors: This is a great program to offer your customers!
---
A tax incentive is currently available for commercial property owners to upgrade their roofing systems while deducting up to 100% of the cost from their taxes immediately! Previously limited to depreciated value deductions over a prolonged period of time, new roof investments are now included in the tax code Section 179 as a qualified real property deduction.
Take advantage of this incentive and protect your business with a new roofing system from EXCEPTIONAL Metals! Deduct the full cost of your investment now, and enjoy the benefits of an aesthetically pleasing, durable EXCEPTIONAL Metals roof for years to come. Consult with a certified tax specialist now for more details, and to verify the deduction limitations and qualification of your building!DEDUCT UP TO 100% OF THE COST FROM YOUR TAXES IMMEDIATELY DEDUCT UP TO $1 MILLION DURING THE 2022 TAX YEAR
For more information on the benefits of an EXCEPTIONAL Metals roof, visit their website or call today. exceptionalmetals.com | 800-248-0280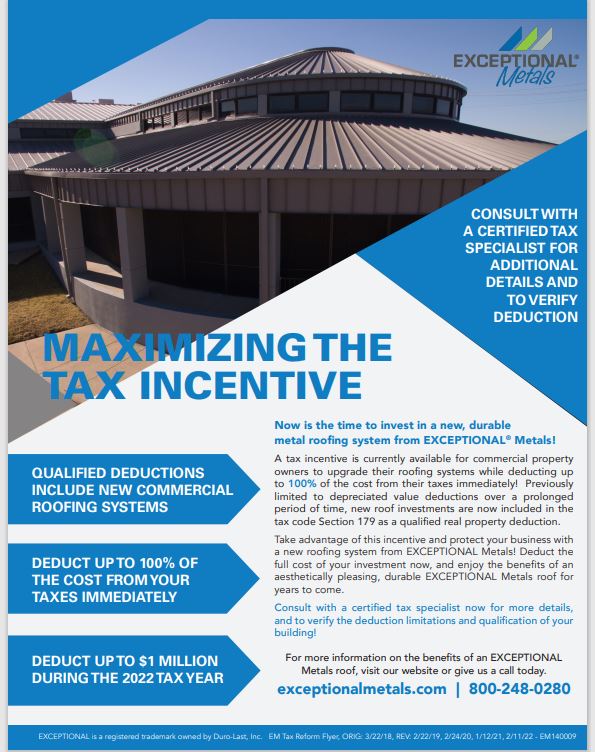 ---
Share this: